Our television screens have been awash with programmes about travelling along canals of late, a trend kick-started by Barging Round Britain with John Sergeant earlier in the year and climaxing with BBC4's much-talked-about, two-hour "slow television" narrowboat cruise, The Canal. Britain has more than 2,000 miles of navigable inland waterways; once a cutting-edge transport network of the Industrial Revolution, today these liquid highways offer a route to relaxation.
Grab a paddle
The Great Glen Canoe Trail is a challenging 60-mile paddle following a fault line that splits Scotland between Fort William and Inverness. Four long, narrow lochs line up end to end, linked by 20 miles of the man-made Caledonian Canal, designed by one of the 19th century's leading engineers, Thomas Telford.
It's not always a sedate paddle – waves on stretches of open water can be intimidating, and you have to carry canoes around canal locks – but for a week's epic adventure in spectacular scenery, it's worth it. Wilderness Scotland (01479 420 020; wildernessscotland.com) hosts guided canoe trails in May, July, August and September, camping on loch shores. From £625 for a five-day, four-night trip, including meals.
Take a walk
Meander (01543 473736; meanderholidays.co.uk) offers walking breaks alongside some of the country's most picturesque and historic stretches of canal.
Towpaths – where horses once plodded, pulling cargo-laden boats – are nearly all on the level, but to lighten the load further, Meander can arrange luggage transfers and B&Bs en route. A three-night, two-day 25-mile walking holiday on the Llangollen canal in north Wales, leading to Pontcysyllte, the highest, longest navigable aqueduct in the world, costs from £250pp.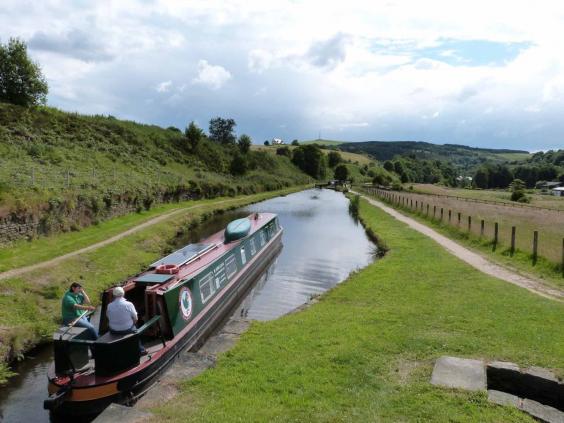 Work it
The restoration of our canals – many of which had become weed-choked ditches – is thanks to hard-working volunteers. The Waterway Recovery Group (01494 783 453; wrg.org.uk) holds sociable week-long camps where you can learn brick-laying and conservation techniques while restoring ancient bridges, locks and canal banks. For just £56 you'll have all meals and basic shared accommodation. At the end of your eight-hour working day the evening is yours to explore or join a group outing. In August, there are two weeks available on the pretty Ashby Canal in Leicestershire.
Do it yourself
If the idea of a narrowboat appeals, but you'd like a little more room, consider the oxymoron of a wide-beam narrowboat.
Topsy, on the Kennet & Avon, is a spacious and rather gorgeous 55ft-long steel boat full of sunlight and quirky touches, such as a record player and stash of vinyl. With two double rooms (and a spare sofa-bed), a full-size bath and log-burner, it is perfect for a family or an indulgent romantic break for two. Pootle along to Bradford-on-Avon, where the "boatman's breakfast" at The Lock Inn comes highly recommended. A three or four-night short break on Topsy costs from £1,035 in summer through Lazy Daze Cruises (07785 333 586; lazydazecruises.co.uk).
Sit back and relax
Daunted by the prospect of hiring and operating a boat yourself? Try a "hotel" narrowboat, where steering, locks and catering are taken care of. Wandering Duck (07584 122 614; wanderingduck.co.uk) bills itself as a "hostel" narrowboat, with eight guests sleeping in bunks in two cabins.
This year, Wandering Duck makes its first journey along the Huddersfield Narrow Canal, from Manchester to Huddersfield. It's a 101-lock journey over the Pennines to the highest, longest, deepest tunnel on the waterways. Standedge Tunnel is three miles long and takes about two hours to squeeze through. The six-night Big Trip starts on 10 August and costs £450pp, including all meals.
Reuse content