1 Honduras
Where is it? Central America, bordering Guatemala, El Salvador and Nicaragua. Its main coastline is kissed by the Caribbean, while the shorter southern stretch hits the North Pacific Ocean.
Why were we searching? The Fifa World Cup – Honduras lost all its matches.
What's going on? If you are not put off by Foreign Office crime warnings, 2015 marks 35 years since the Maya ruins of Copán became a Unesco World Heritage Site. The city, close to the Guatemala border, was abandoned in the 10th century.
2 Uruguay
Where is it? Tucked between Brazil and Argentina, with an Atlantic coastline.
Why were we searching? Prosaically, it's the World Cup again. Uruguay was in England's group, and got through to the knock-out stages.
What's going on? Last month a luxury beachfront retreat, Bahia Vik (bahiavik.com), opened in the resort of José Ignacio. And in January and February the capital, Montevideo, comes alive for the pre-Lent carnival, a fiesta of music, parades and costumes.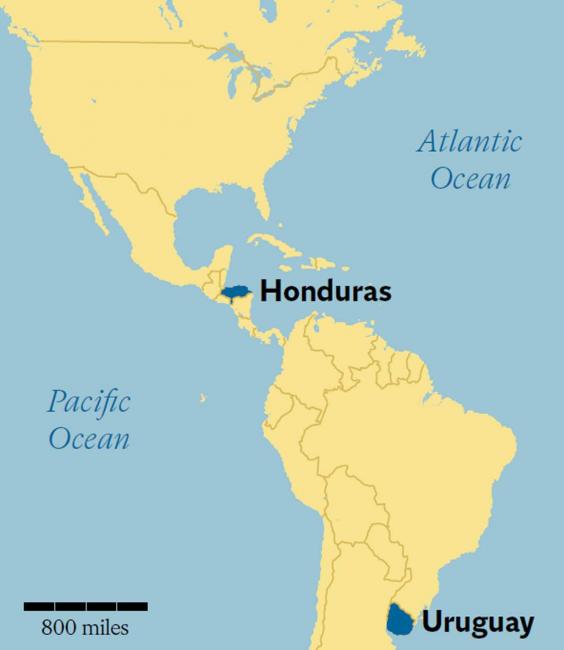 3 Sochi
Where is it? Russia's Black Sea coast.
Why were we searching? The Winter Olympics, of course. At the Games, held in February, Team GB came 19th in the medal table, and Lizzy Yarnold won gold in the women's skeleton.
What's going on? As well as the flurry of Olympic construction, 2014 also saw a Formula 1 circuit spring up. In October, the Sochi Autodrom (sochiautodrom.ru) hosted the Russian Grand Prix. This new event in the F1 calendar will be held until 2020 at least.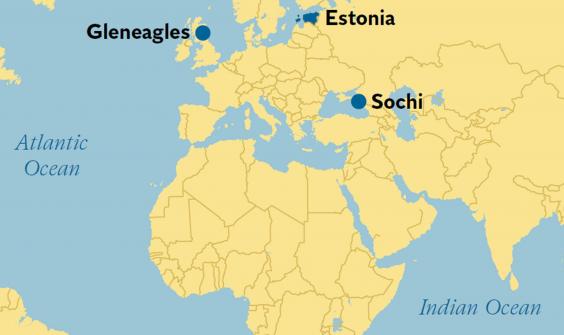 4 Gleneagles
Where is it? Perthshire, central Scotland.
Why were we searching? The luxury hotel has previously hosted high-profile political summits, but in September all eyes were on its golf course for the 40th Ryder Cup. Gleneagles (gleneagles.com) was also the venue for the first ever UK vs US golf tournament in 1921, the International Challenge.
What's going on? The hotel's equestrian arenas are being converted into a conference and exhibition space. Doubling as a four-court tennis centre, the Gleneagles Arena is to be unveiled in spring.
5 Estonia
Where is it? North-east Europe, sharing borders with Russia and Latvia, a short hop across the Baltic from Finland.
Why were we searching? According to Google, UK searches peaked in October, as Estonia's football team played England in a Euro 2016 qualifier. It was also the month that it passed a law to allow civil partnerships for same-sex couples.
What's going on? The Estonian History Museum (ajaloomuuseum.ee) in Tallinn opened a new exhibition space this month, part of the restoration of Maarjamäe Palace, due to be finished in February. Estonia has also declared 2015 its Year of Music, with a series of concerts and festivals.
Reuse content