Mountains bring out the philosopher in you. It can't be helped. It's something to do with fundamental consciousness, the presence of eternity, the freighted Zen of the earth's natural monuments, the closeness of the transient sky. So, at 4,414 metres up in the Huchuy Qosqo Pass in Peru's Sacred Valley, when I should have been contemplating the legacy of Pachacutec, Atahualpa, and other Inca rulers, why was the prospect of a hot Jacuzzi, a cold beer, and an emerging blister on my left foot the only stuff on my mind?
There was a time when I could bag a Munro before lunch and head home for a round of golf that afternoon. Now, the fourth floor of the Peter Jones department store in London might as well be the Eiger Nordwand if the escalators are out of action. Given an over-worship of the sedentary gods, a week's high-altitude hiking in the mountain passes either side of the Urubamba Valley, with 7am starts and twilight finishes, was likely to end like a scene from A Fistful of Dollars where I'd be taken back to town, lifeless, ignominiously slung over the back of a mule. A Munro such as Schiehallion near Aberfeldy, at just over 1,000m is, as the locals say, a tough wee walk. But marching about at 4,500m, the level of the summit of the Matterhorn? Well, you could hitch a lift from the International Space Station at that height.
High in the Andes, out of breath just thinking about the next step, and with a heart-rate mimicking the William Tell Overture, they say you'll find out what you're made of. Sensing my answer wouldn't be good, I flew from Lima into the Inca capital, Cusco, and began following advice that drinking tea made out of coca leaves helps alleviate altitude sickness. The psycho-active alkaloid of coca is cocaine; so coca tea is surely the cuppa which would've had Jimi Hendrix's approval.
Apparently an excessive coca tea regime is a mistake. I'd also been taking acetazolamide tablets without realising one side-effect was paresthesia, pins and needles in your feet and fingers. I woke up in Cusco at the ultra-comfortable El Mercado hotel sensing just the hint of a Nazca Plate earthquake in my room. There wasn't one.
The Sacred Valley, stretching from Pisac to Ollantaytambo – where an hour on the train will then take you to Aguas Calientes just below Machu Picchu – was the heart and soul of an empire that from the 13th century stretched out from Cusco to conquer a large swathe of pre-Columbian South America. Before the Spanish conquistadores, led by Francisco Pizarro, destroyed the Inca dynasty in the mid-16th century, their governed territory covered an area the size of western Europe.
The hard-school exploration of the high mountain route which ends at Machu Picchu's Sun Gate is the classic four-day Inca Trail. But conveyor-belt overcrowding in places has led to an alternative route north of the Urubamba River, the Camino Salcantay, gaining in popularity. A few years ago, a local operator, Mountain Lodges of Peru (MLP), opened plush, small-scale lodges along the Salcantay receiving applause from no less an authority than National Geographic, which called it "the cool way" to the Inca ruins.
MLP, sticking with the same high-end formula, has now turned to the Lares Trail in the Sacred Valley and opened two classy lodges, with a third on its way this autumn, that serve as a deluxe reward after a hard day's trekking. The basic idea is that a drafty bothy, re-heated soup, and a damp duvet isn't always required for the full mountain experience. So instead there are beautiful bedrooms, Michelin-aspiration cuisine, hot powerful showers – and, as mentioned, the above-the-clouds Jacuzzi at 3,800m at Huancahuasi. If you think your legs and lungs are incapable of another grinding step, it's surprising what the peace of a five-star kip in crisp linen and a decent Chilean merlot can do for the spirit.
The party that set out on the Lares Trail included two young MLP staffers, two expert guides, and Tracey, a middle-aged redoubtable traveller from Australia's Northern Territory who was taking in Peru en route to a family Christmas in Las Vegas. A weekly football game in Cusco at 3,431m meant the two staffers were used to altitude and took to the mountains like teenagers using shopping mall lifts. The tough Australian wasn't going to cave. And I assumed that as the ritual sacrifice of journalists – helicoptered off the hill suffering deflated egos – was no longer practised, I'd be OK.
My backpack on day one had enough clothing to accommodate weather in the Bahamas and Nepal. I was a bit over-prepared. However, on the first day's hike from Chinchero, over the Huallata Pass and then down towards a late lunch at Huchuy Qosqo ("Little Cusco" in the Quechua language) I'd been sweltered, cold, rained on, and went through nearly every item, plastic poncho included, that had been stuffed into my day-pack.
There are no roads into the archaeological site at Huchuy Qosqo. You need to walk. Below the main site, there are renovated store houses where the Incas used to keep the maize, potatoes – there are 3,800 varieties in Peru – and beans that guaranteed a regular food surplus throughout their empire. The Incas mastered high-altitude farming by constructing layered micro-climates and storage complexes that could accommodate 70 crops capable of being stockpiled for up to seven years.
There's no point in boasting about York Minster being completed in 1472 and noting that Pachacutec was just constructing Machu Picchu, a sort of Inca Chequers, around the same time. No, look instead at the Inca's irrigation architecture, and terraced platforms surrounding their major archaeological sites. Then ask – how complex was English agronomy at the time?
Day two meant a climb to the Challwaccasa Pass, a downhill trek to the village of Viacha, the appearance of barbecued guinea pig at lunch, and a further trek to the hilltop Inca fortress at Pisac. Sanctuary at the end of the first two days was at Lamay Lodge just south of Calca. The next two days' base camp was Huacahuasi Lodge, which is north of the Urubamba River and sits on the edge of a mountain village. Both buildings are new, big, and have yet to work out how they can deliver intimate comfort in their large open public spaces.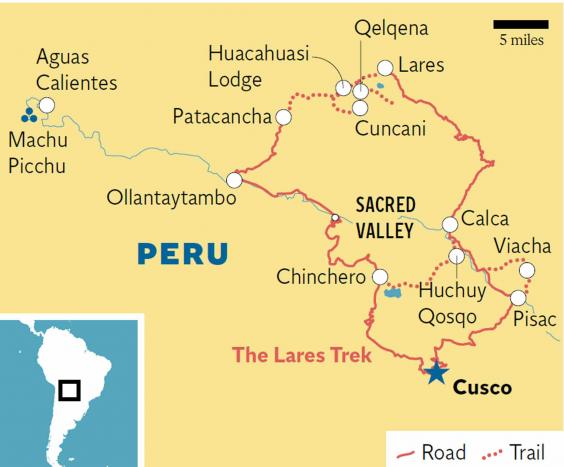 Americans might expect roaring log fires. I would've taken a blanket, a big sofa, a large malt whisky and a room full of candles. The food is elaborate, international, and borders on being over-formal. That's not a criticism, but the change of pace from mountain physicality to dining room does throw you. If dining is to be the day's major sign-off, the connection with the location needs to feel stronger. It's early days – and everything suggests the right mix will come. The balcony Jacuzzi didn't throw me. I ran the boiling water nearly to the brim of the huge bath, resisted the temptation to down the chilled beer – and waited, getting in as the clouds encircled the lodge. Memorable stuff.
Day three meant Cuncani, a two-hour hike to the Cruzccasa Pass at 4,188m and a lengthy descent back to Huacahuasi. Day four was the toughest with a series of ascents and descents through two passes, lunch at Qeywaqocha Lake and an end to the day at the village of Qelqena, where a beer felt like a justified survival ceremony.
The fifth day, supposed to be easier, wasn't. It involved a trek up the Ipsaycocha Pass (4,333m) and then down to a glacial lake for lunch. The long march home, a gradual descent back to Patacancha, felt in places like Glencoe on a calm day.
Over the week, the trail's tented lunches became a hybrid of rescue and emergency miracle work. Soup, trout farmed in high lakes, mashed spuds, stir-fries, wine-poached pears, barbecued guinea pig and chicken, sweet fruit and teas: all appeared just when you felt your feet might abandon you. So, resuscitated and revived, you go on, passing another herd of llamas, more alpaca, dogs, women in colourful outfits and hats weaving in the clouds.
Out of the mountains, on the drive to Ollantaytambo, and later on the train to Aguas Calientes and the morning spent at Machu Picchu, I began to sense the importance of the journey, glad that it hadn't happened without a bit of a adventure.
The Camino Salcantay and the Lares Trail are about being in the mountains with all the time you never seem to have. Here you'll think, wonder at nature, and marvel at Inca history? Maybe. But your heart-rate, breathing and stamina, and the next step, will seem just as important. You'll find you're capable of keeping going when you can't. And that Plan B thing, quietly on offer for those who can't cut it and need an easy day. Well, you sure as hell aren't going to let that happen.
Getting there
James Cusick travelled with Rainbow Tours (020 7666 1250; rainbowtours.co.uk), which offers a 10-night Lares Adventure to Machu Picchu from £3,135 per person. The price is based on two sharing a twin or double room on a bed and breakfast basis, with all meals included during the Mountain Lodges of Peru Lares trek. Flights from Heathrow are included along with airport transfers and a guided tour at Machu Picchu on the final day of the trekking programme. He flew from Heathrow to Lima via Madrid with Iberia (020 3684 3774; iberia.com).
Staying there
El Mercado Tunqui, Cusco (0800 014 8886; elmercadotunqui.com).
Inkaterra Machu Picchu Pueblo Hotel (00 51 84 582 640; inkaterra.com).
More information
Click here to view tours and holidays in Central & South America, with Independent Holidays.