In a tiny, old-fashioned resort you've probably never heard of, it's hard to decide which feature of its newest hotel feels the most out of place. The 35-metre swimming pool clad in Belgian blue limestone; the multi-storey, glass-encased "cheese cellar" at the centre of a vast dining room; a wine collection that includes a full house of post-war Château Mouton Rothschild (this place is not for the faint of liver – booze is displayed like art everywhere); or, perhaps, the perky young "ski butlers" in their knitted tank tops who'll help you into your boots in the plush "ski living room".
The Chedi Andermatt is one of a crop of very smart hotels to have opened in the Alps this winter. Most developers with vertiginous budgets play it safe in resorts with reputations, not least among rich Russians. To wit: the Grand Bellevue in Gstaad, the W Verbier and L'Apogée in Courchevel. Andermatt, until recently best known for its army barracks, is not that place. The Chedi – named after a Buddhist monument, run by a Singaporean company, designed by Malaysian architects and owned by an Egyptian – arrives here like a yellowfin sashimi in a cheese fondue.
I had arrived with mixed feelings about a place I had grown to love – and a plan to compare Andermatt's stunning reversal in fortunes with a much quieter, slower revival taking place just an hour away by train, in the even less well-known resort of Disentis. Before that journey, I leave the Chedi as soon as I receive my in-room iPad at check-in (and have a play with the blinds it controls in my deluxe suite) to take a stroll through what has become an unlikely, two-billion dollar experiment.
It doesn't take long. From the Chedi, which stands opposite the train station (Zurich airport is two-and-a-half hours away: less by road) it's a 10-minute walk along the lovely, cobbled Gotthardstrasse. It leads via a pretty stone bridge and a handful of shops and three-star hotels to the rickety Gemstock cable car.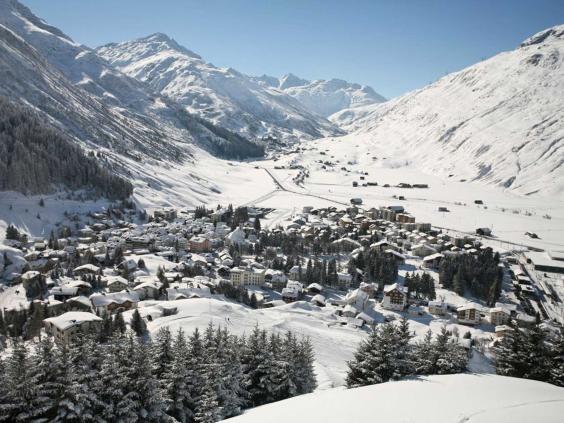 A second car above it rises to almost 3,000m and some of the most challenging resort skiing in the Alps (amazing for off-piste enthusiasts like me – not so much, perhaps, for the wealthy intermediates served by the Chedi's ski butlers).
A view from the top reveals the scale of the transformation here. The baroque Church of St Peter and Paul had been the biggest thing in Andermatt for more than 300 years. Built to oversized proportions as a display of Catholic wealth and power, it's now dwarfed by the Chedi and the cranes that have become a symbol of ongoing development; there are long-term plans for five more hotels, a golf course, and luxury chalets and apartments.
The money comes from Samih Sawiris, an Egyptian property tycoon who heard via a friend at the Swiss consul in Cairo that the huge army training barracks built here in 1885 were for sale. He bought 1.2 million sq m and set about charming locals. Most were swayed by any proposal to revive a comatose town, but such radical change has shocked many, including visitors who knew the old Andermatt.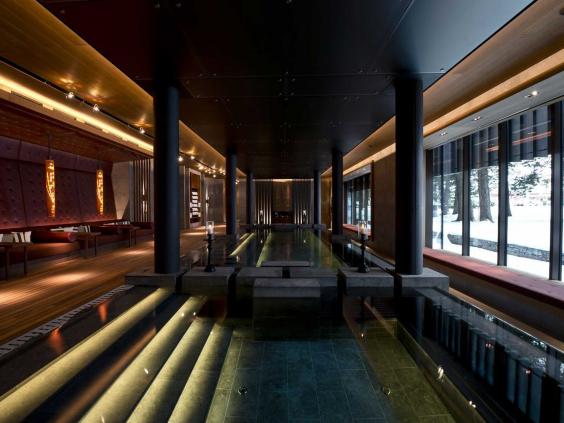 My 90-year-old grandmother just about remembers putting on her first pair of skis here shortly before the Second World War, and would be stunned by the Chedi. I visited first in 2007, staying in the delightful dark-timbered Hotel Zur Sonne not long after Sawiris revealed his plans.
I meet Fränggi Gehrig, a 27-year-old ski instructor, guide, and professional accordion player who was born in Andermatt. For him, an influx of wealthy, would-be skiers is great for business. He had spent the previous day teaching a reluctant boy from Saudi Arabia at Nätschen, a more beginner-friendly but still basic ski area closer to the hotel. We got a lift with my ski butler instead to Gemstock and some of the steep, off-piste itineraries it's quietly famous for.
Fränggi agrees with my view of the Chedi – that despite its size and incongruity, the richness and warmth of its interiors somehow make it feel welcoming. Indeed he frequently ends the day with a drink at the bar, where reasonable prices are designed to encourage locals to drop in. Before dinner at the Chedi's Japanese restaurant, I meet Bänz Simmen, a font of local history and the owner of the "61" cafe. Opposite the hotel's main gates, he shows me a shop window full of dusty artefacts. They include a 1912 Christmas menu from the hotel that used to stand in the Chedi's place. Many of those tucking into that 14-course feast would have been Brits staying at the Bellevue, a palace built in 1872 during the Victorian boom in luxury tourism made possible by improvements to road and rail across the Alps.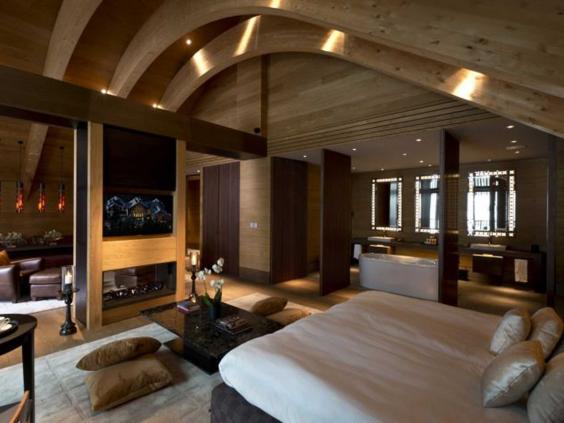 Andermatt's position near the sources of the Rhine and Rhone rivers, and at the crossroads of three major Alpine passes, including the Gotthard, made it a key town for trade as well tourism. But only a decade after the finishing touches were made to the Bellevue's ballroom, the Gotthard rail tunnel began Andermatt's slow isolation. The arrival of skiing in the early 20th century kept the chandeliers alight, but tourism never really picked up again after the Second World War. A road tunnel further undermined Andermatt in 1980, and the abandoned Bellevue was dynamited six years later.
Simmen welcomes Sawiris' commitment to reverse this decline but shares the view of many locals that the Egyptian has become slightly less popular now that the extent of his domination can be seen. "He was a bringer of light," Simmen says. "Now some people feel like he bought not only the land but also all of us."
Andermatt will struggle to retain its low-key charm but the success of its development rests on Sawiris' plans to update, expand, and link the small ski areas here. Gemstock and Nätschen should eventually link via ski lifts to Sedrun, a family-friendly resort and a stop on my train journey out of Andermatt. At Disentis, where I get off for two rather different days of skiing, a young and ambitious new lift company boss is bringing a smaller measure of shock to another traditionally sleepy town.
I had wanted to come to Disentis for years. Like Andermatt, it's one of those resorts that skiers like me rave about for its big terrain, great snow and absence of sharp-elbowed crowds. It, too, rises to 3,000m above a small town, this one dominated by a hulking Benedictine monastery with foundations that date back to AD720. Rather more recently, Swedish ski bums – typically the first to discover places like this – have sought a different sort of enlightenment.
The Swedish-owned Nangijala bar and café has quickly become an institution (as have its burgers). I have a beer with my host, Jan Pfister, a Swede with Swiss heritage who has just bought Lodge Sax, a small, moth-eaten hotel a short walk out of town. Bedding down in a tiny room, basic even by student-halls standards, makes a big if not wholly unwelcome change after the high-luxe of the Chedi.
Pfister brings his delightful young family here each winter and has plans to keep the Sax cozy with hip Scandi characteristics when he refurbishes it for a re-opening next winter. He puts me in touch with Paul Degonda, a local guide who kindly lets me gatecrash his group of Germans. They discovered this "secret" place 20 years ago and are keen for word of its delights not to spread too widely. But there's plenty more room for now.
At the top lift, we don climbing skins for a 20-minute ascent on skis, before a traverse and a rather hairy climb up a 10m cliff by way of rusting steel rungs thrust into the rock. It's worth any wobbling – from the ledge at the top, the almost 2,000m Val Strem lies below my skis, bathed in brilliant sunshine and untracked snow. In a resort like Verbier or Chamonix, this stuff would have been ruined in hours.
I end my trip with Pfister and family at the old Alpsu, famed locally for its capuns, a local dish of vine-wrapped dumplings. Over a glass of cynar, an unusual artichoke liqueur, he agrees that Disentis ought to benefit if the upscale transformation of Andermatt forces a burgeoning market of keen skiers with fat skis and tight budgets to look elsewhere (tellingly in Andermatt, Haus Bonetti, the only hostel accommodation in town, closed last October to become an accommodation block for Sawiris' staff).
Rudolf Buchi, the young director of the lift company, recognises this, too, and ultimately has ambitious designs to link all the resorts in the valley, including Andermatt. He is trying hard to galvanise the town and its distinctly laid-back tourist office. If he and Sawiris can work to combine their very different mountain masterplans, awakening two faded but delightful towns in the process, they will have developed a ski area to rank among the best in the world. My advice: come here before they do.
Travel essentials
Getting there
The writer travelled with Swiss (0845 601 0956; swiss.com) which flies from Heathrow, London City, Birmingham and Manchester to Zurich. Returns from £130. 
Staying there
The Chedi Andermatt (00 41 41 888 74 88; ghmhotels.com) has doubles from Sfr650 (£441), including breakfast and access to the spa.
Lodge Sax (lodgesax.com) will undergo a complete refurbishment over the summer and is taking bookings via email for next winter: info@lodgesax.com
More information
Switzerland Travel Centre: 00 800 100 200 30; myswitzerland.com
Reuse content