We entered the clearing and stopped, breathing hard after snowshoeing through deep powder. All around us were tall pines, their dark boughs drooping low under the weight of icy whiteness. Light flakes fell steadily but silently, adding to the 30cm that had arrived over the previous few days. Without the crunch of our footsteps there was no sound at all. I removed my thick gloves to take a glug of water – I may have been in the coldest place in Switzerland but all this exercise had made me rather warm.
This was the so-called Siberia of Switzerland, a valley in the Swiss Jura, which earned its nickname in January 1987 when the weather station in the village of La Brévine recorded the country's lowest ever temperature, minus 41.8C. While such extremes are rare, the valley's unusual micro- climate often produces lows around minus 15C and has dipped to minus 29C once this winter.
Rather than being a hindrance, however, La Brévine valley has learnt to make the most of its Arctic conditions and unusual fame. A few years ago restaurants, hotels and shops in the valley's three villages got together to launch a "cold festival" – La Fête du Froid – to celebrate its frigid reputation and show visitors what benefits the cold can bring. So, today people will gather by the frozen Taillères lake – perfect for open-air ice-skating – for a day devoted to enjoying the valley's prime assets: some of the best snowshoeing and cross-country skiing trails in the country.
Best snow sports holidays
Best snow sports holidays
1/7 Québec City, Canada

With Old World charm by the bucket load and an average snowfall of 400cm per year, Québec City is a magical place for snow sports fans to get their winter kicks. Whether you try your hand at Ice Climbing at Montmorency Falls or visit one of the two world-class ski resorts, Mont-Sainte-Anne and Stoneham Mountain, you'll be spoilt for choice in Québec City. Don't forget to catch a game of ice hockey whilst you're there.

2/7 Gstaad, Switzerland

A true winter wonderland, Switzerland is synonymous with all things snow related – and nowhere does it better than the ski town of Gstaad. One of the largest and most diverse winter sports regions in the country, Gstaad offers 220km of pistes at 3000m above sea level – and the slopes are even floodlit by night time, giving skiers and snowboarders the chance to experience a truly magical ride.

3/7 Gulmarg, India

When thinking of the world's top snow destinations, India might not be the first place that springs to mind – or indeed, the second or third. However, you'd be missing a trick if you left it off your list, because Gulmarg is certainly a gem that deserves to stay polished. Sitting high in the Himalayas in the north of India, Gulmarg is a small hill station that is India's leading ski resort. What's more, it also boasts the second highest cable car in the world, offering truly spectacular views over the world below.

4/7 Nuuk, Greenland

If you're looking for a snow holiday that's a little off piste from the regular favourites, Greenland's Nuuk could be just the place for you. With all the snow and slopes you could ever dream of, conditions are great for both cross-country and alpine skiing. What's more, there's a whole plethora of other activities available from dog sledding to climbing and mountaineering that will leave you wondering why you've never considered Greenland before.

5/7 Corralco, Chile

Just 50km from the exciting city of Temuco, Chile's Corralco is a small but perfectly formed snow resort with tracks catering to everyone from beginners to experts. Situated in the middle of the Malalcahuelco Natural Reserve and on the Lonquimay Volcano, Carralco provides a breathtaking backdrop to your snow holiday.

6/7 Rusutsu, Japan

Considered one of the best ski resorts in Japan, Rusutsu is heaven for fans of off piste skiing. The ski area covers three mountains, offering a great mix of options for all levels and abilities. With excellent snowboarding and natural thermal springs to warm up at the end of a long day, Rusutsu is certainly the place to head for your fix of snow sports in Japan.

7/7 Trysil, Norway

The largest ski resort in Norway, Trysil is a hugely popular choice with families and offers a great ski school for beginners to find their feet before hitting the slopes. But fear not, because with over 40 lifts and 70km of runs, you can be sure that there's something there to please every ability! If you fancy improving your winter sport skills in the heart of Scandinavia then Trysil is the place to head.
With the intention of previewing the festival, I arrived on a January morning under grey, snow-laden skies to see bleak fields of white spread out before me. It certainly felt like Siberia, or, as my snowshoeing guide, Monique, described it, "like you're at the end of the world". Though it appeared isolated, the end of the world was just half an hour by bus from the city of Neuchâtel, making for a surprisingly accessible foray into oblivion.
Just south of the French border, among the low-lying Jura mountains, this region is the less brazen sister of the more obviously spectacular Swiss Alps. Instead of dramatic peaks, there are undulating hills and high altitude valleys – not so good for downhill skiing, but wonderfully suited to snowshoeing and cross-country. There's plenty of personality to discover amid the Swiss Jura's understated beauty, too, including a long association with the watchmaking industry in the town of La Chaux-de-Fonds, and a history of absinthe production around the Val-de-Travers. With the potential for Arctic conditions, I might need to familiarise myself with the green fairy at some point during my trip.
However, even the coldest place in Switzerland isn't reliably cold, and the mercury was barely below freezing when I arrived in La Brévine. But I'd been lucky nonetheless – after a slow start to winter, the snow had finally descended in shovel-loads.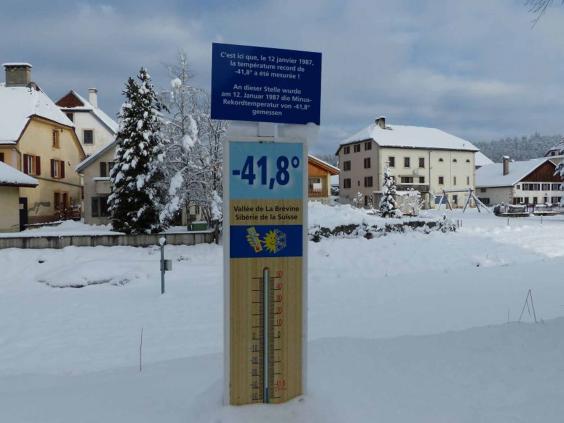 As I followed Monique into the hills above the valley we made fresh tracks in our snowshoes, the only other marks left by animals – the cloven hoof prints of a roe deer, the trail of a squirrel disappearing up a tree. At one point, we saw deer in the far distance, darting across the snow. "It's important not to disturb animals in the cold," said Monique, "they get exhausted running away."
Unlike the vast, flat valley, up here the landscape was a Jura-typical mix of forest and clearings created, Monique explained, by years of farming where patches of trees were cut down to give space for cattle to graze. She pointed out the different types of pine tree – the red, with its downwards-pointing cones, and the white pine, favoured as a snack by cows and therefore now rather depleted. We warmed up with bourgeon de sapin, a hot syrup drink made from pine needle buds, before descending through the trees to Taillères lake, whose frozen surface was so laden with snow it looked like another field.
It's up to the owner of La Brévine's only sports shop – the aptly named Siberia Sports – to decide whether the ice is thick enough to skate on, and today it was deemed unsafe, so we skirted around the edge and across snow-covered peat bogs to end our walk.
Over a hearty lunch at restaurant Chez Bichon, Jean-Maurice, the head of the Fête du Froid, explained that La Brévine's micro-climate is produced by its position at the lowest point of the valley. Under high-pressure conditions with no wind, "the cold stagnates here, it can't leave", he said. You could apply the same theory to building an igloo, he demonstrated by way of a quick sketch; if you create a dip in the snow by the entrance to the igloo, the cold will gather there instead of inside, making the igloo warmer.
It was a piece of advice I thankfully didn't need to make use of that night, even though the temperature had fallen sharply. I was staying in the cosy, late 19th-century Auberge au Loup Blanc, where a glass of absinthe and a steak with local Bleuchâtel cheese fuelled me for the next day's activity. In the morning chill I just had time to check out La Brévine's landmark – a thermometer plaque marking the weather station that registered that record low in 1987 – before joining my guide, Michael, to explore the cross-country ski trails.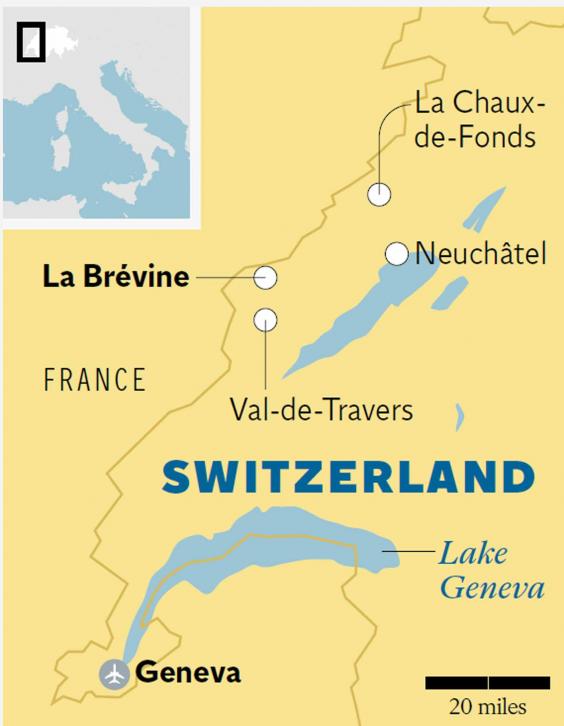 After hiring skis at Siberia Sports, we set out across the valley, now lit by the beautiful, low sun. Though I'd skied before, I was quickly outshone by others gliding past. "It's all about balance," advised Michael, "and it should feel natural. It shouldn't be hard work."
Easy for him to say, I thought. Cross-country skiing comes naturally to those who live here because it's more than a pastime, it's a way of life – children ski to school. Each village organises its own annual race – La Brévine's February event is called La Sibérienne, of course – and the region has produced numerous Olympic and world championship-level skiers.
It may not have come naturally to me, but I could appreciate the pleasure of gliding through the white, the sky mixing mauve and yellow into blue as the sun dipped low.
We stopped for a drink at Aux Berges d'Estaillères, a quirky fish restaurant stuffed with nautical paraphernalia, owned by the charismatic Gilles. A French-Italian former maître d' of the QE2, who speaks five languages, he's now happily ensconced in this landlocked boat-restaurant halfway between a tiny village and a tinier hamlet. Why? I asked. He showed me his newly built veranda, a suntrap that looked out over the lake, and gestured to the snow and blue sky outside. I needed no further explanation. "La vie est belle," I concluded, and he grinned in agreement. It may be chilly in Switzerland's Siberia, but life here is beautiful.
Getting there
The nearest airport is Geneva, served by a wide range of airlines from the UK including easyJet (0843 104 5000; easyJet.com), British Airways (0844 493 0787; ba.com), Swiss (0845 601 0956; swiss.com) and Jet2 (0800 408 1350; jet2.com).
Getting around
Travel to La Brévine by train and bus from Geneva for Sfr120 (£90) return (sbb.ch).
Staying there
The Auberge au Loup Blanc has doubles from Sfr70/£53 (00 41 32 938 20 00; loup-blanc.ch).
Skiing there
Book guided snowshoe tours through the Association Suisse des Guides-Interprètes du Patrimoine (asgip.ch)
Equipment and ski lessons can be booked through Siberia Sports (00 41 32 935 13 24; siberiasports.ch).
Eating there
Chez Bichon (00 41 32 935 12 58; restaurant-chez-bichon-brevine.ch)
More information
Reuse content