I've never been skiing and never hugely wanted to. For me, January is a time for faraway beaches, spicy food and Kindles on sunbeds. If I wanted cold and snow, I'd just hang around until February. But what about a different tack? Fancy a few hours mastering the basics indoors, in the unlikely location of Hemel Hempstead, before jetting off to tackle the Austrian Alps? Go Ski Go Board aim to spread six hours' tuition over as many weeks to get newbies up to speed, but I'd be aiming to complete mine in less than a fortnight. That was the plan anyway.
Part I: UK
My journey began in Hertfordshire, home of The Snow Centre. It is a mind-boggling place; a cavernous, floodlit atrium carpeted with fake snow and advertising plastered up the wall. The giant slope was writhing with skiers and snowboarders all missing each other by inches. The adjoining 30m-wide practice area seemed chock-a-block with grown men falling over. "How often do you get injuries here?" I asked a staff member as I clipped on my helmet. "Not too often," she replied, ambiguously.
My class comprised three other ski virgins – all nervous smiles and awkward gaits in our rented, musty garb. I was pleased to be the youngest in our group. I had initially been concerned, at 34, that I would be too old to learn. What was that expression about old dogs and new tricks again? We started at the very beginning – balance on one ski, correct posture on two. Soon I was sidestepping up a three-foot mound to drift down using my newly-learned V‑shaped snowplough to stop. The sort of things Alpine children probably master before they can tie shoelaces.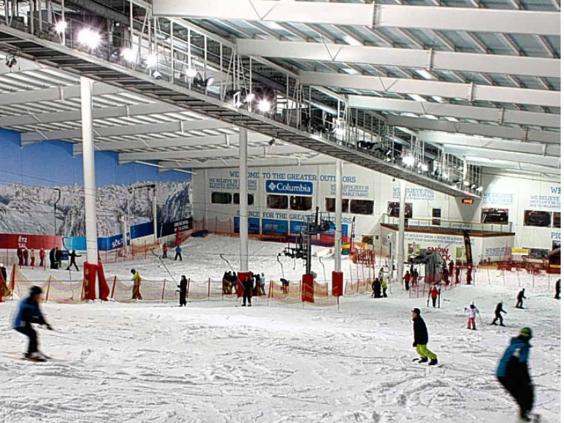 Higher and higher up the practice slope we ventured as our confidence grew. There was much wincing and an unsettling collision with an elderly Scottish lady. We both took it well. After a couple of hours I was ushered to the grown-ups' slope, an uneven and daunting 160m run. Swerving, snowploughing, praying, swearing, all were adopted. But, success! Down the mountain in one (slow) piece. Back to the top to repeat, again and again, a little faster, a little cockier, more thrilling each time. I was pumped by the heady hip hop soundtrack; Tupac and Biggie blared out of loudspeakers.
I was nearing the end of my allotted taught hours and looked for reassurance. "How was my technique?" I asked an instructor. "You look like a defecating zombie," he giggled. I felt slightly punctured, but he signed off my Adult Ski achievement card. I had completed Level 4, thus meaning I had apparently "mastered" control of speed and snowplough. Brimming with the confidence of the naive and damned, I hopped on an Innsbruck-bound flight to do it for real.
Part II: Austria
I'd be converting my new skills in the tranche of western Austrian mountains that separate Bavaria in the north from Italy in the south. The Brits tend to favour the off-piste at Kitzbühel and the party vibes at nearby St Anton, but I'd be hitting the broad, beginner-friendly peaks at St Johann in Tirol. It's a quietish place on first inspection. A few empty streets filled with restaurants. There were ubiquitous South African flags dotted around the snow schools showing that this was a place that catered for sub-Saharan visitors. Over dinner, Rebecca, from the tourist board, assured me "St Johann is more about ski than apres-ski". I'll say. My chatty instructor Harald ("call me Harry") started me on the lightly inclined green nursery slopes. The indoor techniques were just as applicable on the ersatz Tyrolean slush – the weather was mild; snow cannons were used. Broadly: lean back and you're doomed to collapse in a heap. "That's it!" cried Harry, as I lurched forward once more. "Lernen durch Handeln!" Learning by doing. After half an hour of this carry on, my teacher asked if I was ready for a sharper blue run. "Of course!" I lied.
No climate-controlled chamber could adequately prepare a novice such as me for hurtling down this winding white cloth of Alpine slope. I had to learn on the job. Fortunately, the ski areas at St Johann are wide and January is quieter before the hordes of holidaying Germans descend just before spring. Slowly, laboriously, with all the grace of Herman Munster with six-foot blades stuck to his boots, I shimmied – and cursed – my way down. Lernen durch Handeln.
And so it went on. My ski pass gave access to nearly two-dozen lifts and 50km of slopes, and even for a learner there was no shortage of beginner blue runs to explore. I was improving and gaining in confidence. A little faster each time. By the end of my first full day, I was trying to race whooshing local pig-tailed tweens. They invariably won. Breathtaking views were only occasionally interrupted by the thrum of a yellow rescue helicopter overhead. "It happens," Harry said, philosophically, as we craned our necks to watch a chopper land. We agreed I should take it a bit easier.
St Johann has more mountain restaurants per kilometre of piste than any Austrian ski resort. As the sun dimmed, Harry and I zigzagged over to the delightful Angerer Alm for some fine dining, 1,300m up. The stunning Alpine fare as delicious as it was unpronounceable. The best bit was the lashings of Tyrolean speciality speckknödel (dumplings with pieces of bacon). The perfect treat to soak up the local Riesling.
I was getting a little above my station and pushed Harry for a harder descent home. He relented. My first red run could have gone worse, but not by much. My maverick technique was just not up to the heftier incline and much of the following 45 minutes was spent on my backside, skis in the air, cursing my confidence. Male ego bruised, I spent the rest of the trip enjoying the blues. I'd come as far as I could in my few, short skiing hours. The reds could wait till next time.
Getting there
Innsbruck is served daily from London Gatwick by easyJet (easyjet.com) and twice-weekly from Liverpool and Bristol.
Staying there
Crystal Ski: (0871 231 2256; crystalski.co.uk) offers a week's half board at the four-star Hotel Brückenwirt in St Johann from £515 including flights.
More information
See Go Ski Go Board (goskigoboard.org.uk) for more information on learning to ski. The Tyrol (visittirol.co.uk) and Kitzbühler Alps (kitzalps.cc) tourist boards have details on St Johann and the local area.
Reuse content