Breckenridge in Colorado is a place where skiers and boarders can get really high. Just beyond the unloading station of its Imperial Express chairlift is a sign marking this as the highest lift-served point in North America, at almost 13,000ft. And the town itself, down at the foot of the mountain, is already 9,600ft above sea level, an altitude which exceeds that of the ski slopes at some decent Alpine resorts.
Curiously though, this is a ski destination whose most striking dimension is the horizontal, not the vertical. Its ski area – white-iced above the tree line by a whole panorama of snow bowls – is set on a long, north-south ridge called "Ten-mile Mountain" by the miners who created Breckenridge in the mid-19th century.
And facing it across the valley is a much wider wall of rock, part of the US's Continental Divide, the Mexico-to-Alaska watershed from which rainfall flows either towards the Pacific or the Atlantic.
Even the town itself accentuates the horizontal, its long main street being lined with cabin-like, wood-clad buildings, either authentic old-mining-town constructions or – more commonly – modern replicas. Here, anything with three storeys or more qualifies as a skyscraper.
About midway along the street is a shop whose hanging sign reads "Breckenridge Cannabis Club". Since 1 January it has been licensed to sell small amounts of cannabis to the general public thanks to the state of Colorado's Amendment 64. This year, skiers and boarders in Breckenridge can get high figuratively as well as literally.
The last time I visited Breckenridge was about 15 years ago, on a whirlwind tour of the four Colorado ski destinations owned by Vail Resorts, now the leading ski-resort operator in North America. Rather to my surprise, I judged Vail, Beaver Creek and Keystone – purpose-built resorts with a characteristically corporate flavour – all to be preferable to Breckenridge.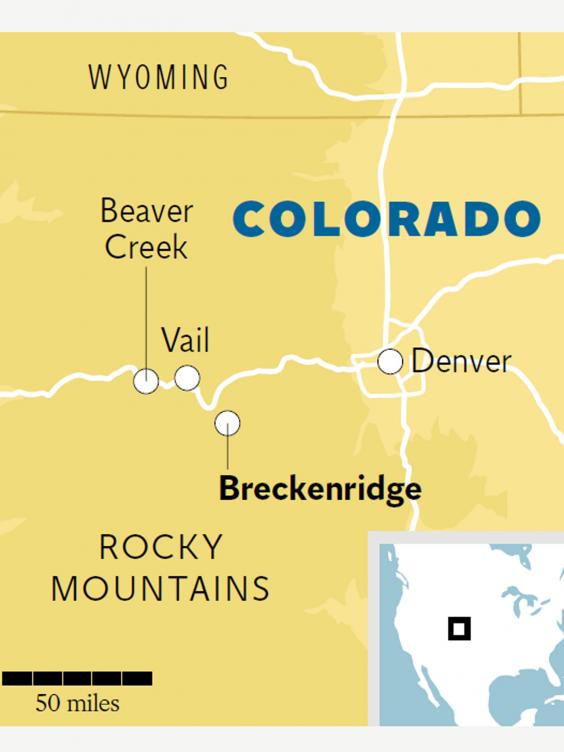 Certainly, the town of Breckenridge had the virtue of being a real, lively place, with a proper history; the problem lay in its ski area, which seemed small, crowded and lacking in magic. Keystone had my kind of ski terrain, sweeping away from the cosy River Run base and traversing two valleys on a journey to the vast mountain wilderness beyond its "Outback" peak. This was in stark contrast to Breckenridge, where virtually all the skiing was visible from the base, and the journey was either up or down.
In shunning the place for so many years I bucked the trends. During that period Breckenridge has consistently vied with Vail to be the most popular resort in the US; and it has remained the biggest attraction there for UK skiers. And since the millennium, the scale of the ski area has increased dramatically. Rather than giving them names, the plain-speaking miners simply numbered the peaks of Ten-mile Mountain; and up until 2001, Breckenridge had developed only Peaks 8, 9 and 10 for skiing. But in 2002 it broadened its appeal by including Peak 7 in the ski area; and for this season it has expanded further. The new terrain on Peak 6 has boosted the total amount of skiing by 23 per cent.
The character of the slopes has not changed; but two of my reservations about the ski area – that it seemed small and crowded – no longer apply. And expansion has made the skiing feel more varied, and given a greater clarity to its parts.
At the southern extreme, Peak 10's role is obviously to please good intermediates who like fast pistes cut through trees; right across to the north, the newer Peaks 7 and 8 have greatly increased the lift-served and hike-to terrain available to dare-devils in the high snow bowls; and for pure intermediates Breckenridge now has wide, easy skiing running down from those bowls. Where do beginners go? To a wide selection of green runs set across the lower parts of Peaks 9 and 10.
Down in town not too much has changed in 15 years, though there is more baby beetroot on the restaurant menus. Breckenridge remains a young place, still a bit frayed at the edges, and still blemished by souvenir shops: probably only in London's Camden Market will you see more garish T-shirts per head of the population. And unlike most purpose-built Colorado resorts it is lively even on a freezing night, thanks in large part to its many – by my rough count about 50 – restaurants and bars.
In the evening the Breckenridge Cannabis Club gets busy too, a queue of customers forming on the stairway up to its sales counter. The decriminalisation of cannabis in Colorado began in 2000 with Amendment 20, which permitted the drug's use for medical purposes. Recreational use remained illegal, and still is under federal law; but in 2009 the town of Breckenridge voted to legalise possession by people aged 21 and older, and in the same year federal authorities adopted a policy of not pursuing offences involving personal use of cannabis. Three years later came Amendment 64, which permitted the possession, cultivation and consumption of small amounts of cannabis for recreational use, from 1 January 2013. Its terms also permitted the sale of the drug – under licence – in shops, from 1 January this year. Caitlin Maguire's Breckenridge Cannabis Club opened in 2010 to sell medical cannabis to authorised patients; but she switched to recreational sale this year. "On the 31 December we had the usual, 20-odd customers coming into the shop," she says. "The next day we had 1,500."
The availability of cannabis (both in its natural form and edible in sweets and chocolate bars) obviously adds spice to Breckenridge's après-ski scene, but the joy is confined. On a reception desk at The DoubleTree (a "non-smoking hotel") lay a note warning that "consumption of marijuana in public and use in ski area facilities remain illegal under Colorado law" as does use in "alleyways, your car, streets, hotels, and anywhere you can be seen". And you can't get high up on high, even when visibility is low: the ski area is on National Forest Land, where federal law still bans the consumption of cannabis.
Travel essentials
Getting there
Crystal Ski (0871 231 2256; crystalski.co.uk) offers a week at the four-star DoubleTree by Hilton in Breckenridge from £1,249pp based on two sharing, including non-stop BA flights from Heathrow to Denver and transfers (departing 5 March 2014).
More information