The amazing thing about skiing in Norway is seeing just how good the local skiiers really are. Just when you think you've got some speed up, down comes an eight-year-old, body bent double, snow-plough out wide, arms straight out. And it wasn't on the nursery slopes that these youngsters were zooming past me but on some of the blackest runs, coming down from the Totten peak in Hemsedal.
No wonder Russia's President Putin told the head of the Norwegian ski team at Sochi: "Go home, you have enough medals." Russia may have beaten Norway by a decent margin – 33 medals to 26 – but the Norwegians were the runaway winners on medals per capita. Norway has now won 303 medals since the Winter Olympics began – more than any other country on the planet.
At Hemsedal you can see why Vladimir Putin might be envious; this is Norway's most popular ski playground and it's here many youngsters start their golden dreams. Parents put them into the Gaupeland ski-school – named after the lynxes that are said to prowl at night – as soon as they can walk. I overheard one mother ask the instructor how her three-year-old's turns were coming on.
Ben Nyberg, who runs Ski Norway and organised my trip, says that attitude is common: "It's a cliché to say Norwegians are born with skis on, but it's not far from the truth: skis really are clipped on to their feet as soon as they can walk." Nyberg, a Brit with Norwegian family links, first visited Hemsedal 13 years ago on holiday, decided to stay, started his ski company, and is still here.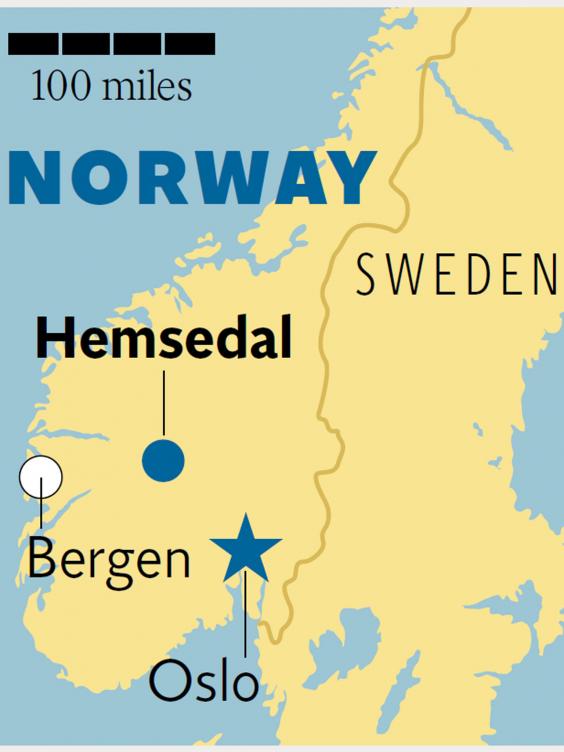 For those of us who can squeeze in just a week of skiing each year, Hemsedal is ideal because the season is so long. The Hallingdal mountains may not be as high as the Alps but the latitude means snow conditions are fantastic, because it's so cold at night and the slopes are groomed fastidiously.
I arrived at Easter last year, yet the snow was thick and powdery despite glorious sunshine and blue skies. The ski days are astonishingly long but there are plenty of early risers keen to maximise slope time. From the balcony of the Alpin Lodge, where I stayed, I had a panoramic view of the three peaks and the black run down to the base. The slopes were alive for the 7.30am opening and even busier for evening skiing – several runs open to 11pm.
Staying at the chic Alpin – a clever combo of hotel and self-catering apartments – means you're at the nerve centre. You can ski in and out here, with ski hire and food shops in the basement, so there's no lugging stuff around. As well as the Alpin, there are more than 2,000 chalets to rent – ranging from basic to super luxe with chefs – plus new hotels such as the Skarsnuten, which means "nose of the ridge". As the name suggests, the all-glass and wood hotel hangs off the mountain, boasting spectacular views.
Everything in Hemsedal is close at hand. It's only a minute's walk to the Holvein lift station,taking you up to the three main peaks of Totten, Tinden and Rogjin, from which flow the 46km of runs. There are 28 lifts, all running so smoothly that I didn't see a single queue. My favourite run was at the top of Totten – the highest peak at 1,497m. From here, you have a sensational view across the Hallingdal Valley and the creamy waffles at the Tinden kiosk halfway down are delicious.
There's lots for snowboarders too, with five fun parks and winter activities such as cross-country tracks, ice-climbing, snow-scooters, heliskiing and visits to the nearby Sognefjord. I tried husky sledging, which is not quite as romantic as it sounds. When I arrived at Johan Muller's husky farm deep in the Gravset forest, his 36 dogs were howling so much that they sounded in pain. It turned out they were merely excited to be going sledging – howling is their way of competing to be chosen. They quietened down once they were hooked up to sledges, but it was my turn to howl as the huskies whisked us around the narrow icy paths between the trees at break-neck speed.
To recover, I took a 10-minute walk to Hesedel village to test the local delicacies. At Hemsedal Café I cooked my own reindeer meat on kleberstein (hot stones) and ate a delicious elk stew at the Kjokken Kroken. The café's co-owner, Jens Jorgensen, also owns the lively Experten Sportsman bar up at the resort. In the daytime, it's perfect for families to enjoy bowling while at night it livens up when the young arrive for the après-ski. For serious dancing, step next door to the Hemsen Nightclub, Norway's biggest, with room for 1,500.
Jorgensen says: "People here live longer than anywhere else in Norway ... it's partly because the nature around us is so beautiful and everyone is happy. But I also think it's because the local doctor is so strict he never signs anyone off ill – so we keeping working. We call it 'the Valley of Love'."
Travel essentials
Getting there
Margareta Pagano travelled with Ben Nyberg of Ski Norway (020 7199 6010; ski-norway.co.uk) which offers a week's half-board stay at the Alpin Lodge, with scheduled flights from Heathrow, Manchester or Aberdeen and transfers from £1,139pp.
Visiting there
Hemsedal Café (00 47 32 05 54 10; gohemsedal.com).
Kjokken Kroken (00 47 32 05 99 66; kjokkenkroken.no).
Hemsen Nightclub (00 47 32 05 54 10; gohemsedal.com).
More information
Reuse content