Things didn't look promising. I was an hour's drive out of Boise en route to one of the greats of American skiing, Sun Valley. But I was yet to see a mountain, let alone snow. Then I turned east off the Interstate on to US20, and finally north on State Highway 75. By the time I rolled into the former mining town and sheep-rearing station of Ketchum, the steep, snowy slopes of Sun Valley Resort's 9,150ft Bald Mountain were looming above me.
After the long flight to Boise and the two-and-a-half hour drive to my accommodation at Sun Valley Lodge, it was great finally to relax.
Sun Valley knows a thing or two about spoiling its guests. One of America's oldest ski hills, it installed the world's first chair lift 80 years ago and has long attracted the country's beautiful people. Past guests at the lodge have included Ernest Hemingway, Marilyn Monroe, Clark Gable and Clint Eastwood – their photos adorn the walls.
Bald Mountain offers 3,000ft of downhill, immaculately groomed slopes and a thrillingly steep and consistent fall-line on runs such as Warm Springs Face, Hemingway and International. I had two days to enjoy the high-speed fun, before heading off to my next stop, Lost Trail Powder Mountain, which lies at 6,400ft in the Bitterroot Mountains. To get there involved a five-hour drive beside the spiky Sawtooth Mountains.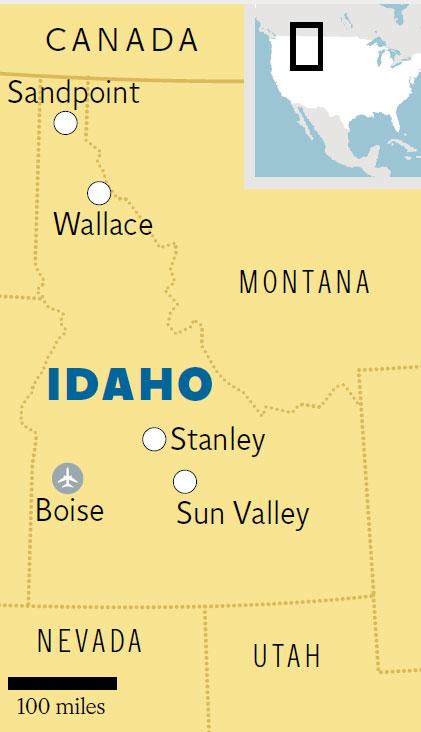 Stupendous mountain scenery and wildlife came at me by the bucket load. Much of the drive followed the banks of the crystal-clear Salmon River, where I saw elk and bald eagles. Of humanity, there was little sign other than at Stanley (population: 63; elevation: 6,253ft; temperatures that fall below freezing throughout the year) and Salmon (population: population 3,212; the biggest town I passed).
Here I stopped at a diner where I met a woman who had to drive for an hour-and-a-half to get to the grocery store, and a couple who lived 16 miles from the nearest paved road. I began to see why big trucks and self-sufficiency are taken for granted in these parts.
Lost Trail was a delight. It's small, with just eight lifts and 1,800ft of vertical – but there's an average snowfall of 300 inches each year. I arrived at the same time as a dump of knee-deep powder, but had just a day to enjoy it, before another five-hour drive down the east side of the Bitterroots and north into Montana before hooking west on the I-90, and back into Idaho.
I was heading for Wallace, and I fell in love with it almost instantly. It felt like the quintessential gold-mining town, or where the Keystone Cops would come hurtling around a corner at any moment, or where you might see a pink Cadillac pass by, or spot Marlon Brando on a Triumph Thunderbird. Wallace encapsulates every small-town-America image Hollywood has ever conjured up.
From Wallace, I skied the tiny Lookout Pass area, which a couple of years ago set a world record for a week's snowfall of 6ft 6in.
The modest size (just four lifts, 34 runs and 1,150ft of vertical) didn't set my heart racing, but heaps of powder, no lift queues and fun skiing on groomed trails, makes for a pleasant ski outing and kept me entertained for a day.
From Wallace, I also skied Silver Mountain. Here the world's longest single-stage gondola carries you over the former silver-mining town of Kellogg, almost 4,000ft up on to 6,200ft Wardner Peak, from where the classic Idaho landscape of forested mountains seems to stretch on forever.
Here, again, I encountered great snow conditions, both in the glades beneath Wardner Peak and on a beautifully groomed and excitingly steep black called Rendezvous. Considerably bigger than the previous two hills I'd visited, Silver Mountain is still small by European standards, but as with everywhere in Idaho the people are so thin on the ground that you're never standing in lift queues and can usually find powder stashes.
The final stop of my tour d'Idaho was the state's biggest ski hill, Schweitzer Mountain. It is an easy two-hour drive from Wallace through the attractive lakeside towns of Coeur d'Alene and Sandpoint. Schweitzer boasts fast, efficient lifts, 2,400ft of vertical and an inspiring mix of blue, black and double-black-diamond runs (there are no reds in North America), plus some sensational tree skiing.
Schweitzer sits at the southern end of the Selkirk Mountains, very close to the Canadian border. As a result, it has more of a Canadian feel: groves of huge cedars line some of the lower slopes, while "snow ghosts" – pine trees encased in a carapace of snow and ice – are a feature of the upper slopes.
It's tempting to knock the snow off, but you only try it once; it's like hitting a brick wall. As I unclipped from my skis in Schweitzer's ski-in/ski-out village centre for the final time, I had driven an awful long way to ski the Idaho greats. But to experience those empty slopes, magnificent landscapes and friendly locals, was worth every mile.
Travel essentials
Getting there
Alf Alderson travelled with British Airways (0844 493 0787; ba.com) and its partner American Airlines (0844 499 7300; americanairlines.co.uk) from Heathrow to Boise via Seattle.
Staying there
Sun Valley Lodge (001 800 976 4925; visitsunvalley.com). Doubles from $244 (£163).
More information
Sun Valley (visitsunvalley.com); Lost Trail (losttrail.com); Lookout Pass (skilookout.com); Silver Mountain (silvermt.com); visitidaho.org
Reuse content