The medieval centre of Amsterdam has its landmark attractions such as the Royal Palace and Old Church, but the city's Unesco World Heritage-listed rings of canals, the Grachtengordel, are arguably its most beguiling architectural and cultural draw.
They possess a grandeur that the slightly shabbier centre does not not. The Singel, Herengracht, Keizersgracht and Prinsengracht encircle the city centre in a horseshoe shape, built during what is considered Amsterdam's Golden Age, in the 17th and 18th centuries. Their concentric arcs lined with gabled houses, originally home to prosperous merchants, are connected by a pretty cobweb of cobbled streets and small bridges.
If your bank balance allows, the ultimate Amsterdam experience is to wake up soothed by the shimmering light of the water dancing off your bedroom ceiling.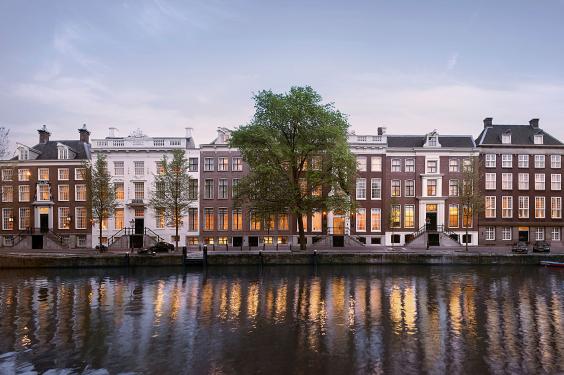 Opened in May, the Waldorf Astoria spans six of these historic canal-side mansions, generously spread along Herengracht. Original residents liked to express their success through their homes and these half-dozen architectural statements are no exception.
The tone is immediately set by frothy Louis XIV-style stucco work above the reception area. The house was built in 1665 for the influential Backer family and on closer inspection also reveals elaborate carved wood stairs.
The neighbouring Hooft house features a romantic Rococo-style dining room adorned by Italianate paintings, while another was built for the Mayor of Amsterdam in 1665. Suffice to say, the address drips with caché.
With a nod to Waldorf's New York original, Peacock Alley is the hotel's lounge, serving light snacks – an airy space with pale marble floors, comfortable sofas and views out on to Amsterdam's largest private garden.
In the basement, the Vault Bar takes its name from a time when the building served as the headquarters for De Nederlandse Overzeese Bank. The gastronomic Librije's Zusje Amsterdam has fast become one of the city's most talked about restaurants.
As the Dutch name suggests, it's the little sister of the three-Michelin-starred De Librije in Zwolle, one of the most influential restaurants in the Netherlands.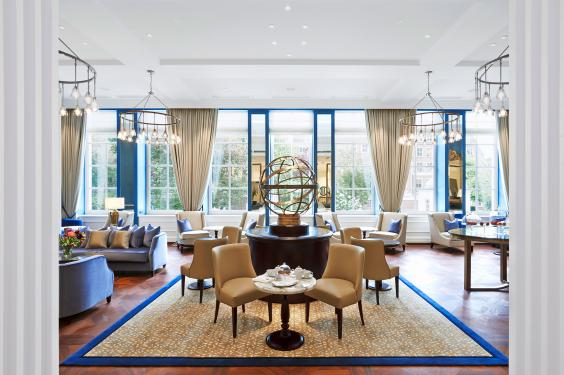 Hotel guests can borrow bikes, but these are on a first come first served basis, so it's best to rent your own, something that can be arranged via the concierge. There is also an indoor pool and gym, plus a plush, pricey and fantastically soporific Guerlain Spa.
It all adds up to a somewhat rare achievement for a corporate hospitality chain: producing a hotel that succeeds in making its mark, yet retains a boutiquey feel and unique sense of place. As our taxi drove away, our three-year old son burst into tears and sobbed all the way to Schiphol. I felt his pain.
Location
Overlooking the Herengracht, one of Amsterdam's most scenic canals, between Utrechtsestraat andVijzelstraat. The busy Rembrandtplein is a short walk and it's a stroll or cycle to most stellar sights such as the Rijksmuseum, Flower Market and Hermitage Amsterdam.
A taxi from Schiphol costs around €55 one way. There are also frequent train connections to Amsterdam Centraal every 15 minutes for €4 one way; then it's a short ride on tram number 4 or 16 to the hotel.
Comfort
There are 93 rooms, each with distinctive, historic quirks; a good balance of the very grand and the more cosy, slipped under the eaves. Our room had pale walls, white painted rafters and creamy hues with accents of peacock blue and dark wood floors.
Another nod to the location came in the blue-and-white Delft tiles in the bathroom. If you were casting a very critical eye you might say the rooms could benefit from a bit more historic character.
Lights, Wi-Fi and TV are straightforward and there was a Nespresso machine and a kettle, plus Salvatore Ferragamo toiletries in bathrooms.
Reuse content