Breakfast: Sweden
The Scandinavian Kitchen
For Brits who prefer the harmless taste of oats and Corn Flakes to ease them into the day, a pickled herring with onion on rye bread can be a little overwhelming for breakfast. But as they say, when in the Scandinavian Kitchen, do as the Scandinavians do.
However, this is Soho. And unless you have some childhood attachment to the dish, I can't really imagine anyone enjoying it that much at this time of day. The potent breath it leaves you with won't make you any friends either.
Cheese being the other basis of a Swedish breakfast, I also try some toasted rye bread that comes with Västerbotten (which might look like typical cream cheese but is actually a hell of a lot honkier than Philadelphia), and jam and butter. I figure that this was supposed to be eaten all together so I promptly spread jam over the cheese and eat. Sure, it was weird, but then, so was the pickled herring.
Since then, I have conducted extensive online research and can find no mention of jam being paired with Västerbotten, so I can only conclude that the cheese and jam were destined to be sampled on the two slices of rye quite separately. Oh, how the staff must have laughed.
61 Great Titchfield St, London W1, tel: 020 7580 7161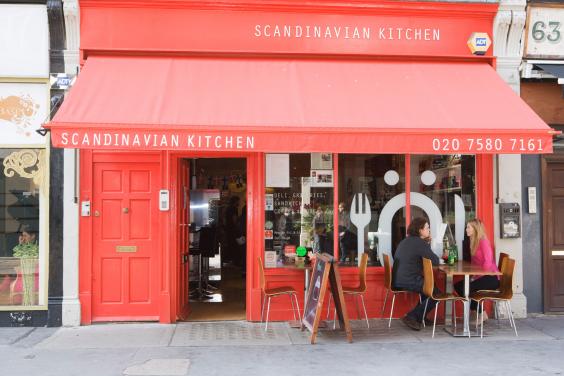 Brunch: Georgia
Little Georgia
After deciding on a Georgian restaurant for brunch, I discover that they don't make a big deal of food before lunch, settling for a bit of cheesy bread, a minced meat dumpling, or last night's leftovers. But that's not stopping Little Georgia, a delightful café in east London, from offering a full brunch menu.
The cuisine is close to that of Turkey and Iran, the most extensively used ingredients being garlic, walnuts, cumin and coriander. Along with a number of sweet pancakes, Little Georgia offers the chizi bizhi, its take on a full English. The eggs come scrambled, with plenty of garlic, herbs, and tomato. The pork and beef sausages are pleasantly spiced. Bacon is included, which I suspect is a gesture to our rasher-loving nation. The most authentic part is the lobio: stewed kidney beans served with coriander, walnuts, garlic and onion, and, rather unhappily, served cold.
But with something called supra being a Georgian evening tradition involving a four-hour marathon of food (about five courses) and booze (men drink up to four litres of wine each), it probably comes as little surprise that, "Let's meet for brunch!" is a rarely uttered phrase in Tbilisi.
87 Goldsmith's Row, London E2, tel: 020 7739 8154
Lunch: Vietnam
Green Papaya
You can hardly strut down a street in east London without being greeted by a plethora of Vietnamese restaurants these days. Such is their sheer number, it can be tricky to work out which one to enter. The good news is you can hardly pick a wrong'un. Menus don't stray too much from the familiar: summer rolls, crispy squid and plenty of pork belly (Thit Kho Tau is an excellent choice).
Green Papaya is interesting in that it offers north Vietnamese cuisine; most restaurants in this area specialise in southern. The popular soup dish pho originates from the north, while the south is more influenced by the cuisine of Chinese immigrants (think sweet and sour).
Vietnamese is perfect for lunch: hearty without being too filling, so avoiding that mid-afternoon slump. It's healthy, too. They favour an abundance of fresh herbs and vegetables, and minimal use of oil. A generous portion of Bun Xa (rice vermicelli with beef stir fried in turmeric and lemongrass) arrives in a huge steaming bowl. It is clean and delicious; a hit of spice without giving you a sweat.
And the best bit? You can get a wholesome warming dish for the same price as a tuna sarnie and a packet of Walkers.
191 Mare Street, London E8, tel: 020 8985 5486
Snack: Japan
Feng Sushi
The convenience of Japanese food lends itself well to those looking for a quick snack. And with Japanese "fast-food" bars slowly taking over London's high streets (no complaints here), you're never far from being sated by half-a-dozen pieces of California roll.
The vegetables on offer at sushi restaurants are often overlooked – and they really shouldn't be. The dressings that accompany their veg are the Japanese secret weapon. It's why their seaweed doesn't taste like salty gristle from the ocean bed: they slather it in sesame sauce (which I could happily drown all future salads in).

So sure, they know how to work their magic on a piece of tuna, but just have a look at what they do with their aubergines. Feng Sushi, a superior chain, offers a number of veggie snacks, but its miso dengaku – aubergines served with ginger miso dressing – truly is something else.
Proving there's more to miso than the ubiquitous soup, it is also the main ingredient in the delectably salty-and- sweet caramelised glaze that the aubergine arrives in. Served in bite-sized pieces, it's more than just a snack – it's a veritable treat.
24 Kensington Church Street, London W8, tel: 020 7937 7927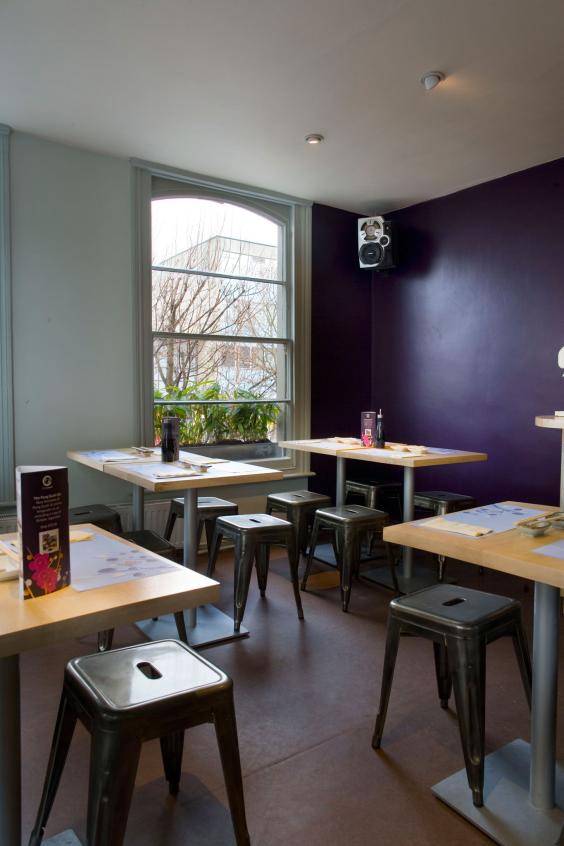 Dinner: Peru
Andina
We were told that 2013 was going to be the year that everybody started to obsess over lima beans, as Peruvian cuisine was set to be the hot food trend. It never took off quite as predicted (we were all still too busy scoffing burgers), but perhaps this new Shoreditch restaurant will convince the uninitiated.
Order ceviche for a tantalising starter: slivers of raw fish marinated in tiger's milk (fear not, it's simply the spiced citrus juice that "cooks" the fish) and served with sweet potato, onion, chilli and avocado.
Ceviche at Andina is followed by aji de gallina, a traditional chicken casserole that comes in a mildly spiced creamy sauce, and served with rice, Peru's famous purple potatoes, and a quinoa-coated drumstick (the Peruvians really do love their quinoa – it even appears in the delightful dessert brownie at this restaurant).
No Peruvian dinner is complete without a pisco sour, their signature cocktail made from pisco (a grape brandy), citrus, syrup and egg white. That yesterday was National Pisco Sour Day in Peru, an official government holiday, tells you a bit about just how big the drink is over there. And understandably so.
1 Redchurch Street, London E2, tel: 020 7920 6499
Late-night supper: United States
Automat
Everyone knows you're not supposed to eat a big meal before bed. But surely a giant plateful of classic American grub at 11pm, having had one too many Martinis, is one of life's great joys? And the plentiful grease will help sober you up, meaning you're all but guaranteed to wake up hangover-free the following morning.
US-style diners are two-a-penny these days. But for a late-night supper I head to the decidedly classy Automat, a snazzy brasserie in Mayfair. The buzzy but stylish location – all wooden walls and plush leather booths – will make you feel like you've been transported to Manhattan's Bowery.
Among the "entrées" are beefburgers, strip steak and rump of lamb. But the macaroni and cheese is a real thing of gooey, decadent beauty (if you really want to push the boat out, you can even add some black truffle).
Elsewhere, you'll find the usual suspects: fries, slaw, milkshakes. Sure, we Brits might have a fondness for post-booze kebabs and fried chicken, but classic American diner grub is the way to go. And they'll let you sit down. After all, negotiating the night bus with some spicy hot wings is never a good look.
33 Dover Street, London W1, tel: 020 7499 3033
Reuse content