With 300 miles of coastline looping round the UK's southern tip, it's no surprise Cornwall has been named the UK's best holiday destination at the British Travel Awards for the past six years running. 
While most visitors come in the summer, there are plenty of reasons to visit outside the peak season. As temperatures drop, so do prices (transport and accommodation are cheaper off-season); roads are less congested, and the coastal paths are near empty, leaving you to enjoy the scenery in peace.
Bargain beaches
Not only are the beaches and coastal paths horde-free now, but it costs less to get there. Many council-run car parks – including well-known ones such as Porthtowan beach and Kynance Cove – waive fees from November to Easter. Others reduce charges – at Polzeath, for example, an hour's parking on the beach itself drops from £2.10 in high season to 70p until 14 March. If you have dogs, now's the time to bring them – all but seven beaches allow dogs off-season.
Seafood diet
If you've eaten Cornish crab in the summer, you've had it at its worst, says fisherman Calum Greenhalgh, who sells his crab and lobster at Fresh from the Sea (01208 880849; freshfromthesea.co.uk) in Port Isaac and supplies Nathan Outlaw's double Michelin-starred restaurant in the town, too (01208 881 183; nathan-outlaw.com). 
From September to Christmas, he's catching roe-rich female crabs; in spring and summer, it's the males. The difference? The brown meat: in summer, there's about a teaspoon per crab, whereas right now, you'll find about a cupful. 
Stormy weather
Protruding out into the ocean, Cornwall often gets the brunt of the Atlantic's unpredictable weather, and what makes for world-class surfing is also great for hunkering down on the coast and watching the ferocious waves roll in. 
On the north coast, Newquay's Headland Hotel (01637 872211; headlandhotel.co.uk) is a good storm-watching bet – overlooking Fistral Beach, the ocean surrounds it on three sides. Its storm-watching package costs from £115 a night. 
On the calmer south coast, The Lugger (0843 178 7155; bespokehotels.com) at Portloe, on the Roseland Peninsula, is exactly what you want from a storm-watching break: in the centre of the action thanks to its location, teetering on the edge of a tiny harbour, but shielded from the worst of the weather by the surrounding cliffs. A two-night dinner, bed and breakfast storm-watching package starts from £159 per person.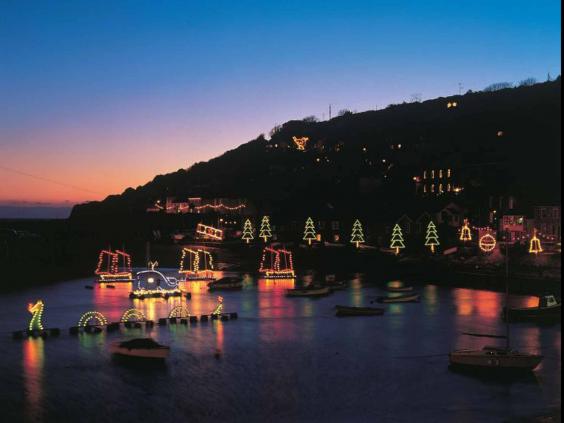 Feeling festive
Events galore are lined up over the next two months. Mousehole, near Penzance, is famous for its floating Christmas light displays in its pretty harbour; they'll be switched on from 12 December to 2 January (mouseholelights.org.uk). 
Jamie Oliver's Fifteen restaurant will host a Winter Fayre (01637 861000; fifteencornwall.co.uk/winter-fayre) on Saturday 28 November, with demonstrations by local chefs and stalls from local producers. 
Rogue Theatre's Winter Wood (roguetheatre.co.uk/winterwood) – a family-friendly show that's part of the Arts Council-affiliated Cornwall 365 programme (cornwall365.org.uk) – is at Tehidy Woods, on the cliffs above Portreath, from 11 to 30 December.
Scilly season
Penzance's daily ferry to the Isles of Scilly stopped running on 8 November, but fly from Land's End (15 minutes) or Newquay (30 minutes; islesofscilly-travel.co.uk) and you'll have the islands almost to yourself. 
Though the weather's unpredictable, the islands enjoy their own microclimate, so on a good day you'll be joined by their fabled wildlife: puffins, seals and dophins are par for the course, while a rare Arctic whale was spotted last winter.
Reuse content