Whether there are April showers or glorious spring sunshine, here are some of the best Easter days out for families, plus a few more grown-up options over the bank holiday weekend.
Easter Egg trails, nationwide
Explore woodland, coasts, historic houses and castles with adventurous trails at more than 300 locations from 3-6 April, all with a chocolate prize at the end. Children get a trail journal with clues to work out at different National Trust and National Trust for Scotland sites. There's a round-the-world theme at Biddulph Grange Garden, Staffordshire, while in Wiltshire, Lacock Abbey takes its inspiration from the planets (from £1, plus usual entry fee for each property; eastereggtrail.com).
Follow the White Rabbit, Llandudno
Not the Easter bunny, but in Wales an app will take you on an augmented reality trail around Llandudno, following in the footsteps of Alice in Wonderland, and her real-life counterpart, Alice Liddell. Lewis Carroll, who joined the Liddells on their annual holidays here, is thought to have been inspired by the Victorian resort, including a cave on the Great Orme which looks rather similar to a rabbit hole (available on iOS and Android, from £1.99; alicetowntrail.co.uk).
International Science Festival, Edinburgh
Exploding Easter eggs, chocolate flamethrowers and stunt bunnies fired into space? This is Easter with a twist. Dr Bunhead's Exploding Easter Egg show (10-11 April) is just one of the family friendly events around the Scottish capital from 4-19 April. There's also Dino Day at Summerhall (4 April), with a dinosaur egg hunt and activities including building your own dinosaur. You can also protect puffins with Professor Egghead, and there's the Alien Invasion at the Scottish Seabird Centre (3-20 April; some events are free, others are £5-6 per person; sciencefestival.co.uk).
Lincoln Castle
After a four-year restoration, the Norman castle reopens on 1 April. Visit the Victorian Chocolate kitchen before 13 April for cooking demonstrations and historic trivia, including why 19th-century surgeons would prescribe cocoa. You can also explore the towers and dungeons of the Medieval Wall Walk, come face-to-face with convicts in the imposing prison, and see Lincoln's 1215 Magna Carta in an underground vault. From 3-13 April head into the grounds for an Easter Quest, following clues to search for King John's lost treasure with rhymes on markers around the site. Find each stop and there will be chocolate coins as a reward (entry to grounds is free, Quest costs £1; castle entry for adults from £5; children from £3; lincolncastle.com).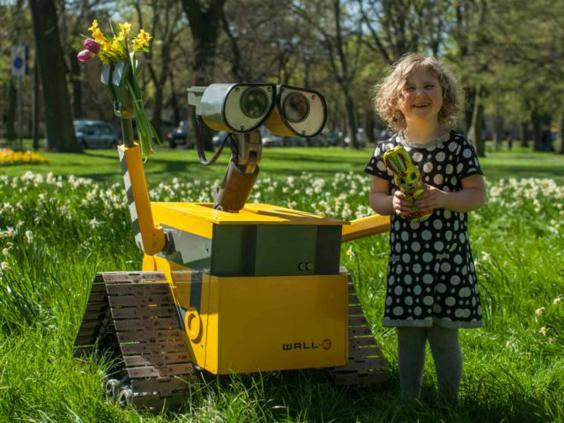 River of Flowers, London
Make the most of any Easter sunshine by strolling along the banks of the Thames just as the riverside wildflowers come into bloom. Linking wild gardens, meadows and groves on both banks, the River of Flowers project was designed to create habitats for honeybees, and the trail passes through land owned by The Garden Museum, Queen Elizabeth Hall and Tate Modern. From 4 April you can refuel afterwards with a Wildflower Afternoon Tea at The Savoy hotel (trail free, tea from £56.25 per person; riverofflowers.org; fairmont.com/savoy-london).
York Dungeon
Risk "death by chocolate" at the Dungeon's new pop-up show from (28 March to 12 April). The Victorian sweet shop's treats might not taste as sugary as you'd expect as you play chocolate roulette and risk a mouthful of chilli or mustard powder. And there's not a fluffy bunny in sight, instead you'll see such characters as Henry VIII and Guy Fawkes in 12 shows. The London Dungeon is running a similar pop-up event (adults from £9.50; children, recommended for over-10s only, from £6.95; thedungeons.com/york).
National Maritime Museum, Falmouth
A chocolate hammer might not be of much use, but it's fun to make. As part of the museum's Viking Voyagers exhibition, there's a hoard of Easter activities (28 March to 12 April). This weekend you can join in a Viking battle or make dragon art. Over Easter weekend, it's time to embrace religion – in this case the Norse god Thor and his hammer, which you can cast in chocolate (adults £12; Children £8.50; nmmc.co.uk).
Kentwell Hall, Suffolk
Choose newborn lambs or an old-fashioned Easter at this historic house. The hall's Lambing Festival runs from 29 March to 2 April, with rare breed Norfolk Horns in the Tudor stables and the annual "O'Lambpics", a series of traditional games with an ovine twist such as bowling through sheep's legs and a lamb-themed beanbag toss. You'll also find Easter crafts in the barn and kids' trails on the farm, including a Heffalump Hunt (adults from £8; children from £4.80; kentwell.co.uk).
Ironbridge Gorge Museums, Shropshire
The 10 museums at Ironbridge Gorge are all running different Easter-themed events, including egg dancing at Blists Hill Victorian Town (28 March to 12 April), an Easter tradition that dates back to medieval times. After seeing the twice-daily spectacle of blindfolded townsfolk dance across the street while trying not to crush eggs in their path, visitors can join in as well. Alternatively, hunt for bunnies in the town's woods, or decorate tiles at workshops in the Jackfield Tile Museum (entry for adults £3.50-£16.95; children £2.50-£11.50. Some additional charges for workshops; ironbridge.org.uk).
Luxury Easter chocolate workshop, Bournemouth
The ultimate treat for chocolate fans, this indulgent event at Bournemouth's Chocolate Boutique hotel includes a tasting of different chocolates from around the world, teamed with chocolate wine, as well as a chance to make Belgian truffles yourself while you sip cava. Taking place on 4 April, you'll come home with enough for an Easter present – if you can bear to share (tickets £75; thechocolateboutiquehotel.co.uk).
Reuse content