Guernsey is fond of speed. In a 2013 survey of UK regions, the Channel Island ranked second-highest for ownership of fast cars. And this month, regional carrier Aurigny has started using Embraer E195 jets on its Gatwick-Guernsey route, shaving five minutes off the flying time and increasing the number of available seats.
You may get there faster – but be prepared to take it slow when you arrive. The speed limit is just 35mph and no one seems in much of a rush. "The people are just more laidback," Paul Brady, sales manager of St Peter Port's Duke of Richmond Hotel, told me over crabcakes. "Many companies – Pizza Express, Burger King – failed here. They didn't introduce change gradually; they didn't work the Guernsey way."
So, after a quick flight, I was hoping for a relaxed long weekend. On arrival, guide Elizabeth Gardener-Wheeler took me on a (leisurely) tour of the wedge-shaped island: it's vaguely triangular, the south coast cliffs sliding down to sandy shallows in the north. Our drive passed wide beaches, Guernsey cows and parish churches. We entered the Déhus Dolmen, a neolithic tomb dating back to 3500 BC and drove to the Little Chapel, a grotto-like shrine, built in 1914 and now encrusted with shells and porcelain.
Elizabeth is not a native Sarnian, but fell in love with the island. "I've been here for over 20 years," she said. "I'm even a member of the Guernsey Occupation Society – they say I'm an honorary donkey!"
Sorry? Elizabeth explained, first that Guernsey locals are called donkeys ("they're stubborn and persevering"), and also that she's fascinated by the island's Second World War history. The Channel Islands were the only British territory occupied during the war. Nazi forces commandeered the island from 30 June 1940 to 9 May 1945 – it was a time of curfews and privation.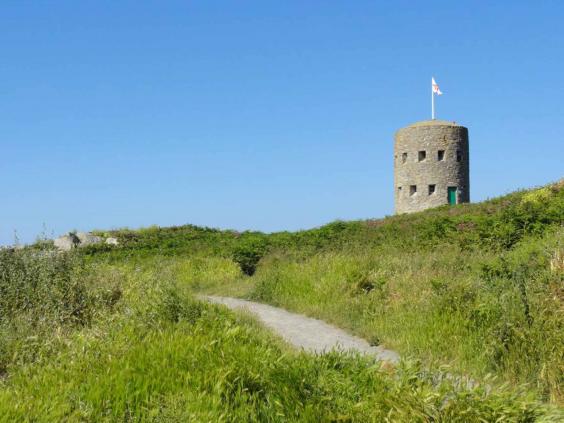 The evidence of this period is still conspicuous. Aside from the jumble of guns, uniforms and 65-year-old preserved plums on display at the German Occupation Museum, military bunkers and trenches scar the island; Martello towers, built in the early 19th century to keep Napoleon at bay, are topped with Nazi extensions. The level of fortification for such a small outpost is startling – over 66,000 mines were laid here. For Hitler, little Guernsey was a big prize: a strategic brick in the Atlantic wall, a potential staging post for a mainland offensive and ideal rallying propaganda – German troops on British soil.
The next day, I maintained an easy pace. A booklet of local Tasty Walks – scenic hikes, all with restaurants or cafés en route – provided my inspiration, and I headed south from St Peter Port to trace the island's most dramatic seaboard. I was up early, and the capital's cobbled streets and boat-bobbed marina were quiet. Castle Cornet, which has stood guard over the harbour for nearly eight centuries, was at peace – its five museums not yet open for the day.
I had no plan other than to walk. If you had energy and time enough, you could make a loop of Guernsey: it's a 39-mile circuit. I doubted I'd get that far, but the sun was shining, the Channel glinting and the path – passing pools where Victor Hugo once bathed, and leading up into bluebell woods – was inviting.
I'd expected Guernsey to be charming, but I wasn't prepared for it to be quite so spectacular. The cliffs, up to 100m high, were cloaked in furze and wildflowers; they dipped to secretive bays and shattered into the clear green-blue. No wonder Renoir was so fond – he painted the Moulin Huet area several times after a visit in 1883.
And there was that history too: 15 loop-hole towers were built around the island between 1778 and 1779 to deter French incursions – poignant reminders of past ugliness amid the beauty.
My shore-hugging walk was linear, and to return to St Peter Port I'd intended to detour to a bus stop when I'd had enough coast. However, given the island's bijou proportions, I realised I could just walk back, heading inland via a shimmy of ruettes tranquilles – narrow lanes with a 15mph speed limit. This also gave me a chance to shop. Many islanders sell "hedge veg" – home-grown produce, ranging from carrots to tomatillo chutney – from their verges; you pay via an honesty box. By the time I got back to town and settled into a sea-view bar with a local Breda lager, I'd ticked off exquisite bays, a German cemetery, military defences, thatched cottages, pickled beetroot and some 2.5 billion-year-old rock. All without being in a hurry.
I had no intention of speeding up on day three. I'd thought about taking the fast ferry to tiny Herm Island (just 1.5 miles across) but instead chose a slower vessel.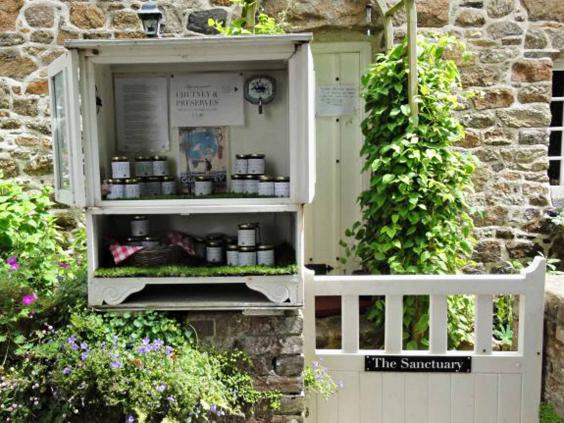 Ant Ford-Parker of Outdoor Guernsey met me at Petit Bôt Bay, which – when I'd passed by the previous day – had been just a smidgen of shingle; now, the low tide revealed a sweep of soft sand. We carried kayaks to the water's edge and pushed off.
We paddled lazily eastwards, wending through a scatter of rocks, nosing into channels, navigating close to cliffs of nesting gulls and steering around seaweed-frilled obstacles. It was as if Disney had designed a kayak ride, so perfect were the twists and turns; I half expected the Black Pearl to burst from the depths.
Alas, no Jack Sparrow. Just a snack. "Guernsey has 200-odd types of seaweed, and they're all edible," Ant said, scooping up a handful of what seemed to be floating spaghetti. "This one – thong weed – is the best; I put it in pasties."
So Ant and I drifted, nibbling the salty bootlaces and startling oystercatchers as we went. We paddled a bit, paused to revel in our fish-eye view, paddled a bit more. No rush, just taking it slow.
Travel essentials
Getting there
Aurigny (01481 822886;  aurigny.com) flies to Guernsey from several UK airports. Embraer E195 jets operate four times a day on the Gatwick-Guernsey route, reducing some flight times to an underan hour; fares start at £39 one way.
Condor Ferries (0845 609 1024; condorferries.com) operates between St Peter Port and Jersey, Poole, Weymouth and Portsmouth.
Staying there
The Duke of Richmond (01481 726221; dukeofrichmond.com), in St Peter Port, has comfy beds, attentive staff and a great restaurant. Doubles from £145 B&B.
Visiting there
Outdoor Guernsey (01481 267627; outdoorguernsey.co.uk) offers a range of activities; a two and-a-half-hour kayak trip costs £35pp.
More information
Reuse content