A cotton-wool Cotswolds fog grew ever thicker as I drove into the Slad Valley on an early summer morning. It had a curiously cocooning effect, tucking me into an opaque world of muffled sound and veiled shapes. Yet, as I approached the village of Slad itself, a parting in the mist allowed me a bucolic vista of steep, rounded little hills patch-worked with buttercups and intensely green grass. I felt I'd reached a place of secret delights.
But, of course, the Slad Valley is hardly unknown: its pastoral beauty has been much celebrated ever since Cider with Rosie, Laurie Lee's autobiographical evocation of rural life there, became a bestseller in the 1960s. It's the centenary of Lee's birth on 26 June and I had come to preview a new walking trail commemorating the writer.
Lee moved to Slad with his mother and a great tumble of six brothers and sisters in the latter years of the First World War, when he was a small boy. They all squeezed into Bank Cottages – now known as Rosebank Cottage – off Steanbridge Lane and lived cheerfully and frugally on money sent by Lee's father, who had in all other respects deserted them. Lee left school at 15, and home at 19. He walked to London. He walked through Spain. He drew; he played the violin; and he became a poet. He was 45 when Cider with Rosie was published and its enormous success enabled him and his wife, Kathy, to buy a house back in Slad. With their daughter Jessy, they divided their time between London and the Slad Valley. While Lee continued to write, he also bought land in the valley in order to help protect the area and campaigned vociferously against development. His favourite haunt was Slad's down-to-earth Woolpack inn. Today, his grave in the village churchyard overlooks The Woolpack – as Slad people say, he lies between pulpit and pub.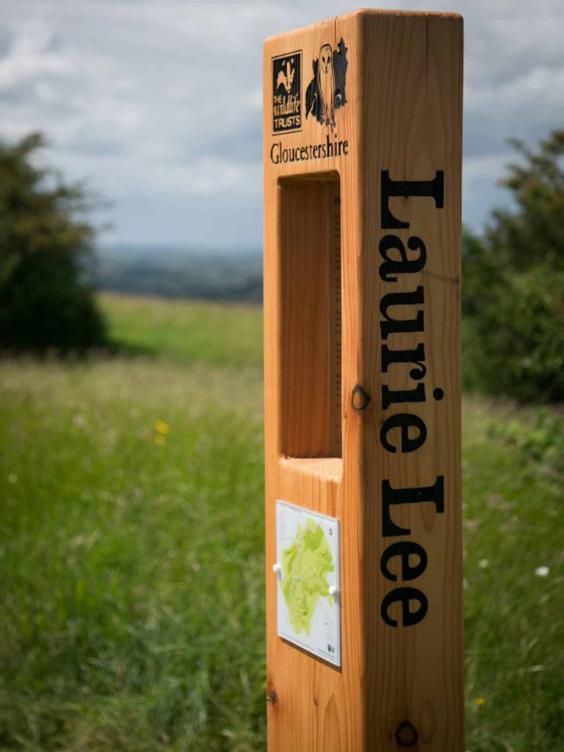 That local flavour I gleaned as I explored the valley with Pete Bradshaw, manager of the area's Gloucestershire Wildlife Trust reserves. Living close by, he often saw Laurie Lee at The Woolpack and recalled how Lee even had a seat there with his name on it. Bradshaw had come to show me the new Laurie Lee walking trail devised by the trust. As we set off, he pointed out an area of woodland, now named Laurie Lee Wood, that the trust acquired from the Lee family last year. The new trail runs through it and combines walking with Laurie Lee's poetry. It's a five-mile route, in parts heart-pumpingly steep, dotted with 10 posts that each display an appropriate poem.
The fog was starting to disperse as I read the lines on the first post and by the time I read the last post, with the glories of the valley increasingly revealed, I felt almost tearful at the lyrical resonance of landscape and words. "If ever I saw blessing in the air," begins "April Rise", "I see it now in this still early day/ where lemon-green the vaporous morning drips/ wet sunlight on the powder of my eye."
Sunshine was seeing off all but a few trails of mist as we climbed Swift's Hill, an exceptional area of limestone grassland. Bradshaw pointed out common spotted orchids at our feet, adding that 14 varieties, including the rare bee orchid, thrive here. We stopped on the broad hilltop to take in fabulous views across to Slad village, over a wealth of undulating green to Stroud where controversial development at the edge of the valley is currently under planning negotiation. No doubt Lee would have been incensed.
The walk finishes at ancient Frith Wood, which offers further compelling views over to Painswick, with the spire of St Mary's church piercing the horizon. The length is just right: this is no route march but it presents a healthy opportunity to work up an appetite, so we headed to the pub for lunch, stopping at Slad's Holy Trinity church on the way.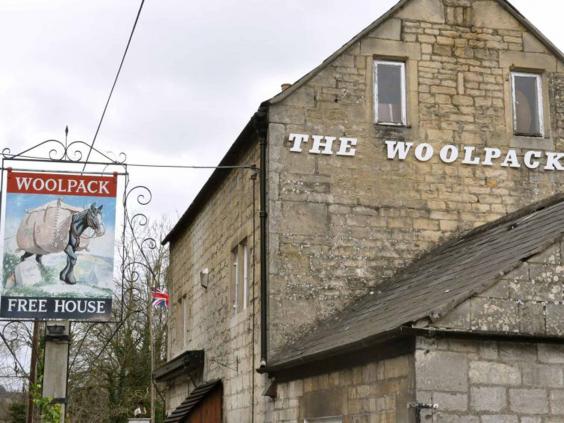 There is no trail of brown signposts pointing to Laurie Lee sites; little Slad is too pragmatic for that. Rather than becoming a heritage brand, the author is remembered here as a real person. At Holy Trinity a memorial window to Lee, funded largely by local donations, was installed in 2011. Adjacent, a series of noticeboards feature a charming display of photographs, poetry and newspaper cuttings about the writer, alongside the parish news. This included details of the Slad Valley Festival, which runs until 29 June and is a local celebration of Laurie Lee, devised with the help of Kathy and Jessy Lee. There's a village picnic, "Cider with Laurie" poetry readings at the Old Schoolhouse and a cider and flamenco fiesta at The Woolpack. A marquee is going up there in anticipation of the crowds.
The roadside pub isn't a conventional beauty from the outside, but step through the door and you're in a place creaking with atmosphere. There are old settles, wooden floors and great views from the back. A little worn around the edges, this is the antithesis of designer Cotswold pubs elsewhere, with well-thumbed books on shelves and wild flowers in vases. It's the hub of the community, as it was in Lee's day.
An inspiring walk, a look at the church and lunch in the pub: you could leave a visit to Slad at that. But you'd be missing out. A few miles down the road in Stroud there's a lively museum of Gloucestershire rural life, set in a 17th-century wool merchant's mansion. The Museum in the Park offers a tremendous insight into the world Laurie Lee was writing about and even features a small Laurie Lee corner that at intervals plays recordings of the writer himself reading passages from Cider with Rosie.
For me the best section, though, is the schoolroom display. On top of the teacher's desk, I leafed through a facsimile collection of reports of a pupil in the 1920s. He is hopeless to start with – "I am disappointed in the boy", wrote the headmaster in 1926 – but he improves and by 1928 is excellent at the violin, good at English and art. They don't make much of these reports at the museum, but look closely and you'll see that they were, in fact, Laurie Lee's.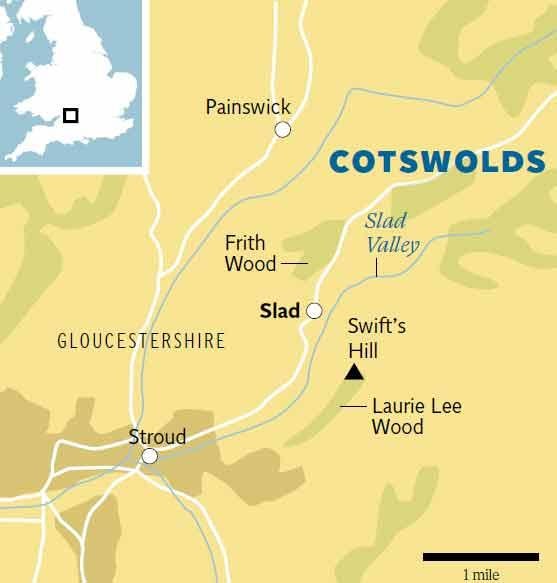 Visiting there
A free leaflet on Gloucestershire Wildlife Trust's Laurie Lee Wildlife Way can be downloaded from gloucestershirewildlifetrust .co.uk and is also available at the Woolpack.
The Woolpack, Slad (01452 813429).
The Slad Valley Festival takes place until Sunday 29 June (sladsociety.org.uk).
More information
Laurie Lee centenary celebrations continue throughout 2014 (laurielee.org).
The Cotswolds Stroud district tourist office: www.visitthecotswolds.org.uk
'April Rise' reproduced with permission of Curtis Brown Group Ltd, London on behalf of the Estate of Laurie Lee © The Trustees of the Literary Estate of Laurie Lee 1983. 'Laurie Lee Selected Poems' is published by Unicorn Press (unicornpress.org).
Reuse content