Far from Britain declining as an aviation superpower, the capital's global lead over every other city in the world is increasing.
Despite the "capacity crunch" at the capital's airport, figures compiled by The Independent reveal that London remains the world's top airline hub by a wide margin - and is racing ahead of its closest rival, New York.
A record 144.7m passengers flew through London's five commercial airports in 2014. The figure translates to an average of 275 people - or one wide-bodied aircraft - arriving or departing every minute of every day of the year. The capital is 23 per cent ahead of New York, which has three airports.
Best airports for a layover
Best airports for a layover
1/9 Singapore Changi Airport

Banish the travel stress by strolling through one of the five airport gardens, taking in the 27-foot waterfall and Koi carp pond. The building itself is flooded with natural light. It's all very calming, and not like an airport at all. The four-storey tall slide is sure to delight and amuse the children, and you'd be forgiven for wondering if they actually want you to leave at all. Stopover highlight: The Butterfly Garden in Terminal 3 with over 1,000 live butterflies

2/9 Munich Airport

Munich Airport is great for German culture and aeroplanes. Who'd have thought it? Munich's outdoor Viewing Hall gives you the perfect vantage point to enjoy watching the other planes take off. Historic aircraft on display outside will keep true aviation enthusiasts happy. Plus, if you're stranded at Christmas, you'll be able to peruse the traditional market, complete with spiced wine, bratwursts and an ice rink. Stopover highlight: A Bavarian tavern complete with beer garden and on-site brewery

3/9 Incheon International Airport, Seoul

Incheon Airport offers you a complete Korean experience. The building contains a museum and often features classical concerts. You can get hands-on with traditional Korean handicrafts, and also try on some traditional costumes. There's a 24 hour casino, too, in case you want to try and win back all that money you spent on duty-free. Stopover highlight: An 18-hole golf course and driving range

4/9 San Francisco International Airport

San Francisco International Airport is all about feeding the body and the mind. The yoga room offers a chance to stretch away the stress of a delayed flight. The onsite cafes and restaurants offer healthy Californian fare to complete your nourished soul, including local wines and organic dishes. A museum centred on the history of aviation – and of the airport itself – and 40 individual rotating cultural, historical and artistic exhibits dotted around the airport will further stimulate the mind. Stopover highlight: The first airport to have a dedicated yoga room

5/9 Hong Kong International Airport

Hong Kong's futuristic airport boasts an array of entertainment. If IMAX isn't your thing, how about playing 9 holes of golf on an island in the middle of an artificial lake? This one is a brilliant place for families to be stuck at, as the Dream Come True Education Park will keep children occupied for hours. This interactive play centre offers the chance to dress up and role-play different professions. Stopover highlight: The largest IMAX cinema in Hong Kong, showing 2D and 3D movies

6/9 Zurich Airport

If you want to feel close to nature, an airport is probably the last place you would think to go. Zurich Airport, however, is surrounded by a nature reserve, with 12 miles of footpaths. It even has its own park ranger, and you can hire bikes and inline skates so you don't have to be stuck in the terminal. Even when you are inside, you won't feel like it, as the sound of the Alps – complete with mooing cows – is played throughout the airport. Stopover highlight: Natural ambience

7/9 Amsterdam Airport Schiphol

You don't often find Rembrandt or the other Dutch masters in an airport. Their paintings sit alongside contemporary offerings in the museum, and the library contains works by Dutch authors, translated into 27 different languages. If looking at art and reading books gets you worked up, unwind again in the meditation room. If you get stranded for a very long time, you could make use of the airport's own wedding planner and have a ceremony at one of several aviation-themed locations. Stopover highlight: An extension of the Rijksmuseum housing paintings by Dutch masters

8/9 Vancouver International Airport

The 30,000 gallon aquarium you'll find in Vancouver IA, stocked with sea creatures native to the Pacific North West will keep you mesmerised for hours. You can also get married here if you really want to, although we don't recommend it as a way to pass the time. Perhaps another look around the native art displays first? Keep the kids quiet in summer with a trip to the Take-Off Fridays circus, complete with local musicians, acrobats, live DJs and face painting. Stopover highlight: The unique maritime vibe, complete with aquarium

9/9 Dubai International Airport

Dubai International Airport is as extravagant as you would imagine. Duty free covers 58,000 square feet, and you can enter one of the famous raffles to win a sports car or a million dollars. If that's not over-the-top enough, you can even buy gold bars in the airport, which is probably what you thought WHSmiths in Heathrow has always lacked. For those with less of a materialistic bent, there's a Zen garden where lush ferns and mist machines will help to relax and refresh. Stopover highlight: Luxury. Just luxury.
The Independent has analysed passenger figures for the 20 key aviation cities, aggregating the traffic for all airports serving each metropolis. London's catchment comprises Heathrow, Gatwick, Stansted, Luton and London City. Flight movements at Heathrow have reached their effective limit at 1,290 per day, and the airport's passenger figures are now dwarfed by Atlanta and Beijing. Yet Heathrow grew 1.7 per cent thanks to larger aircraft. Combined with rapid growth at the capital's other airports, London put on almost seven million passengers during the year, a rise of 5 per cent.
New York's trio of JFK, Newark Liberty and La Guardia showed a slightly smaller rise, increasing Heathrow's edge. Tokyo remains third, but a 3m rise at Haneda airport last year was offset by an equal decline at Narita.
For the first time, Dubai and its neighbours have joined the elite 100-million-plus club. Combining all three main UAE airports - Dubai, Abu Dhabi and Sharjah - took the total to 100.6m, a 10 per cent annaul rise. If rates of increase are sustained, the UAE will leapfrog Tokyo this year and overhaul New York in 2018.
Atlanta remains the world's busiest single airport, despite a small decline in passengers. The only city in Continental Europe in the top 10 is Paris, with Orly and Charles de Gaulle airports. London extended its lead over the French capital to 56 per cent.
Opponents of airport expansion seized upon The Independent's figures as evidence that another London runway is unnecessary. John Stewart, chair of HACAN - which opposes expansion at Heathrow - said: "These figures give the lie to the fact that London's economy is losing out because of lack of airport capacity. Clearly London's airports are able to handle the business people and tourists who are attracted to the capital in ever-increasing numbers.
"Any Government needs to think very hard before it gives the green light for future expansion at either Heathrow or Gatwick."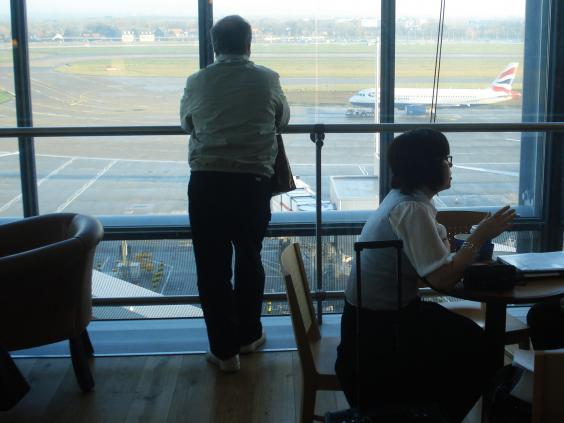 But proponents insist the capital needs another runway to stay ahead. Gavin Hayes, director of the pressure group Let Britain Fly, said: "If Britain is to both maintain and enhance its position as a leading global aviation hub we need politicians to make a quick decision on airports expansion. The fact is Heathrow has already been full for a decade and Gatwick will be full by 2020."
The aviation analyst, John Strickland, said: "Heathrow offers the greatest range of direct long-haul destinations needed by the UK's businesses, supported by the number of connections it allows between flights. Without the ability to grow into new markets, the UK risks falling behind its competitors in the race for jobs."
Michael O'Leary, chief executive of Ryanair, said expansion at Heathrow, Gatwick and Stansted was "the inevitable economic outcome" of London's standing. "We need three additional runways, and we need to start now," he told The Independent. "The first runway should be delivered at Stansted, because that's where there's more space."
Sir Howard Davies' Airports Commission is due to recommend a new runway at either Heathrow or Gatwick after the May election