'It's amazing what's been achieved," says Danny Boyle, gesturing to his surroundings. "Culture is in everything … even when it's being dismantled by the state."
The Oscar-winning director is welcoming journalists to Home, Manchester's new arts centre, of which he is a patron. Although its glass façade is not dissimilar to that of an office building, or the nearby Arndale shopping centre (manches terarndale.com), inside Home (0161 200 1500; homemcr.org) it's a different story. A combination of gallery, theatre and cinema, the centre is pitching itself as an arts hub for the whole of the north-west. The theatre's current show, Kafka's Monkey, runs until 27 June. The gallery, meanwhile, is showing its inaugural exhibition, The Heart is Deceitful Above All Things, until 26 June, and film comes courtesy of independent cinema Cornerhouse, which closed the doors to its charming but crumbling Oxford Road building this spring and relocated to Home.
The arts centre is one of several recent projects to boost the city's cultural cachet. Manchester Central Library (0161 234 1983; manchester.gov.uk/centrallibrary) reopened last year after a multimillion-pound refurbishment that saw the grand neoclassical building restored to its former glory. However, its collection pales in comparison to that of the John Rylands Library (0161 306 0555; library.manchester.ac.uk/rylands). Its cathedral-like interiors house one of the country's largest collections of rare and early printed texts, including a Gutenberg Bible.
A short journey down Oxford Road takes you to The Whitworth art gallery (manchester.ac.uk/whitworth). As a student, a decade ago, I lived next door, and while a stroll through its dark interiors proved soothing for a hangover, the gallery didn't make the most of its park location. But it too has been transformed, relaunching in February. The 19th-century redbrick façade has gained a modern glass extension, so you can now sip a cuppa overlooking a sea of green.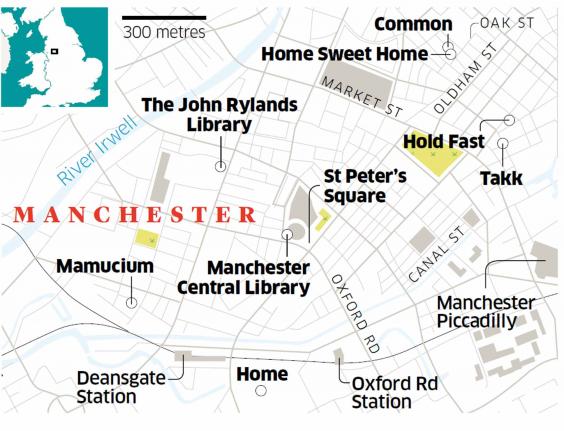 Getting under way on 2 July, the Manchester International Festival will stage live music, theatre, performance and art, the highlight of which will be the Alice-inspired Wonder.land, a musical written by Damon Albarn and Moira Buffini (to 19 July; mif.co.uk).
Yet, Manchester's renaissance isn't all about the arts. The Metrolink tram network is continuing to expand (many of the streets around Piccadilly Gardens are being dug up), a new generation of hotels has arrived, and you'll never be short of fresh places to while away an evening – even if you prefer pints to plays.
UNPACK
Manchester's hotel scene is having a moment. Opened in April, Hotel Gotham (0843 178 7188; hotelgotham.co.uk) occupies an Art Deco former bank in the Upper King Street Conservation Area. It plays to its history with brass fittings, Twenties-style bellboy uniforms, and moneybags as doorstops. The icing on the cake is the seventh-floor Club Brass, with a terrace overlooking the city. Doubles from £150.
Also new are Hotel Football (0161 751 0430; hotelfootball.com), which kicked off in March, and King Street Townhouse (kingstreettownhouse.co.uk), which promises the city's first infinity pool when it launches this summer.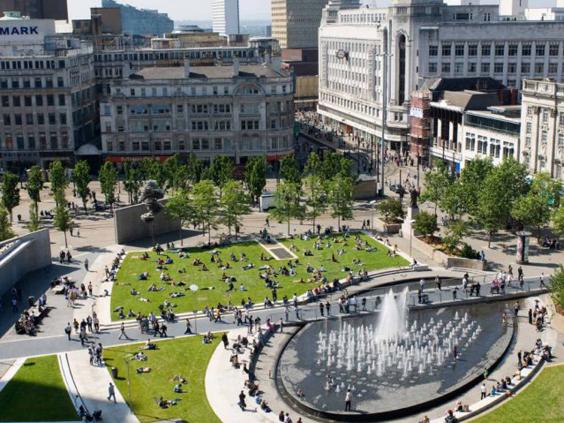 THINK LOCAL
Manchester may be known for its Victorian architecture, but in Castlefield you'll find evidence of its Roman history. The Mamucium is a Roman fort that dates back almost two millennia and was excavated in the 1980s. Today you can see the rebuilt north gate, ramparts and granary foundations.
DRINK
The Northern Quarter has long been Manchester's alternative heartland, wedged between Piccadilly station and the Arndale centre.
Hold Fast (0161 883 2950; hattershostels.com/hold-fast-bar) is tucked beneath a hostel. It's supposedly nautically themed, but the vibe is more submarine than tall ship, with industrial lighting, exposed pipes and metro tiles. Behind the bar you'll find a selection of craft beers and cocktails.
For a caffeine hit, try Takk Coffee (takkmcr.com). Exposed brick walls, Scandi crockery, kitsch ornaments, Instagrammable brunches … they've read the How to Design a Cool Café manual, but what sets it apart is the friendly service – and great coffee.
EAT
Common (0161 832 9245; aplacecalledcommon.co.uk), a Northern Quarter favourite that's just had a facelift, serves an eclectic menu ranging from burgers to small plates of Korean fried chicken and cauliflower cheese croquettes.
Home Sweet Home (0161 224 9424; homesweethomenq.com) serves breakfast, lunch and dinner, but the real reason to visit is the cake counter, piled high with sweet treats in all colours of the rainbow. Try the multi-coloured disco sponge, or red velvet topped with Oreo truffles.
SPEND
Oldham Street is Manchester's top spot for vintage; try Pop Boutique (0161 236 5797; pop-boutique.com), Retro Rehab (0161 839 2050; retro-rehab.co.uk) and Oxfam Originals (0161 839 3160).
For one-off jewellery, gifts, furniture and more, head to the Manchester Craft and Design Centre on Oak Street (craftanddesign.com). The building, which looks like a miniature Victorian railway station, hosts a number of resident artists and makers, whose designs you can pick up in its boutiques.
DON'T MISS
Manchester has a thriving, inclusive LGBT scene, and while the bars of buzzing Canal Street make for a good night out on any day of the year, Pride is when the city comes into its own. Manchester Pride's Big Weekend (bigweekend.manchesterpride.com; 28-31 August) this year is themed on "devotion", with performances by Texas, Atomic Kitten, and more. The centrepiece of the festival is the parade (29 August), with its colourful floats and flamboyant fancy dress.
GETTING THERE
Nicola Trup travelled from London Euston to Manchester Piccadilly with Virgin Trains (0871 977 4222; virgintrains.co.uk).
MORE INFORMATION
Reuse content