The drive from Edinburgh to Stirling surely ranks as one of Britain's most enjoyable short journeys. The M9 is central to it, a road whose prettiness is undersold by the functional term "motorway" – arcing west away from the suburbs of the Scottish capital, then tracing the south side of the Firth of Forth, past Linlithgow and Falkirk. Under a bright sky, fields flitting by on each side, I find myself wishing that this hour at the wheel could last longer.
An Englishman venturing this way seven centuries ago would have been less agog at the scenery, and more alert to signs of danger. England and Scotland were dug into a war that had been afoot for nearly 20 years – and the prize at stake was Scotland's very soul. The Battle of Bannockburn, which dragged its bloody feet through the mud two miles south of Stirling on 23 and 24 June 1314, 700 years ago, would help save it.
It can be tricky, at such historical distance, to grasp the importance of this military tussle. Yet it remains a crucial point in the national narrative – a sliding-doors moment as key to the shaping of borders and identity as the Battle of Hastings or the Battle of Britain. An overwhelming Scottish victory, it largely dispelled the prospect of the medieval kingdom of Scotland having its independence snuffed out by its English counterpart. That its 700th anniversary should fall at a juncture when the definition of the political relationship between Edinburgh and London is under fiercer scrutiny than at any time since the Act of Union in 1707, when the word "independence" again floats on the air, is wholly appropriate.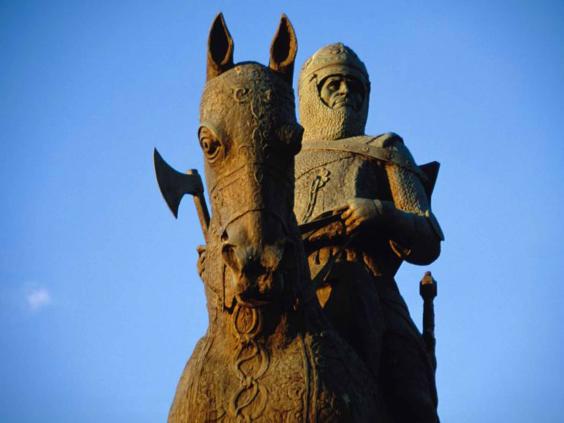 The path to the battlefield was a complicated one. At its root was the death of the Scottish king Alexander III without viable heir in 1286, and the power vacuum that it created. In 1290, England's warrior monarch Edward I was invited north to assess the many claimants to the empty throne and advise on an appointment – a decision that was akin to asking a wolf to take part in a sheepdog trials. Espying Scotland's weakness, Edward launched an aggressive campaign of conquest that – despite an iconic victory for minor noble William Wallace at the Battle of Stirling Bridge in 1297 – seemed to be all but complete by 1304.
However, the king's death in 1307 changed everything. Edward II, his successor, was not built in his father's image, and was more interested in bestowing privileges on his favourite, Piers Gaveston (the men were probably lovers), than waging an inherited war. And while Edward idled, a new Scottish champion emerged. Robert the Bruce had displayed ruthlessness in having the other main candidate for the top job, John Comyn, killed on sacred ground in 1306 – before having himself crowned king and retaking much of the lost territory. By March 1314, Stirling was one of only two Scottish fortresses still in English hands, and was under siege. An oddly civil pact was negotiated – if the castle was not relieved by midsummer, it would be surrendered. Edward stirred himself to arms.
I can see no hint of the drama of this real game of thrones when I arrive at the battlefield – nor of the £9m that, in the past two years, has been spent on upgrading the site for the 700th anniversary. The new visitor centre is neither huge, nor especially eye-catching.
But what waits within dissects this seismic collision with thrilling modernity. Eschewing what you might expect of a museum that gazes back 700 years – suits of armour, faded maps – the visitor centre brings the events of 1314 to life via technological wizardry. You enter a darkened space where, on two walls, motion-capture figures – Sir James Douglas, one of Bruce's right-hand men; Sir Robert Clifford, a respected baron on the English side; Dafydd ap Cynwrig, a Welsh longbowman reluctantly fighting for Edward – relay their tales to those who stand before them. Behind, a mini auditorium of curved screens and 3D wonder recreates slivers of the combat – swords swinging, horse hooves pounding. Any doubt I have that this is history in child-friendly form is removed by the gasps of the school party next to me. I am also drawn in. When a unit of English archers fires a hail of arrows across the room I take an unconscious step back, as if to avoid this deadly shower.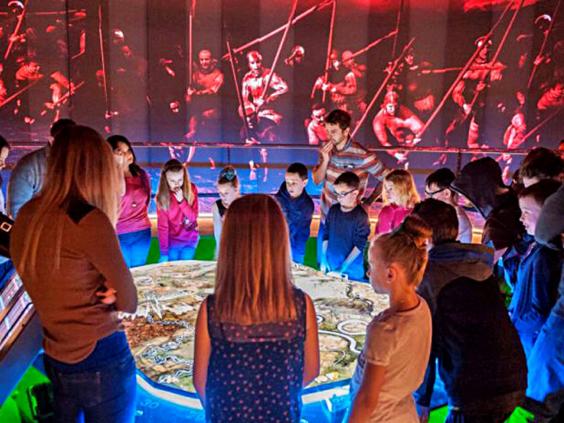 The centrepiece, however, is a separate theatre, where a model of the battlefield gives the geographical setting and a simulator shows how events unfolded. You have two options here: "Battle Show", which plays out the actual cuts and thrusts as they occurred and "Battle Game", where visitors are split into two teams of up to seven, and combine – with the aid of a "Battlemaster" – to direct the armies, ordering attacks and defending positions.
Either side can win – and realistically, the English should. But taking part in this makes clear to me why, despite having more than twice the muscle (upper estimates suggest 25,000 English soldiers to 10,000 Scotsmen) Edward's men were so badly beaten. Bruce had firmer strategies, such as the use of schiltrons – disciplined units bristling with spears – while the English became mired in (and were slaughtered in) the boggy ground around the Bannock Burn. Equally, the "Battle Game" underlines the fact that, with both kings in the field, this was a high-stakes affair. English victory would not have reconquered the country – but had Bruce died, Scotland would have been plunged back into headless chaos. As it was, the annihilation of Edward II's army – fatalities may have numbered 11,000 – all but ended English interest in fighting north of the border for a generation. The Treaty of Edinburgh-Northampton, signed in 1328, recognised Scotland as a sovereign state.
Outside, the area of grass that is ring-fenced as the battlefield provides a calmer picture, local residents walking dogs across a realm of green. Archaeological research indicates that this was not, specifically, a place that witnessed combat, but was probably the site of Bruce's camp. Yet this does not puncture the puffed-chested pride of the twin memorials stationed here – a statue of Bruce on horseback; the Saltire taut in the breeze. A sea of people will swirl about them over the next few days. The exact septcentenary, on Monday and Tuesday, will see costumed skirmishes and weapons demonstrations. "Bannockburn Live" (28-29 June) will repeat the dose with added musical shows, plus a farmers' market.
Unlike many of his men, Edward II survived the carnage, fleeing first to Stirling Castle – where he was denied admission – then leaving Scotland via Dunbar, on the east coast. I follow him on the first leg of this desperate exit, keen to glimpse a city where the past readily rears its head – almost literally in the case of the National Wallace Monument, which perches on the volcanic bluff of Abbey Craig, two miles north-east of the centre. A Neo-Gothic tower completed in 1869, it offers a far more solid tribute to this fabled guerilla soldier for his sharp tactics in 1297 than any howling Mel Gibson movie caricature. The steep stroll to its doorstep is ironically peaceful, carrying me through pockets of bluebells – before the view works its magic, showcasing not just the crossing point over the River Forth where Wallace achieved his brutal feat, but Ben Lomond prodding at the horizon.
The crag that forms the original kernel of Stirling also flirts with former eras. Even its main retreat, the Stirling Highland Hotel, is wedded to yesteryear, lovingly slotted into an 1854 school – all ghosts of chalky blackboards and homework. I pause for the night here, eat a hearty breakfast in a restaurant that was once a classroom, then wander up the hill and succeed where Edward II failed – in gaining entry to the castle.
The aftermath of Bannockburn is quietly apparent here – in the way this lofty fortress developed into an eloquent Scottish royal statement. True, many buildings only date to the 15th and 16th centuries, but in their pomp and style, they sing of a monarchy that came to thrive. The palace, constructed by James V in 1538, was designed to present the king as a leading Renaissance ruler, statues of Greek gods peering at the observer. The panorama from its windows is no less glorious, as the sun smiles on the Forth below.
There is a footnote too. Outside, the Church of the Holy Rude bears the bullet wounds of another English incursion into Stirling – this time Oliver Cromwell's troops in 1651. But the pertinent spot lies inside. By the altar, a paving slab notes that James VI was crowned here in 1567. In 1603, on the childless death of Elizabeth I, he would go south to become James I of England. In the end, Scottish crown ingested English. When September's referendum is held, it might be worth asking – who is seeking independence from whom?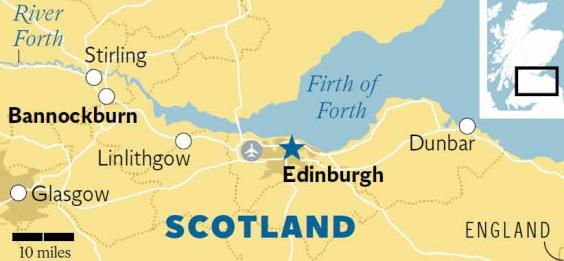 Travel essentials
Getting there
East Coast trains (03457 225 333; eastcoast.co.uk) run to Edinburgh and Stirling from London, York and Newcastle. By air Edinburgh is served by British Airways (0844 493 0758; ba.com) . CityJet (0871 221 2452; cityjet.com), easyJet (0330 365 5000; easyjet.com), Flybe (0871 700 2000; flybe.com) and Virgin Atlantic (0844 209 7777; virgin-atlantic.com).
Visiting there
Battle of Bannockburn Visitors Centre (0844 493 2139; battleofbannockburn.com; daily 10am-5.30pm; £11). Bannockburn Live (0844 481 8727; bannockburnlive.com; 28-29 June, 10am-7pm; £10 per day). Church of the Holy Rude (01786 475 275; holyrude.org; 11am-4pm daily; free). National Wallace Monument (01786 472 140; nationalwallacemonument.com; 10am-5pm, April-October except July/August to 6pm; £9.50). Stirling Castle (01786 450 000; stirlingcastle.gov.uk; 9.30am-6pm; £14).
Staying there
Stirling Highland Hotel, Spittal Street (01786 272 727; thehotelcollection.co.uk). Doubles £100, room only.
More information
visitscotland.com; homecomingscotland.com; nts.org.uk
Reuse content