Celebrate St David's Day by tucking into traditional cawl, via a new trail. Sarah Baxter gave it a go
The first thing to know about Carmarthenshire's new "Cawl Crawl" is that it doesn't really work – the stew in question is pronounced "cowl", not "call", so it's not quite as snappy as it looks on paper. The second thing to know is that once you've tasted it, you'll soon forget about pronunciation.
I was setting off into the county on a mission to taste this most Welsh of dishes, in anticipation of the most Welsh of occasions:  St David's Day. To encourage food tourists, Discover Carmarthenshire has mapped out the best places to sample this meat'n'veg stew, so I'd be eating it everywhere from old pubs to modern gin bars. However, I would find that cawl-crawling around this rolling green, castle-dotted region of south-west Wales wasn't just about ingesting my bodyweight in broth – it was a way into Carmarthenshire's soul.
A good place to start, was with Margaret Rees at her Welsh Cookery School. As I sat in her kitchen-cum-classroom, looking out over Dryslwyn Castle and a field full of red kites, she set me straight: "Cawl just means a bit of a mess – as in, 'he made a right cawl of that'."
It was a mess she was teaching me to make. On the hob, a pot simmered; root vegetables bobbed around a hunk of stewing beef, slow-boiled the day before and now tender as a prime cut. Potatoes went in next, then leeks (of course) and parsley – the only herb allowed. "My grandfather would eat the broth first," Margaret told me, "then have the meat and potatoes separate, on the side, as well as bread and cheese – like a three-course meal."
It wasn't just one meal though. "Cawl was cooked in a cauldron, over a flame," continued Margaret. "The women made a big batch and kept it going. The next day it gets better, thickens up. We call it cawl ail dwym – the second warming."
My own second warming came at Wright's Food Emporium in Llanarthney. Owners Simon and Maryann have transformed a Georgian coaching inn-turned rundown pub into a café that is rammed on a Thursday lunchtime in February.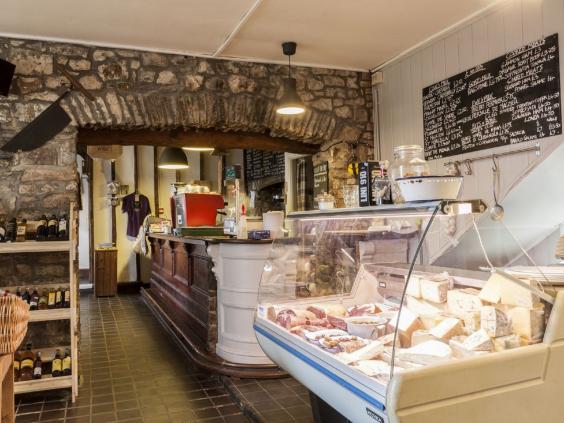 Smoky warmth filtered through from the open fire at the back; I  sat by a sunny window at the  front, next to a table heavy with  home-baked cake. "We've put cawl on the menu for St David's Day," Maryann explained. "But even when it's not on, people still ask for it."
The Wright's version was rich, with plentiful pulled meat; on the side sat a slab of creamy Gorwydd caerphilly. The cawl tasted fuller than Margaret's; historically a dish of your ma's making, here it had been pimped a bit for eating out. And it was delicious – though part of me envied my boyfriend's pork belly cubano which was, he mouthed  through his drool, possibly the best sandwich he'd ever eaten. Leaving Wright's, chock-full of bread and meat, we forced ourselves to hike around Carreg Cennen Castle – a Hollywood-dramatic hilltop ruin – to work up space for dinner.
The Ginhaus puts its own twist on cawl. Mike Kindred, proprietor of this hip and heaving new café-bar in pretty Llandeilo, squeezed us in by a shelf of almost 200 gins, and loaded our table with an inventive spread of tapas and Welsh cheeses, plus that good-old stew – here served with succulent cabbage-wrapped meat-rolls and gin-infused laverbread. It turns out that a Pinkster-and-tonic is the ideal cawl accompaniment.
The cawl at Llanelly House was probably well out of place. The original occupants of this grand Georgian home – the finest in Llanelli, on the Loughor estuary – surely wouldn't have stooped to such peasant fare. But like those peasants, the house hit hard times; it was in a sorry state until a massive restoration project began in 2003, to return it to its 1714 heyday. Llanelly reopened in 2013, and now the hoi polloi can take a tour, enhanced by fun digital wizardry, and eat cawl in the best parlour (now the café).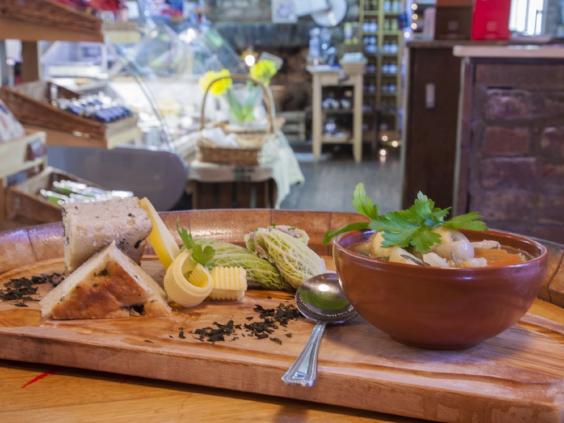 It was here that head chef Anna Brown told us about her grandmother: "Like many housewives back then, she had a limited housekeeping budget that had to feed the family. Cawl ticked every box." Anna's nan would boil beef brisket for hours, along with the other ingredients; on day one, the meat and veg would be retrieved and eaten alone, while the stock – "the liquid gold" – would be saved. On day two, leeks and "parsley greener than grass" would go into the stock, to be eaten as a broth. On day three, leftovers from day one and day two were combined to make the best cawl of the lot. "And that's what you're eating," Anna announced as she set down our dishes and we tucked into the taste of her childhood. "After much dabbling, I always return to my trusted recipe. It's offered comfort to the family over the years and hopefully will do so for generations."
That evening I mentioned my cawl consuming to George Rashbrook, owner of the newly reopened Forest Arms in Brechfa. The pub was once the heart of this small community, and may be so again – the locals were gathered in force that night, reminiscing about the old days ("Remember the night of the Russian ladies!") and happy to give their two-penneth on cawl: "Add pearl barley? All wrong, boy!"; "You use beef? You've got too much money, you have!"
George had gone a little left-field on the Forest Arms menu. "We cook the lamb in Gwynt Y Ddraig cider," he confided, "and serve the cawl in a pie." I thought that a splendid idea. However, others seemed less convinced. Cawl is cawl, not pie. Everyone's mam had the definitive recipe, which was the same, but different. And which was brewed in big batches for special occasions, or cooked up when the kids returned. And which tasted of hearth and home, and of Wales itself.
Reuse content