Wandering lonely as a cloud isn't quite as easy as it was in Wordsworth's day – at least not during the summer. The Lake District National Park is a tourist-trampled beauty spot, its hedgerow-trimmed lanes clogged with caravans and cars, its fells snaking with Gortex-clad hikers, its lakes churned by pleasure boats and yachts. But even the crowds can't detract from the jaw-dropping grandeur and picture-perfect dry-stone-walled prettiness. Camera-toting tourists are a gnat-sized irritation. And, of course, you can always veer off the beaten track, for instance, over the Hardknott Pass to explore Eskdale's nooks and crannies.
Covering 885sq m, the Lake District is England's largest national park. Today, as part of National Parks Week, it is hosting a Navigation Skills for Beginners Course in Ullswater (£12; lakedistrict.gov.uk/visiting/events). The area's other highlights include Windermere, England's longest lake; Wastwater, its deepest; and Buttermere, one of its prettiest (home to the country's most photographed trees). Bizarrely, the only official "lake" is Bassenthwaite: the others are "meres" or "waters". And then there are tarns (the Norse word for mountain lake or pool). The tallest waterfall is Scale Force, at 170ft above Crummock Water, while Scafell Pike is England's highest peak.
These craggy fells have inspired poets, writers and artists from William Wordsworth, born in Cockermouth in 1770, to Victorian critic, poet and painter, John Ruskin – you can visit his Lakeland home, Brantwood (015394 41396; brantwood.org.uk) in Coniston.
Bridging the 19th and 20th centuries, two children's authors also fell in love with the Lakes: Arthur Ransome, writer of Swallows and Amazons, set around Coniston Water; and Beatrix Potter. It's thanks to the latter's love of the Lakes that we can wander at will over so much of the landscape. In 1903, Potter bought her first field in Near Sawrey. When she died in 1943, she left 14 farms and 4,000 acres to the National Trust. Today, you can visit the home she bought with the proceeds from her first book The Tale of Peter Rabbit. Hill Top (015394 36269; nationaltrust.org.uk), a 17th-century farmhouse in Near Sawrey is just as she left it (entry £10). Down in the nearby village of Hawkshead you can browse the Beatrix Potter Gallery (015394 36355; nationaltrust.org.uk; £5.60).
In pictures: The Lake District
In pictures: The Lake District
1/7 The Lake District

Yew Tree Farm, built in 1693, was owned by Beatrix Potter and was used as the location for Hill Top in the film 'Miss Potter' starring Rene Zellweger

2/7 The Lake District

Boat trips ply Windermere

3/7 The Lake District

Wordsworth moved to picture-perfect Dove Cottage in Grasmere in 1799 with his sister Dorothy

4/7 The Lake District

Amble around picturesque, man-made Tarn Hows

5/7 The Lake District

The Barnsgate Brewery is attached to a Lake District legend, the Drunken Duck in the hills above Ambleside

6/7 The Lake District

Water feature: Bassenthwaite is the only 'official' lake

Stewart Smith

7/7 The Lake District

Steve Coogan and Rob Brydon in their BBC2 series 'The Trip' visited L'Enclume in Cartmel
Walkers flock to the Lakes to follow in the footsteps of fell-tramping oracle Alfred Wainwright (1907-1991). His seven Pictorial Guides to the Lakeland Fells, handwritten with pen and ink sketches, are still eagerly pored over. When AW, as he liked to be called, first looked down over Windermere he said: "I had seen landscapes of rural beauty pictured in the local art gallery, but here was no painted canvas; this was real. This was truth. God was in his heaven that day and I a humble worshipper."
For man-made attractions, there's a clutch of new adrenalin-fuelled activities this summer. At the Honister Slate Mine (01768 777230; honister-slate-mine.co.uk) in Honister Pass, near Keswick, there's a new subterranean climbing experience with vertical climbs and rope bridges (£29.95). And in Grizedale Forest, you can fly through the giant Douglas firs on a network of seven tandem zip lines (084564 39215; goape.co.uk). The two-hour adventure, covering around two miles, costs £45. Also newly opened is Treetop Nets (015394 47186; treetopnets.co.uk) – 1,500sq m of slides, tunnels, climbing frames, trampolines and bridges suspended high above the Lake District Visitor Centre at Brockhole; £15. And, if that can't tempt you, this is also the home of sticky toffee pudding.
See golakes.co.uk to find out more.
Gourmet traveller
With sticky toffee pudding (Cartmel's Village Shop), Kendal Mint Cake (walkers' sugar rush) and the coiled Cumberland sausage (which has Protected Geographical Indication status) on the menu, the Lake District's foodie credentials are quaintly quirky.
The Grasmere Gingerbread shop (015394 35428; grasmeregingerbread.co.uk), tucked away by the entrance to St Oswald's churchyard, (where Wordsworth is buried) has hardly changed since Sarah Nelson sold her gingerbread from the door to passing tourists in the mid-19th century.
As for gourmet eateries, there are gastropubs galore and a smattering of Michelin stars. Near Windermere, The Samling (01539 431922; thesamlinghotel.co.uk) was awarded its first star this year, while another country house hideaway, Holbeck Ghyll (01539 432375; holbeckghyll.com) – as seen in Steve Coogan and Rob Brydon's BBC2 series "The Trip" – also has one Michelin star. The duo also visited L'Enclume (015395 36362; lenclume.co.uk) in Cartmel; Simon Rogan's (Cumbria's Heston Blumenthal) restaurant now has two stars.
The Wild Boar Inn, Grill and Smokehouse (015394 45225; englishlakes.co.uk), near Windermere, has just won Cumbria Tourism's Pub of the Year 2014 and along with its own microbrewery it has a smokehouse, which keeps the restaurant stocked with meats, cheeses and fish. For a main course here, try the smoked wild boar chop (£27).
Other gastropubs worth seeking out include The Brown Horse Inn (015394 43443; thebrownhorseinn.co.uk), Winster, The Mason's Arms (015395 68486; masonsarmsstrawberrybank.co.uk) and The Strickland Arms (015395 61010; ainscoughs.co.uk) next to Sizergh Castle, near Kendal.
The Pheasant (01768 776234; the-pheasant.co.uk) at Bassenthwaite, is a wonderful, beam-laden old inn.
Bottoms up
The new Lakes Distillery (017687 76916; lakesdistillery.com) in a converted Victorian model farm in an idyllic spot near Bassenthwaite Lake will open to the public in December (bistro, bar, shop and tours), but meanwhile you can have a nose around by rolling up at the visitor's reception from 11am to 4pm every day to check it out and enjoy a complimentary tasting of The ONE (the signature blended whisky).
Actually, there are three gin distilleries, one whisky distillery, one winery, four cider producers and 34 breweries in the Lakes (brewedincumbria.com). One is the Barnsgate Brewery attached to a Lake District legend, the Drunken Duck (015394 36347; drunkenduckinn.co.uk), in the hills above Ambleside. The story goes that the Victorian landlady found her ducks lying on the road and assuming they were dead started to pluck them. But a cask of ale had leaked in the cellar and the ducks were drunk, not dead. The mortified landlady knitted them all little jumpers until their feathers grew back.
Slumber party
You can bed down in cosy cottages, elegant country-house hotels, inns with boutique-hotel style rooms and upmarket B&Bs.
Yew Tree Farm (yewtree-farm.com), built in 1693, was owned by Beatrix Potter and was used as the location for Hill Top in the film "Miss Potter" starring Rene Zellweger. Grade II-listed and on a working farm it sleeps six and is available through Heart of the Lakes (015394 32321; heart ofthelakes.co.uk) from £598 per week.
The clutch of new upmarket B&Bs includes Windermere's quirky Rum Doodle (015394 45967; rumdoodlewindermere.com), named after cult mountaineering spoof classic "The Ascent of Rum Doodle" with double rooms from £90, B&B, and Randy Pike (015394 36088; randypike.co.uk) just outside Ambleside, which offers three sumptuous suites on Wray Castle Estate from £200, including breakfast.
The gracious grande dame of country house hotels, famous for its afternoon tea, the Sharrow Bay (01768 486301; sharrowbay.co.uk) on the shores of Ullswater has just had an elegant revamp. The Time for Tea … and Champagne package offers double rooms from £240 including breakfast and champagne afternoon tea for two.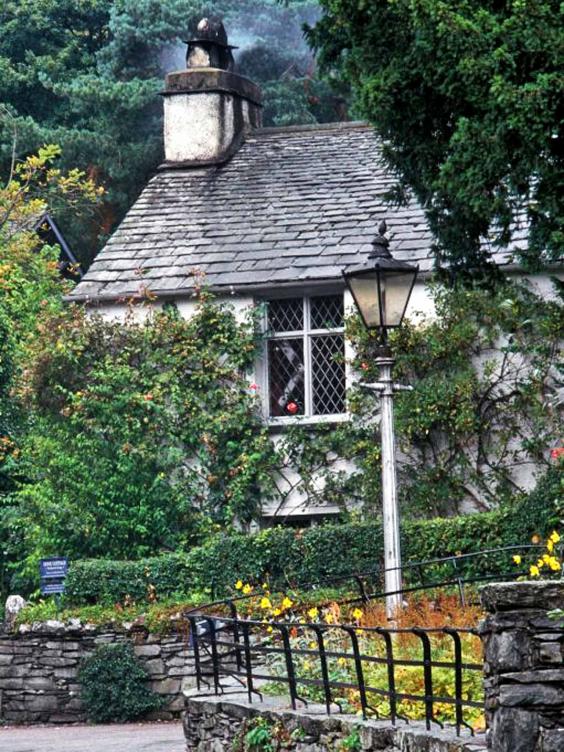 Poetic licence
The sheer grandeur of the landscape reduces many to awed silence – others it inspires to flowery verse and lofty prose. The Lake District's most famous poet, William Wordsworth drew inspiration from the stunning country around him. His most famous poem, "Daffodils", was penned after a visit to Ullswater.
Wordsworth moved to picture-perfect Dove Cottage (015394 35544; wordsworth.org.uk; £7.75) in Grasmere in 1799 with his sister Dorothy. Then on to the grander Rydal Mount (015394 33002; rydalmount.co.uk; £7) nearby in 1813.
The house where he was born is often overlooked but equally atmospheric. Wordsworth House and Garden (01900 820884; nationaltrust.org.uk) on Main Street in Cockermouth is a gracious Georgian townhouse that gives you an insight into the early life of one of our most renowned poets. Admission £7.40.
Walk on the wild side
"There's no such thing as bad weather, only unsuitable clothing." So said Alfred Wainwright. There are walks for every level of fitness in the Lakes.
Amble around picturesque, man-made Tarn Hows (less than two miles around) or the four-mile circuit around Buttermere, loved by Wainwright (there's a memorial to the author in the churchyard).
Or you can take to the fells. Haystacks was Wainwright's favourite peak and the place where his ashes were scattered. "Haystacks stands unabashed and unashamed in the midst of a circle of much loftier fells, like a shaggy terrier in the company of foxhounds ...For a man trying to get a persistent worry out of his mind, the top of Haystacks is a wonderful cure," he wrote.
The Lake District's summits have become known as Wainwrights and just as you have Munro-baggers in Scotland, so fell-walkers in the Lakes want to bag the 214 Wainwrights described in his seven-volume guide.
The Lake District National Park Authority (lakedistrict.gov.uk) also organises free guided hikes throughout the summer. Just turn up in your walking boots.
Getting there and getting around
The West Coast Main Line, linking London and Glasgow, passes through Oxenholme, the jumping off point for the southern Lakes; and Penrith, for the northern Lakes. From Oxenholme you can catch a train along the branch line to Kendal and Windermere (08457 484950; nationalrail.co.uk).
By car, the M6 skirts the eastern edge of the Lakes. With the Cross Lakes Experience you can park the car and travel around by boat, bus, bike or boot. See lakedistrict.gov.uk for timetables and prices: you can buy tickets from the Windermere Lake Cruises ticket office, Coniston Launch, and from Mountain Goat (015394 45161; mountain-goat.co.uk) bus drivers.