Nobody warns you about the sniggers. In my experience of driving old cars, I am used to being stared at. I like the waving, the pointing, the flicker of recognition from old maids as you trundle by in a Morris Minor. But in a Ferrari, a stonking, fat, rear-engined monster that gobbles rainforests for breakfast, the reaction isn't so favourable.
The most embarrassing moment came on the Isle of Skye ferry. I was in the Highlands for three days, driving a Ferrari 360 Spider. Not an obvious choice of hire car, but it was all they had left. Only kidding. This is a new initiative by a Glasgow-based travel firm to show you Scotland's finest views from the cockpit of a supercar. For the price of two nights at a luxury hotel, you get two nights at a luxury hotel, plus the use of the Ferrari.
Skye seemed the perfect destination for a day trip from my base, just north of Fort William. It's a 25-minute boat ride from Mallaig, which is 45 minutes from Fort William, and you can loop back via the swooshing Isle of Skye bridge and the A87. The conditions for our crossing were perfect: a clear blue sky and a reassuringly still sea. In the Western Isles, you park your car on an open deck and trot up a level to take in the view. The surrounding hills, russet and grey in the glow of a warm autumn day, seemed close enough to touch. The stillness felt therapeutic.
Then the ferry lurched into action. Off went a car alarm, shattering the calm. A woman who had seen me clamber out of my ludicrous slab of bling turned and said: "That would be the Ferrari!" Cue gales of laughter from the whole deck.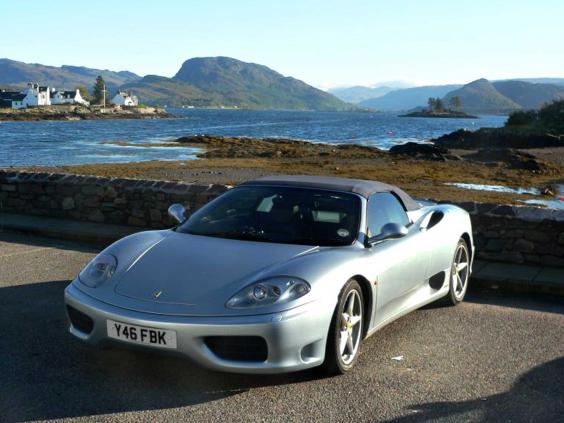 Never mind. You get used to it. The day before, on arriving at Fort William, I set off to explore Glen Nevis. This is Ben's little brother, the valley at the foot of Britain's highest mountain. A rocky path through the steep Nevis gorge broadens out into a wide valley and takes you to the Steall Falls, the third biggest waterfall in Scotland. It was unusually warm, and because the option had been available to me, I had spent the day driving with the hood down. Putting it up in the car park was memorable. In a 360 Spider, it is a two-stage action that one motoring journalist called a "stunning 20-second mechanical symphony". That's one way of putting it. Slow and fiddly is another, as the drizzle sets in, and the Czech tourists roar with laughter.
Still, I had the last laugh. Because for all the embarrassment of a car that some see as a statement on your manhood, the pleasure of driving it is worth it. It takes a little getting used to: the paddle gears; the impossibility of seeing anything while reversing; the ease of hitting 100mph by mistake. But once you adjust to these foibles, you find yourself relaxing into a relationship of mutual respect between man and beast.
Actually, relax may be the wrong word. Voltaire said that when he lost his libido, it was like being freed after a lifetime of being chained to a madman. By the end, I felt something similar. This is a car that demands to be driven fast, that overheats if you dare to pootle. This actually happened once on Skye, after I stopped one too many times to take photos. A warning light came on, and after some reading of the manual, I discovered the car's emissions sensors had got too hot. They needed a good blast of rushing cold air to cool them down. So, with a heavy heart, I put my foot to the floor, and the problem soon cleared.
My trip had started in Edinburgh, a city I usually can't wait to get to, rather than speed out of. Flying into Scotland from London makes it seem like a foreign country which, if the referendum goes Alex Salmond's way, it soon will be. The drive from Edinburgh to Fort William was a brisk three-hour introduction to what lay ahead: moors, lakes and looming grey hills. The M9 peters out at Stirling, the end of the motorway network. In Doune, the first town on the A84, graffiti on a sign begs you to "Please Drive Car Fully." If you insist! But it isn't until you pass through Callander, and get on to Rannoch Moor, that you start to involuntarily say "wow!" every couple of miles.
I did wonder, faced with three days of a 60mph speed limit, whether a Ferrari is quite the right car for the Highlands. Wouldn't it get frustrating, having all this power and nowhere to vent it? But one of the pleasures of driving this squat wide toad is how tightly it grips the road – you don't have to slow down for corners. When you get stuck behind a caravan, a little blip of the throttle quickly turns it into a speck in the mirror.
My base was Inverlochy Castle, a Victorian country house in Torlundy, two miles north of Fort William. Once the home of Lord Abinger, it sits in a quiet valley, commanding views of the surrounding hills and its own lake. Plenty more "wows" here. This is the sort of place where you toss the keys to a flunkey when you pull up. So, I duly handed them over and tried to keep cool as the baby-faced porter skipped away. Happily, neither he nor the chef could get to grips with the immobiliser, so we all agreed Sir would park his car from now on.
Chef more than made up for it in the kitchen. Philip Cargenie has a well-earned Michelin star, and in between dishes of locally sourced fare, such as parmesan-crusted scallops and veal sweetbread ravioli, waiters bring out amusing little mouthfuls he has dreamt up. Cauliflower panna cotta is certainly hard to forget.
You could easily spend a week without leaving Inverlochy. Drinking gin and tonics in the bath was a high point. Log fires roar as lunch gives way to tea, to cocktails, to dinner. But the West Coast demands exploration. As Jefferson Davis, the American statesman who stayed at Inverlochy in 1869, wrote in a letter to his wife: "The scenery about here is the grandest of all the sublime spectacles I have met in Scotland. You would find a wide field for your imagination in the mists and changing lights and shades which characterise the Scottish mountains."
The trouble is the excess of possibilities, especially with a Ferrari at your disposal. You would need a week to acquaint yourself fully with the entire coast and a couple more to see the islands. But I had come armed with an ambition. I wanted to fulfil a childhood dream of seeing an otter. The West Coast of Scotland is supposed to be the best place to see them, and the good news is that, after generations of decline, the population has enjoyed a revival in recent years.
Disembarking from the Isle of Skye ferry, I pulled into a filling station. "Where's the best place to see otters?" I asked. "You can usually spot them on the rocks along there," said the man, pointing to half a dozen spots on the map. "You have to be patient. And if they see you first, you won't see them." It was a beautiful day, perfect for mooching about on Skye's empty beaches. Hours slipped away clambering over rocks, then taking up position, to watch and wait. Gannets, egrets, cormorants and herons were plentiful. Occasionally, they would catch a fish. But otters there came none. Only when dusk began to fall did I see a spot on the map marked "otter sanctuary".
A sign by the hut at Kylerhea tells visitors to be very quiet, and says it's the best place in Britain to see otters. Built by the Forestry Commission halfway up a wooded hill, the shelter is fitted with free binoculars and overlooks the Kyle Rhea, the narrow sound of water between Skye and the mainland. Down below, you can see the ferry chugging between Kylerhea and Glenelg. It's the last turntable ferry in Scotland, a hand-operated shuttle of a kind once seen all over the Western Isles.
Darkness comes later in Scotland, but when it did, I was still watching and waiting. On the mainland across the water, Gavin Maxwell spent the late 1950s with Mijbil, the otter that inspired his book, Ring of Bright Water. Maxwell died young in 1969 (the centenary of his birth is next month), and if Mijbil's descendants were here, they had already seen me coming. I did spot a seal: a big, black, flubbocking chap, lying on a rock, flapping his fins. He was there when I arrived and, as night enveloped us, he was there still. Tomorrow, I was heading home, and my three-day dream would be over. I tiptoed back to the car, and strapped myself in for another wild ride.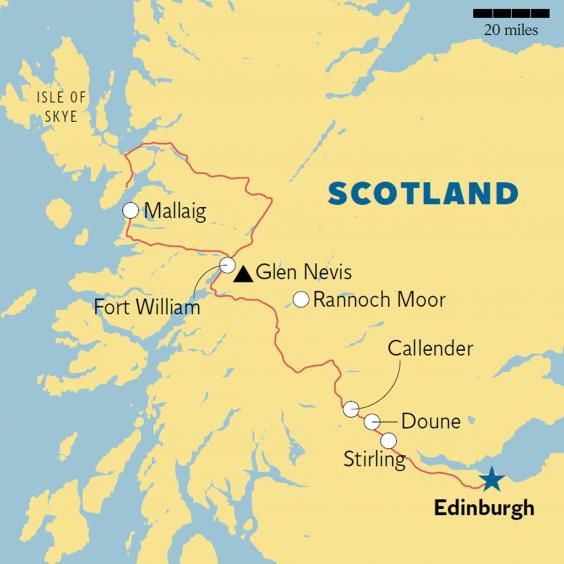 Visiting there
McKinlay Kidd (0844 873 6110; seescotlanddifferently.co.uk) offers a three-day break starting from Edinburgh, with two nights at Inverlochy Castle Hotel from £1,215pp, based on two people sharing, with breakfast and three days' hire of a Ferrari 360 Spider.
More information
Reuse content