Fancy a dip in an art installation? A new pool in London lets you do just that, and there are plenty more unusual swims to be taken in the UK.
Cross the pond
Billing itself as "a piece of experiential art", King's Cross Pond Club (020 3818 6500; kingscrosspond.club) is the UK's first man-made freshwater bathing pond. Artist Marjetica Potrc worked alongside architects to create the 40-metre-long pool on a working construction site in London's King's Cross, where the water is purified naturally using aquatic plants. Tickets need to be booked in advance online and cost £3.50-£6.50, depending on your time slot.
Under the sea
Ever wondered what it would feel like to be a mermaid? A course in Cornwall, run by Freedive UK (01637 621922; freediveuk.com), can give you a taste. New this year, it starts with a one-day introduction to freediving (diving without breathing equipment) in an indoor pool. The next day you'll hone your technique, while on day three you'll be taught to dive wearing a mermaid's – or merman's – tail. Shorter freediving courses are also available, without the tail, or once you've got a taste for the underwater life, you can use your new skills on one of the company's trips to Gozo. The three-day course is priced at £400pp including all equipment, entry fees and lunch. Accommodation not included.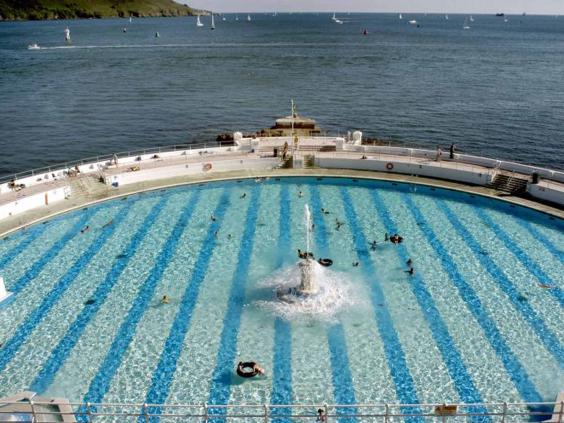 In the moonlight
More and more of us are heading out on wild swims, so for something a little more adventurous, why not try it at night?
If you're inexperienced, it's best to head out with a guide. Head to the Hills (015394 33826; headtothehills.co.uk) leads night swims in the Lake District, and it can organise fully guided dips by the light of the moon, for groups of eight or more. These are open to all, but the organisers say you should be confident swimming 1,000 metres in a pool. From £35pp for approximately 90 minutes; wetsuit hire extra.
Go wild
For the chance to swim with sharks in their natural environment, head out on a wildlife-watching trip with Basking Shark Scotland (07975 723 140; baskingsharkscotland.co.uk). Departing from Oban, you'll have the chance to snorkel – or dive – with basking sharks, and tick off other creatures along the way, such as seals, puffins and whales. A three-day trip costs from £450 including bunkhouse accommodation (room only). Equipment hire extra. It's not guaranteed you'll come across the sharks, but the company says its success rate is around 75 per cent.
The Shark Trust has compiled a Basking Shark Code of Conduct outlining how to interact with the creatures responsibly (bit.ly/SharkCode).
Touch of class
Take a dip in an Art Deco pool on a headland overlooking the sea. No, this isn't in a luxury hotel – it's the public lido in Plymouth. Now open for the summer, Grade II-listed Tinside Lido (01752 261915; bit.ly/TinsideLido) underwent a £3.3m restoration a decade ago, when the semi-circular salt-water pool, with a fountain at its centre, was returned to its 1930s glory. Entry £4.
Reuse content