Half an hour after we had picked up directions from Wicken Fen visitor centre, we were on fields burnished gold by the late-afternoon sunshine.
Two miles later, we swung over a five-bar gate to arrive at our final destination. Swallows chittered above silvered willows. Bees hummed between the yellow heads of ragwort. From my sister and two nephews there was only the silence of reluctant campers assessing the log shelters in which they were to sleep.
"Right," my sister said in a tone that anticipated a long, possibly fraught night. "Uncle James?" a small voice piped up, "Can I sleep in your camper van?" This was not going to plan.
Last summer, the National Trust opened a wild campsite in a distant corner of its oldest nature reserve, Wicken Fen, 17 miles north-east of Cambridge. It promised "adventure-lite" – ideal for a stay with my nephews, aged five and eight. After all, if you want to share the magic of wild camping – an experience that exalts raw scenery over tidy toilet blocks, yet which is outlawed in England and Wales except on parts of Dartmoor and the Lake District – you might as well do it legally and in one of Britain's most bio-diverse spots.
Around 8,500 species live in Wicken Fen's 1,800 acres. In the sedge fen, you'll find warblers, bitterns, herons, ducks, grass snakes and bright yellow brimstone butterflies. Barn owls ghost across the reed beds at dusk. In the lodes – medieval canals where whirligig beetles waltz and pond skaters glide – are great crested newts, otters, water voles, kingfishers and a jewel box of dragonflies. Konik ponies and Highland cattle graze the fields. Marsh harriers soar across the vast Fenland skies and cuckoos call in the alder buckthorn.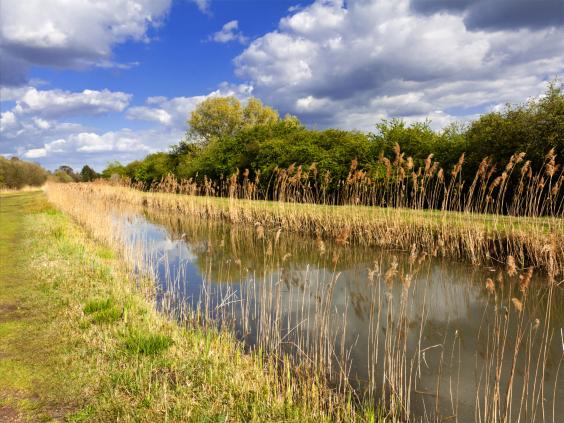 A farm track provides access to the site. I planned to drop our bags and a jerrycan of water at the site in advance. Then we would walk in across fields, immersing gradually into the surrounding nature, to bed down in the camp's four shelters. Raised off the ground, these log boxes are weathertight yet open at the front for views of the surrounding wildflower meadows. Toilet facilities comprise a long-drop among the trees.
We would hoot and holler, catch insects, spot rabbits and have a campfire, all in glorious isolation – you book the campsite in its entirety for just £25 a night. Not a bad little adventure, I thought.
"Many families come to Wicken to learn together," said Wicken Fen communications officer Howard Cooper. They want us to give them the triggers to discover, then go off and do it together in this really safe, easy way. You go to sleep when it's dark and wake up when it's light and hear muntjak deer and foxes."
Children's discovery of the environment – or lack of – is on the minds of many people at the moment. A National Trust report in 2013, Natural Childhood, warned of a "nature disorder deficit" – essentially, children are becoming alienated from the outdoors by today's risk-averse, screen-addicted society. "You'll never forget [seeing] your first badger – just as you'll never remember your highest score on a computer game," TV presenter Nick Baker remarks in the report.
Britain's wildlife organisations have collectively highlighted a 60 per cent decline in native species over the past 50 years, with one in 10 on the endangered list. Films such as Project Wild Thing advocate a reboot of attitudes to safeguard our environment. To reconnect with nature, the argument goes, children must be allowed to take mini-risks on mini-adventures.
To promote exploration and a love of the outdoors in the next generation, the National Trust has put together a free booklet of 50 things to do before you're 11¾. We were doing well at Wicken Fen.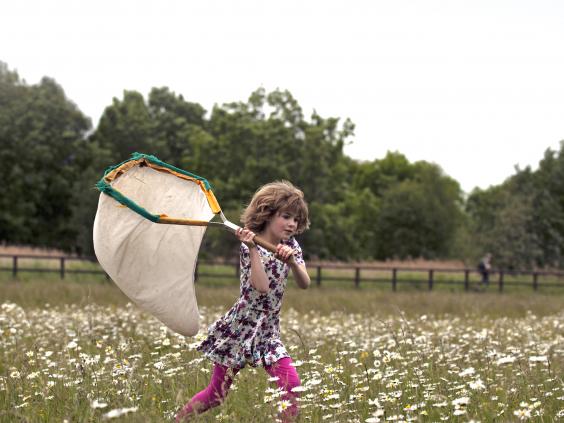 On bikes borrowed from the visitor centre ("Go on a really long bike ride": tick), we followed grassy banks where cabbage white and tortoiseshell butterflies danced ("Hunt for bugs", "Make a grass trumpet") and watched water beetles in the lodes ("Discover what's in a pond"). In the trees, wood pigeons cooed and shelducks arrowed across a horizon-busting sky ("Go bird-watching"). I realised at one point this was the first time in months I'd felt genuine peace.
Yet the bike ride was only the overture to the wild camp. And that didn't seem to be going down so well. It was the 50 things booklet that came to my rescue. My unhappy campers perked up after they had inspected the shelters. Reassured they were watertight and elevated above things that go hop in the night, we went on safari at dusk. Even if my badger sett turned out to be rabbit burrows, it was a wild animal tracked – another box ticked alongside climbing a tree and going on a walk barefoot as we explored our private corner of the nature reserve.
Marshmallows on a campfire and Venus ablaze in a twilight sky earned two more ticks. By nightfall the boys and my sister were snug in a shelter while I bedded down outside beside the fire, revelling in the purity and simplicity of wild camping.
Even so, I didn't expect such enthusiasm the next morning. "I adore these shelters," my sister said over breakfast. I must have looked sceptical. "No, really," she continued. "In a tent you look at a zip. I woke up early and lay in bed watching the sun rise, then went back to sleep. And I felt safe being so enclosed, as well as dry and warm."
There was a delighted shriek from deep among the brambles where my nephews played. She added: "We were brought up with this outdoors life and I sometimes worry the boys don't get enough of it. I love that this gives them the desire and belief to explore – it's so far removed from computers. And for me being here is an escape; it's just about being and that's lovely." So, who's going to sleep outdoors with me next time, I asked as we left.
"Me!" one nephew hollered. Possibly, acquiesced my sister. Two out of three isn't bad.
Travel essentials
Getting there
The nearest main line station is Cambridge (08457 484 950; nationalrail.co.uk).
Camping there
Wicken Wild Camping (bit.ly/WickFen) is six miles from Wicken Fen Nature Reserve (01353 720 274; national trust.org.uk/wicken-fen) near Cambridge; the nearest parking is at Anglesey Abbey two miles away. Its four shelters sleep 24 adults; the entire site costs £25 per night.
More information
projectwildthing.com
50things.org.uk