Last Christmas you, our readers, donated half a million pounds to the Independent's Elephant Appeal to help stop poachers slaughtering elephants for their ivory in unprecedented numbers.
Since then our partner charity, Space for Giants, has been using the money in miriad ways for just that: protecting East Africa's elephants so they can continue to thrive in the wild.
The result has been remarkable. The latest estimates show that there has now been a 80 per cent reduction in elephant poaching numbers in the areas that Space for Giants protects with the help of your donations compared to 2012.
Below are a list of the projects supported by the money you gave. Thank you again for your generosity.
Elephant Appeal
A report on the The Independent's 2013/14 Charity Appeal with Space for Giants
By Space for Giants
November 2014
Conservation Impact
Space for Giants in the UK is governed by a voluntary board of trustees and therefore has no overhead or office costs. Therefore all funds raised from the Independent campaign, minus net costs, have been channelled directly to Africa where they are being used for elephant conservation by our subsidiary. This is one of the reasons the campaign has been such a success.
The greatest single conservation impact of the campaign to date has been a contribution to a more than 80 per cent reduction in the illegal killing of elephants in Northern Kenya, compared with 2012 levels. Over and above this extraordinary impact, the campaign has also enabled Space for Giants to directly support the creation of a new 58,000 acre protected area and support with putting in place habitat protection plans and project across a much wider area.
The media attention that the campaign had hugely increased awareness of the illegal wildlife trade crisis, particularly the illegal wildlife trade, contributing to informing global action that was evident at the London Conference in February of this year.
From a long term perspective the campaign has hugely increased Space for Giants international profile, contributing to our ability to harness international leaders and funding to scale up our work outside of Kenya into other elephant ranges in East, Central, West and Southern Africa. While the impact of this can't yet be fully judged, it is possible that the Independent Campaign played a crucial role in helping Space for Giants put in place the architecture to protect elephants and their habitat in the places they are most vulnerable.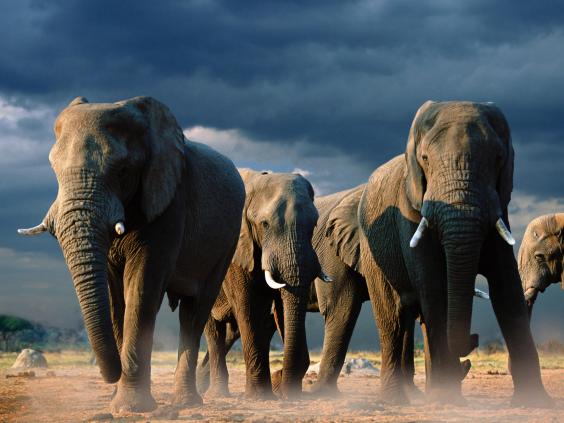 The funds raised from the campaign have enabled SFG in Kenya to undertake the following activities:
FRONTLINE PROTECTION
In North Kenya
* Providing the resources to train, equip and resource two new elite rapid response mobile Kenya police reservist units in Northern Kenya. One of these is based in West Laikipia (14 man team at Sosian Conservancy) & one is based in East Laikipia (27 man team at the Ol Jogi Conservancy). 
* Aerial & logistical support for a third rapid response team (5 man tea, with dogs from the Ol Pejeta Conservancy). In the event of a major armed poaching incident, this team is collected by helicopter and deployed to the site of an incident.
* Basic training & support to 29 additional regular wildlife scouts working in ranches and conservancies across Laikipia
* Create a single security radio network across Laikipia to enable rapid reporting of poaching threats and incidents.
* Logistical & management support for coordinating all of these teams and two further teams (9.1 & 9.2 under the Northern Rangelands Trust) under a single community policing committee, with representation from the police, Kenya Wildlife Service, county government and local conservation organisations.
* Building the capacity of law enforcement agents and the judiciary in management of the criminal trial process and the application of new wildlife laws.
-- Printing & disseminating a handbook on laws for tackling wildlife crime to law enforcement personnel nationally (magistrates & prosecutors)
-- Training workshop x 2 on the criminal trial process to improve convictions in cases of wildlife crime
-- Monthly meetings of court user committees in Northern Kenya to review wildlife crime cases coming through the courts
* Identifying individual elephants and monitoring their movements through direct surveys and the deployment of 20 GPS collars.
-- Recruit, train and resource two elephant researchers to monitor elephants across Laikipia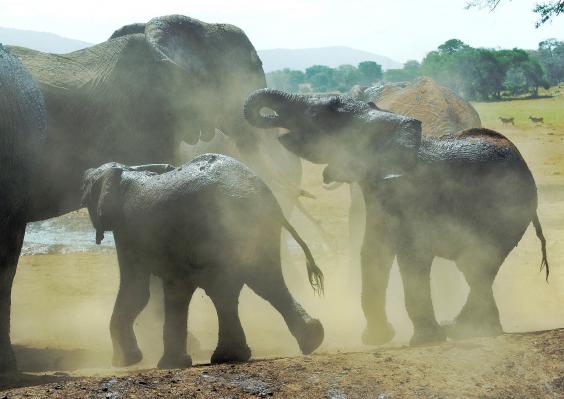 Across Africa (Elephant Protection Initiative)
* Scaling up frontline elephant protection into other elephant range states through:
-- Legal support for the restructuring of Space for Giants to provide frontline protection in several African states
-- The establishment of the Giants Club-a forum of African political leaders, African mining and mineral extraction companies and conservationists to create the political will, financial resources and expertise to provide frontline protection to 10% of the continent's elephants by 2020.
-- Field visits to proposed frontline elephant protection project sites in Tanzania, Zambia & Gabon to plan appropriate interventions, with local partners.
SECURING SPACE
* Support for the completing the acquisition and establishment of a new 58,000 acre wildlife protected area in West Laikipia, the Loisaba Conservancy. This is being undertaken in partnership with The Nature Conservancy. Space for Giants is providing technical support for this process (particularly in the area of community & conservation planning & fundraising). Completion will be in December 2014
* Support for planning the expansion of the Loisaba conservancy onto the surrounding lands (44,000 acre Suyian Ranch to the south, 50,000 acre Mpala Ranch to the east)
* Support to the Kirissia Hills Community Forest Association with the protection of a 90,000 ha forest reserve in Northern Kenya (this includes resourcing 14 scouts to undertake patrols of the forest)
* Support to the Government to plan the Mt Kenya-Aberdares wildlife corridor, with a view to reconnecting one of the most significant elephant migrations in East Africa.
* Support the Laikipia Governor & The British Army to plan an elephant corridor between Loisaba & the Laikipia Nature Conservancy (in the west)-The Nagum Corridor
MITIGATING HUMAN-ELEPHANT CONFLICT
* Technical support to the government to facilitate upgrading and maintaining the 163 West Laikipia Fence to prevent elephants from raising smallholder crops.
* Technical support to partners for managing human-elephant conflict in Northern Rangelands Trust Conservancies and in the Amboseli Ecosystem
CONSERVATION EDUCATION
* Performance of monthly educational plays to inform communities living in poaching hot spots of the value of elephants and details of new wildlife laws.
* Building interactive web-based elephant monitoring interface to track elephant movement, conflict and mortality, close to real time, with a view to supporting management decisions.
* Training partner organisations in wildlife monitoring techniques, particularly MIKE (Monitoring the Illegal Killing of Elephants)
LOBBYING, COMMUNICATION & DEVELOPMENT
* Working with and lobbying the Kenyan authorities and development partners to support the application of new wildlife laws
* Working internationally to lobby for demand reduction in Asia & greater support for anti-poaching initiatives in Africa
* Development of partnerships with individual donors, corporates and institutional donors to sustain and grow funding for wildlife protection in Africa
* Production of newsletters to partners and supporters (including supporters from the Independent) on progress with project activities.
* Updating content on SFG's website and social media to keep the public informed of international, national and local issues of conservation concern and progress.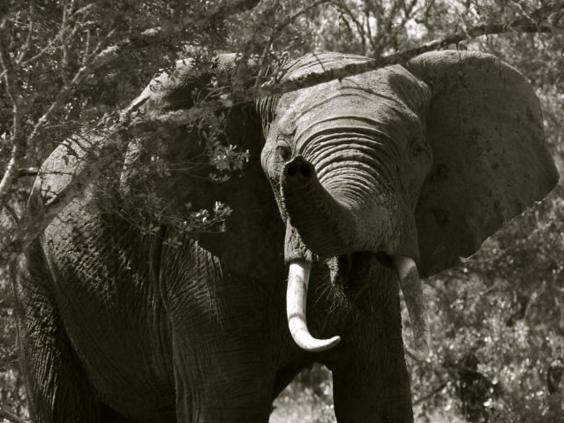 The table below provides a summary budget to indicate respective costs of the programmes described above:

SFG Africa-Budgeted Use of Independent Funds (January 2014 to December 2015)
 
Programme Costs*
1.  Frontline Protection
a. North Kenya frontline protection, GBP 174801
East & West Laikipia New KPR Teams & Aerial & logistical support for the Ol Pejeta Conservancy rapid response team
b. Judiciary Capacity Building, GBP 17133
Printing and distributing laws on wildlife crime manual, court user committee training workshops
c. Elephant Monitoring & Tracking, GBP 31112
Purchase & deployments of 20 GPS collars and associated monitoring
d. African Elephant Protection Initiative, GBP 11776
Creating an African leadership forum (the Giants Club) and developing frontline projects for vulnerable elephant ranges
Sub-Total, GBP 234823
2. Human-Elephant Conflict Mitigation
a. Laikipia Fence project, GBP 29741
Support for upgrading and maintaining 163 km West Laikipia Fence
b. Amboseli Project (Big Life), GBP 4882
Technical support for HEC mitigation plan for the Amboseli Ecosystem
Sub-Total, GBP 34623
3. Securing Space
a. Kirisia Hills Community Forest Protection, GBP 23476
Support for a community forest association in governance and resourcing 14 scouts for 90,000 ha forest
b. Loisaba Conservancy Project, GBP 44833
Legal, technical, fundraising and conservation planning & monitoring support for this new conservancy
c. Mt Kenya-Abderdares Corridor, GBP 1111
Support to the Government to plan the rehabilitation of an elephant corridor
d. Nagum Elephant Corridor, GBP 2222
Support to the British Army and Government to create a new elephant corridor
Sub-Total, GBP 71642
4. Conservation Education
a. Interactive Drama, GBP 5670
Monthly drama performances in poaching hot spots
b. Elephant Monitoring Interface, GBP 12082
Programming costs for web-based monitoring  of elephant movement, conflict and poaching incidents
c. Training Courses, GBP 2830
Building capacity of partners to monitor the illegal killing of elephants
Sub-Total, GBP 20582
5. International Lobbying, Communication and Development
a. SFG high level lobbying & project development (International), GBP 23554
Rugby for Giants, Website & Social Media content, Support to SFG UK & SFG USA with communication campaigns
b. SFG high level lobbying & project development in Africa, GBP 16443
Lobbying, communication and development in Kenya
c. Interactive elephant protection web interface, GBP 3704
Web-based interactive elephant protection tool (sponsoring individual elephants)
d. Design & printing of communication material, GBP 9630
Support for design of short videos, billboards, campaign flyers, newsletters and annual reports
e. Logistical support, GBP 591
Administration & office support for this project
Sub-Total, GBP 53331
Overhead Costs
a. Accounts & Administration, Budget GBP 28848
b. Legal restructure, Budget GBP 7585
Governance Costs for SFG Kenya, including legal restructure, audit, board meetings
Sub-Total, GBP 36433
Grand Total, GBP 451434
Funding from Independent Campaign, GBP 495972
This includes Gift Aid which has not yet been received by SFG UK
Net Cost of Independent Campaign, GBP 22163
Net Surplus for Contingencies, GBP 22375
* Includes staff time (Staff are 14 in Africa, including 4 management, 3 administration, 7 field)
Reuse content