Since 1973, New Belvedere House in Stepney, east London, has been a place of hope for veterans in crisis, providing a home for those who would otherwise be out on the streets. Now, thanks to the extraordinary generosity of those who responded to The Independent's Homeless Veterans appeal, the building is about to begin a new chapter in its history.
As the fundraising campaign draws to a close, project managers, architects and builders are preparing to begin work on a major renovation of the hostel, modernising it for the 21st century and allowing staff to help even more struggling ex-servicemen.
New Belvedere House is run by Veterans Aid, one of two military charities benefiting from The Independent's appeal. It has a high success rate in preparing veterans for independent living, so its 55 rooms are almost always full. The charity has long been keen to build an extension, but until now has lacked the funding to do so.
By the end of the project, 12 more veterans will be able to count New Belvedere House as their home – and the facilities used by all residents will be dramatically improved. The façade of the building will be replaced with soaring glass walls, and an extra storey will be added to the existing building to make space for new bedrooms.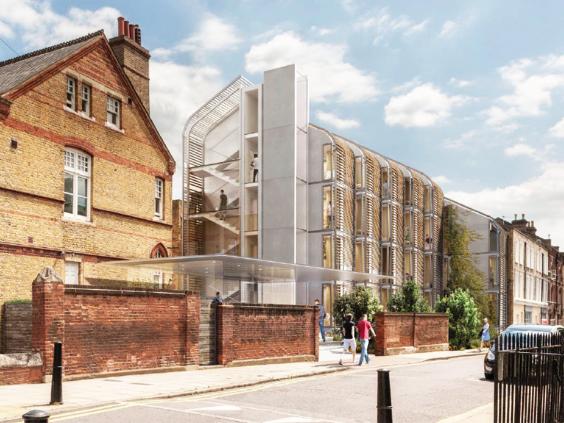 Every room will be gutted and rebuilt, with new plumbing, electrics, furniture and decor, and a lift will be installed to allow disabled veterans easy access. The layout will also be reconfigured, so space which is currently wasted can be turned into new rooms – including a fully equipped art centre.
Until now the hostel has lacked a proper kitchen, but a new one will be installed so the veterans can make their own meals or learn the basics of cooking from staff. A gym will also be created – quite a step up from the current 6am exercise class which takes place in the hostel's recreation room.
The aim of New Belvedere House is not simply to provide a bed for the night. New residents are given clothes, toiletries and constant help in overcoming any addictions or personal problems they might have. They are then helped to get work or find training, before finally being encouraged to move out when they are ready.
"It's not a hostel where you spend one night and go – everyone has a life plan," said Dave Buckley, the facilities manager at Veterans Aid, who is in charge of the renovation. "I am proud of what we do. I would like to replicate the hostel four or five times – hopefully we won't have the need."
He added that the project would be a "logistical challenge" but that when complete, the new building "will last for up to 50 years so the legacy will continue".
Last year, Veterans Aid provided more than 21,300 nights of accommodation for ex-servicemen and women, answered more than 3,400 calls for help and advice and had 500 people walk through the doors of its drop-in centre in Victoria, central London.
The annual cost of housing someone in New Belvedere House is £5,000, with between £3,000 and £5,000 usually being spent on their training and future accommodation.
In pictures: Homeless Veterans appeal
In pictures: Homeless Veterans appeal
1/20 Glynn Barrell

Glyn Barrell is among the veterans hoping to benefit from the self-build scheme in Plymouth

2/20 Rachel Holliday

Rachel Holliday is converting a police station into a hostel

Colin McPherson

3/20 Androcles Scicluna

Veteran Androcles Scicluna says performing boosted his confidence

Simon Gregor

4/20 Christopher Cole

Christopher Cole, 51, from London, spent three years in the Army but left in 1982

John Lawrence

5/20 Maurillia Simpson

Former servicewoman Maurillia Simpson with the medals she won at last year's Invictus Games

Jeremy Selwyn/Evening Standard

6/20 Martin Rutledge

Head of The Soldiers' Charity, Martin Rutledge, says charities sometimes allow emotion to dictate their choices

Justin Sutcliffe

7/20 Ben Griffin

Ben Griffin wants to open people's eyes to the cycle of political violence

Charlie Forgham-Bailey

8/20 Robin Horsfall

Robin Horsfall, who fought in the Falklands and helped end the Iranian embassy siege

9/20 Mark Hayward

A bed for the night and food helped Mark Hayward out of misfortune

Justin Sutcliffe

10/20 Ashley Rosser

Ashley Rosser, who served in the RAF, at the Veterans Aid hostel in east London

Micha Theiner

11/20 Dave Henson

Britain's Invictus Games captain Dave Henson says veterans' charities helped rebuild his life

Chris Jackson/Getty Images

12/20 Hugh Milroy

Hugh Milroy dispels myths about war-zone veterans through his work as the CEO of Veterans Aid

Charlie Forgham-Bailey

13/20 Andy MacFarlane and Julie Taylor

Former soldiers Andy MacFarlane and Julie Taylor work at the Jaguar Land Rover plant in Solihull under a covenant connecting veterans with employers

Andrew Fox

14/20 Mark McKillion

Mark McKillion's experience of living on the street eventually left him feeling as though the only way to escape was to end his life. He survived his desperate jump from Westminster Bridge, and VA's help has restored his "faith in humanity"

15/20 Nigel

Nigel, a navy veteran, remembers living on the beach in the run-up to Christmas, when it rained every day for a week. He slept on a bench for seven years whilst suffering from Parkinson's disease.

16/20 Keith Cooper

Before Keith Cooper had his place confirmed at Avondale House in Newcastle, he was working out whether he could afford to buy a tent to live in

17/20 Simon Weston

Simon Weston, a Falklands War veteran, said even something as simple as a cup of tea can be an important step in getting the life of a homeless veteran back on track.

AFP/Getty Images

18/20 Ian Palmer, professor of military psychiatry

Ian Palmer, the first professor of military psychiatry to the British Armed Forces, says that the depiction of all ex-service personnel having post-traumatic stress disorder may stop people who really need help from getting it

Glenn Copus

19/20 Douglas Cameron

Evgeny Lebedev with Douglas Cameron, who had a hernia operation while serving in Burma

Johnnie Shand Kidd

20/20 Veterans Aid

General Sir Mike Jackson, President of ABF The Soldiers' Charity, called for donations to the Homeless Veterans appeal

AP
Colonel Geoffrey Cardozo, the charity's fundraiser, said it had been trying to find the money to finance the renovation for four years. "The campaign made a huge amount of difference. It is an exciting time – we are all delighted," he added.
Members of the public have been so touched by the Homeless Veterans appeal that some sent parcels for residents of the hostel to open at Christmas, he revealed. One person sent 20 mobile phones as well as stationery, toiletries and chocolate cakes. Another made truffles for all 55 men.
A particularly popular gift among the veterans was the collection of new Hugo Boss jackets and T-shirts donated by the organisers of the Wimbledon tennis championships, he said. "The guys were really happy – you can see how quickly the self-esteem comes back when they wear them."
Dr Hugh Milroy, the CEO of Veterans Aid, said: "It is hard to believe that The Independent's Homeless Veterans appeal is coming to an end. The transformation of our large hostel is a major task for us – however, we are only building on its astounding success to help our dedicated staff continue their work.
"For the individuals we deal with, who are often damaged and vulnerable human beings, it will remain a place of hope."
He added that when the renovation is complete, the hostel would be a "world-class facility" designed to let the veterans who live there know that they are "worthy of the best".
"The quality of our hostel is critical to the process – and overall, our success rate tells us that we are getting it right," he said.
More than 95 per cent of our hostel graduates go on to sustain their new lives emotionally, physically, psychologically and financially, living in the community. Investing in the hostel will ensure that we can keep doing this for as long as there is a need."
Reuse content