It was The Independent's sister newspaper that first made me think hard about homelessness in London. During the Evening Standard's Dispossessed campaign, and even before, I read articles about the ordeal of those forced to sleep on the streets of our modern metropolis.
This struck me as wrong, preventable and urgent and when, during the commemorations last year, I read that many of those on the streets are former veterans, I felt we had to do something. I spoke to Boris Johnson about his work in the area, and he said there were a few people he'd like me to meet.
"If nothing else, you'll meet some vulnerable people tonight. They may not seem so, but they are." The words of Howard Sinclair, CEO of St Mungo's Broadway — the London charity for homeless people — proved prescient.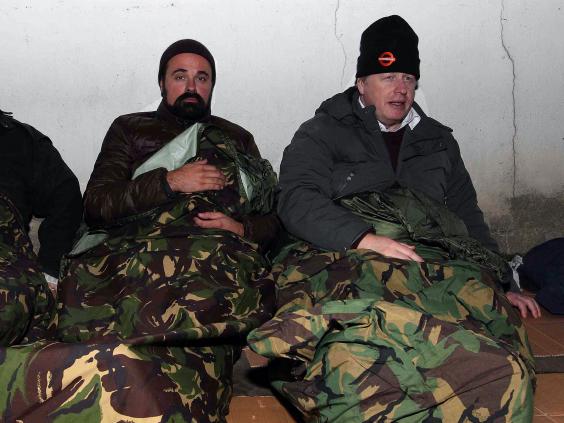 When the Mayor of London and I began our visits to the outreach programmes being run by Sinclair's charity, we expected to meet people in need. But little can prepare you for the extremity of conditions faced by those living on London pavements in 2015.
I was doing this visit, and spending a night sleeping rough, because I wanted to understand the plight of those homeless people this newspaper has set out to help. What I saw and experienced was shocking in its injustice, sobering in making clear how far we still have to go and often difficult to watch.
At the Lewisham hub for No Second Night Out, a three-year-old London project to get people off the streets fast, we saw the effects of homelessness at their most acute. Some have been helped off the streets within hours; some after days, months or even years.
They are offered a well-lit communal room, hot food and beverages, but no bed. It is intentionally uncomfortable, says Sinclair: "We don't want to get people stuck in the system, we want to reconnect them with their families and local authorities, and create an environment where they can move on."
Even so, many find it hard to escape the cycle of rough living. In the communal room Boris and I visit, there are 20 men, from their teens to their seventies. One pours endless prose into a large notepad, while others — disconcertingly — watch YouTube videos of scantily clad women loading and firing semi-automatic weapons. The most heartbreaking moment comes when the young man writing endlessly reaches into his satchel to pull out a bottle of Tipp-Ex.
Meanwhile, a man in his seventies is the object of his fellow lodgers' pity and derision: he is incontinent and uses a small blade to cut out infections in what looks like his seriously gangrenous green left leg.
In pictures: Homeless Veterans appeal
In pictures: Homeless Veterans appeal
1/20 Glynn Barrell

Glyn Barrell is among the veterans hoping to benefit from the self-build scheme in Plymouth

2/20 Rachel Holliday

Rachel Holliday is converting a police station into a hostel

Colin McPherson

3/20 Androcles Scicluna

Veteran Androcles Scicluna says performing boosted his confidence

Simon Gregor

4/20 Christopher Cole

Christopher Cole, 51, from London, spent three years in the Army but left in 1982

John Lawrence

5/20 Maurillia Simpson

Former servicewoman Maurillia Simpson with the medals she won at last year's Invictus Games

Jeremy Selwyn/Evening Standard

6/20 Martin Rutledge

Head of The Soldiers' Charity, Martin Rutledge, says charities sometimes allow emotion to dictate their choices

Justin Sutcliffe

7/20 Ben Griffin

Ben Griffin wants to open people's eyes to the cycle of political violence

Charlie Forgham-Bailey

8/20 Robin Horsfall

Robin Horsfall, who fought in the Falklands and helped end the Iranian embassy siege

9/20 Mark Hayward

A bed for the night and food helped Mark Hayward out of misfortune

Justin Sutcliffe

10/20 Ashley Rosser

Ashley Rosser, who served in the RAF, at the Veterans Aid hostel in east London

Micha Theiner

11/20 Dave Henson

Britain's Invictus Games captain Dave Henson says veterans' charities helped rebuild his life

Chris Jackson/Getty Images

12/20 Hugh Milroy

Hugh Milroy dispels myths about war-zone veterans through his work as the CEO of Veterans Aid

Charlie Forgham-Bailey

13/20 Andy MacFarlane and Julie Taylor

Former soldiers Andy MacFarlane and Julie Taylor work at the Jaguar Land Rover plant in Solihull under a covenant connecting veterans with employers

Andrew Fox

14/20 Mark McKillion

Mark McKillion's experience of living on the street eventually left him feeling as though the only way to escape was to end his life. He survived his desperate jump from Westminster Bridge, and VA's help has restored his "faith in humanity"

15/20 Nigel

Nigel, a navy veteran, remembers living on the beach in the run-up to Christmas, when it rained every day for a week. He slept on a bench for seven years whilst suffering from Parkinson's disease.

16/20 Keith Cooper

Before Keith Cooper had his place confirmed at Avondale House in Newcastle, he was working out whether he could afford to buy a tent to live in

17/20 Simon Weston

Simon Weston, a Falklands War veteran, said even something as simple as a cup of tea can be an important step in getting the life of a homeless veteran back on track.

AFP/Getty Images

18/20 Ian Palmer, professor of military psychiatry

Ian Palmer, the first professor of military psychiatry to the British Armed Forces, says that the depiction of all ex-service personnel having post-traumatic stress disorder may stop people who really need help from getting it

Glenn Copus

19/20 Douglas Cameron

Evgeny Lebedev with Douglas Cameron, who had a hernia operation while serving in Burma

Johnnie Shand Kidd

20/20 Veterans Aid

General Sir Mike Jackson, President of ABF The Soldiers' Charity, called for donations to the Homeless Veterans appeal

AP
What comes across is the brave and tireless work of the workers. They are heroes, soldiers of civilisation. Staff we meet the that night, like Petra Salva, Director of Street Homeless and Outreach Services at St Mungo's Broadway, are admirably indiscriminate in who they offer care to. Migrants — legal or otherwise — as well as ex-cons, alcoholics and drug-users, all seek advice.
As for our experiences of rough sleeping? We were blessed with unseasonably good weather, decent sleeping bags and cardboard sheets for bedding. At 4am or 5am we noted the drizzle on our faces, but otherwise faced few hardships. At one point, noting that we were camped out in front of a church, Boris recited a stanza of Thomas Gray's Elegy Written in a Country Churchyard.
For my part, I spent most of the night concentrating on a meaningless Great Gatsby-ish green light, suspended in a top floor room of a City office building. Care workers had told us earlier that it usually takes seven days of street-living for mental health deterioration to set in: I could see why.
Coincidentally, we were also visited by one of the outreach teams from St Mungo's Broadway. The two workers — surprised to find the Mayor huddled up next to a curious Russian vagrant on a City of London street — said they had taken a call reporting two men sleeping on benches nearby. They told us they came across us by chance and we explained what our aim was in sleeping out.
Speaking of which, please make a donation if you can. This newspaper, for our December-January campaign at least, has chosen to appeal for a section of rough sleepers badly in need: ex-servicemen and women. They suffer the same problems as many others who are homeless: alcohol and drug dependency, troubles due to a relationship breakdown, and mental health difficulties (a pressing problem, given that many veterans suffer post-traumatic stress disorders).
Thankfully, the number of veterans on the streets is not what it was. Twenty years ago, the gardens of St Paul's Cathedral — a stone's throw from where Boris and I lay our heads — was well known as a homeless hub for veterans. Servicemen — many shell-shocked from the world wars — did casual and badly paid work at Billingsgate fish market, usually in the early hours, before bedding down on benches in the shadow of the cathedral.
That is no longer the case, and it is a development that we should celebrate. But there is still work to do: this year, you can help us make homeless veterans a thing of the past.
* If you're concerned about  someone sleeping rough, get in touch with StreetLink so it can  connect them to the local support and services they need. Contact 0300 500 0914, download  the StreetLink app or make a referral via streetlink.org.uk
* Evgeny Lebedev is the owner of 'The Independent' and 'Evening Standard' newspapers. Follow him at twitter.com/@mrevgenylebedev
Reuse content