Residents of the quiet village of Strathaven, South Lanarkshire, can usually spot Gary Jamieson coming. It is not the injuries he sustained while serving in Afghanistan four years ago that catches their attention – it is his car.
A big, black 4x4 which proudly bears the licence plate N008 LEG, it is a physical testament to the remarkable recovery he has made since he stepped on an improvised explosive device (IED) while out on patrol, losing both legs above the knee and his left arm above the elbow.
The 34-year-old was able to drive again only six months after being blown up north of Lashkar Gah on his second tour with 1st Battalion, The Scots Guards. He says getting back on the road was a huge boost to his independence – and is amused when his unique licence plate is spotted by other drivers. "I think that folk see me coming and think they need to get out of the road," he jokes. "But without the car I'd have been doolally, cooped up in the house."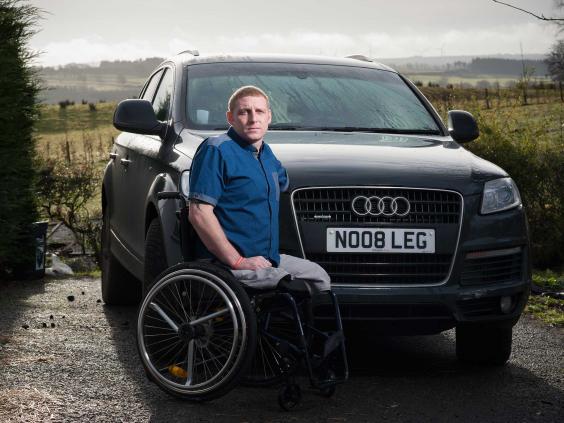 Sergeant Jamieson was on an afternoon foot patrol in April 2010 when his platoon unknowingly entered an IED field. The men spotted a series of markers warning of the location of possible devices ahead and decided to turn around, but it was too late – he was already standing on one.
"As I pivoted my foot, the explosion went off," he recalls. "I was conscious throughout, so I immediately knew my legs were away. I knew what was happening, I could feel all the blood pouring out of me."
In the seconds after the explosion, a photograph he had taken of his daughter Taylan, now five, popped into his head. But as soon as he began receiving medical attention from his colleagues, he snapped back to the present. "[Once] the tourniquets went on... I never thought of dying again," he says. "I thought: 'I'm going to be safe, and I need to get back to my family'."
It took just 18 minutes for a helicopter to arrive and take Sgt Jamieson back to Camp Bastion, alongside Colour Sergeant Alan Cameron, who had been leading the patrol and sustained serious head injuries in the blast. Tragically, "Cammy" died of his wounds a year later at the age of 42.
Although Sgt Jamieson was conscious after the explosion, the next thing he recalls is waking up in Selly Oak Hospital a week later. "The last time I saw my hand was when it was lying on my chest, because they picked it up and put it there while we got on the chopper," he says. "I remember the guy in the chopper saying 'Here comes the good stuff' and injecting me, and then I was in Birmingham."
He spent six weeks in hospital and was then transferred to Headley Court, the Ministry of Defence's rehab centre in Surrey, where he met other amputees in recovery, including Andy Reid, whose story has already featured in The Independent's Christmas appeal. "That's sort of the way the Army works – you look for somebody who's an inspiration for you and try to be like them," he says. "You see someone like Andy Reid walking past and you think: 'That's what I'll be like'."
Sgt Jamieson was keen to return home to be with his wife, Claire, 37, and their children Nicole, Kyle and Taylan. But there was a problem: the old miner's cottage in the South Lanarkshire village of Stonehouse where they lived needed extensive renovations to suit his new life.
ABF The Soldiers' Charity, one of two being supported by The Independent's appeal, provided the family with a £2,000 grant so they could live in the family suite of a nearby hotel for 12 weeks while work was completed. Without the intervention, Sgt Jamieson would have had no option but to live in an Army facility and be separated from his wife and children again.
In pictures: Homeless Veterans appeal
In pictures: Homeless Veterans appeal
1/20 Glynn Barrell

Glyn Barrell is among the veterans hoping to benefit from the self-build scheme in Plymouth

2/20 Rachel Holliday

Rachel Holliday is converting a police station into a hostel

Colin McPherson

3/20 Androcles Scicluna

Veteran Androcles Scicluna says performing boosted his confidence

Simon Gregor

4/20 Christopher Cole

Christopher Cole, 51, from London, spent three years in the Army but left in 1982

John Lawrence

5/20 Maurillia Simpson

Former servicewoman Maurillia Simpson with the medals she won at last year's Invictus Games

Jeremy Selwyn/Evening Standard

6/20 Martin Rutledge

Head of The Soldiers' Charity, Martin Rutledge, says charities sometimes allow emotion to dictate their choices

Justin Sutcliffe

7/20 Ben Griffin

Ben Griffin wants to open people's eyes to the cycle of political violence

Charlie Forgham-Bailey

8/20 Robin Horsfall

Robin Horsfall, who fought in the Falklands and helped end the Iranian embassy siege

9/20 Mark Hayward

A bed for the night and food helped Mark Hayward out of misfortune

Justin Sutcliffe

10/20 Ashley Rosser

Ashley Rosser, who served in the RAF, at the Veterans Aid hostel in east London

Micha Theiner

11/20 Dave Henson

Britain's Invictus Games captain Dave Henson says veterans' charities helped rebuild his life

Chris Jackson/Getty Images

12/20 Hugh Milroy

Hugh Milroy dispels myths about war-zone veterans through his work as the CEO of Veterans Aid

Charlie Forgham-Bailey

13/20 Andy MacFarlane and Julie Taylor

Former soldiers Andy MacFarlane and Julie Taylor work at the Jaguar Land Rover plant in Solihull under a covenant connecting veterans with employers

Andrew Fox

14/20 Mark McKillion

Mark McKillion's experience of living on the street eventually left him feeling as though the only way to escape was to end his life. He survived his desperate jump from Westminster Bridge, and VA's help has restored his "faith in humanity"

15/20 Nigel

Nigel, a navy veteran, remembers living on the beach in the run-up to Christmas, when it rained every day for a week. He slept on a bench for seven years whilst suffering from Parkinson's disease.

16/20 Keith Cooper

Before Keith Cooper had his place confirmed at Avondale House in Newcastle, he was working out whether he could afford to buy a tent to live in

17/20 Simon Weston

Simon Weston, a Falklands War veteran, said even something as simple as a cup of tea can be an important step in getting the life of a homeless veteran back on track.

AFP/Getty Images

18/20 Ian Palmer, professor of military psychiatry

Ian Palmer, the first professor of military psychiatry to the British Armed Forces, says that the depiction of all ex-service personnel having post-traumatic stress disorder may stop people who really need help from getting it

Glenn Copus

19/20 Douglas Cameron

Evgeny Lebedev with Douglas Cameron, who had a hernia operation while serving in Burma

Johnnie Shand Kidd

20/20 Veterans Aid

General Sir Mike Jackson, President of ABF The Soldiers' Charity, called for donations to the Homeless Veterans appeal

AP
The family now live in a bungalow, which allows Sgt Jamieson – still awaiting discharge from the Army while issues with his prosthetic legs are fixed – to get around more easily. The Soldiers' Charity also paid for electronic gates so he can drive up to the entrance without getting out of his specially adapted car.
Also key to Sgt Jamieson's recovery was the MoD's Personnel Recovery Centre (PRC) in Edinburgh, which opened in 2009. It prepares injured soldiers physically and mentally for a return to the services or for medical discharge on to civvy street. The Edinburgh PRC was a pilot project, but there are now five across the UK. As well as providing injured soldiers with physical strength training, they offer classes in literacy and numeracy, and life skills such as job applications. Many courses are funded by The Soldiers' Charity.
As Sgt Jamieson had a family and a house, he already had plenty of support. But for others, he says, the experience is invaluable. "Things like CV writing and interviewing techniques are a must for the boys – some of them have been in the Army for years and have never paid a bill, so they get a shock when they come out."
Captain Del Hamilton, Welfare Officer at the Edinburgh PRC, says one of its main aims is to prevent soldiers leaving the Army unprepared – which could lead to a slide into homelessness. "Next to health and finance, accommodation is one of their biggest concerns," he says. "Some of the younger lads think it's just a case of 'back to my mates, back to the local'. But as you start going through the courses with them, they start to realise they need to think about it a bit more.
"A lot of them think that they don't have transferable skills. One might say 'I'm a sniper, what can I do?'. But they're also part of a team. It's about putting civilian-speak into their military qualifications."
Reuse content