If you find yourself being interested in spending £8m on a car, you may pause to consider whether that's God's way of telling you that you've got too much money. Rowan Atkinson has just sold his 1997 McLaren F1 to a British buyer for a sum thought be close to the asking price of £8m. That represents 12 times what he paid for it 18 years ago, and would certainly be one of the highest-value second-hand car deals ever made on these shores.
Atkinson is a very rich man, but has a divorce to fund, so he may have had an imperative to sell the car, beyond the fact that it cost him £60,000 a year to insure. In common with other comedians of my experience, Atkinson is – shall we say – very astute when it comes to money, and his F1 was clearly a very good investment. The new owner of P380 GJM  – one of only 106 such models to be built – will doubtless be hoping that the car continues to rise in value.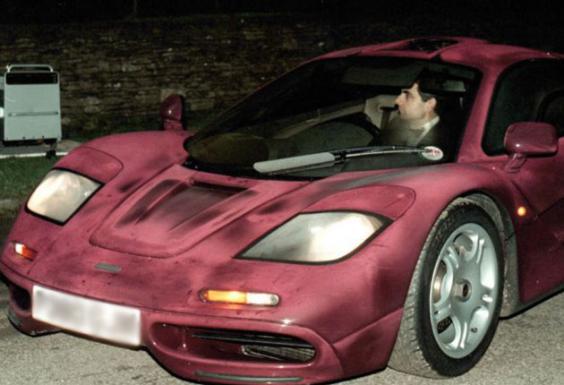 It's a funny old world when a second-hand car can change hands for a sum that hardly anyone in Britain would earn in a lifetime, but that's the world in which we live, where journeymen Premier League footballers get paid £100,000 a week, and the average – yes, the average – salary for a chief executive in the FTSE 100 is £5m a year.
I don't know whether he has a taste for supercars, but Christopher Bailey, the 44-year-old chief executive of Burberry, could certainly afford Mr Bean's old motor. He has just been awarded a pay package of £7.9m as a reward for his company's continuing impressive financial performance, and no one can doubt that Bailey, who was elevated from the creative rather than the corporate function of the business, has done a very good job for his shareholders. Nevertheless, they're understandably concerned about what even Burberry concedes is an "unusual" pay award for a UK boss. Last year, the company's shareholders were openly in revolt about the scale of executive pay awards: this time round, the annual meeting promises to be just as stormy.
Once, Burberry was known chiefly for its classic checks; now it's all about the size of its cheques. I have some sympathy for the Burberry board: they operate in a highly competitive sector, and they would consider it a disaster if Bailey were to leave for one of their rivals. He was elevated to the top job in 2014, and, according to those in the know, Bailey could name his price on the transfer market. Not bad for a man who, less than 12 months ago, the Institute of Directors described as "unproven as a chief executive".
The question that troubles me most, however, is this: why does anyone need that amount of money in their pay packet? Does it make Bailey happy? There have been a number of studies undertaken around the world about how much money a person needs to attain happiness, and in Europe it falls at around £75,000, which is still almost three times the average UK wage. Beyond that £75,000 level, there is no discernible rise in a person's level of contentment. In fact, there's an argument that it works in the converse manner: the more you earn, the less happy – in a real, spiritual, psychological way – you become.
In a land riven by deep divisions and huge inequality, Christopher Bailey can afford all the accoutrements of the vastly wealthy, which would include – if he so chose – a car that could reach a speed of 240mph. He is, on the face of it, a lucky man. But as the 21st century matures and develops, I'd like to think that the sort of ultra-materialism that marks society today will one day be sneered at.
Reuse content