No-one was more surprised than me that my swearing in as an MP made the news last week.
Many people in my constituency were surprised to find out that an MP isn't allowed to represent their constituents by taking their seat in the House of Commons unless they are sworn in via one of two ways.
The MP must either say "I do solemnly, sincerely and truly declare and affirm that I will be faithful and bear true allegiance to Her Majesty Queen Elizabeth, her heirs and successors according to law," or must, while holding the New Testament, the Koran or the Old Testament, say, "I … swear by Almighty God that I will be faithful and bear true allegiance to Her Majesty Queen Elizabeth, her heirs and successors, according to law. So help me God". If they don't, they can't represent their constituents in the Commons chamber.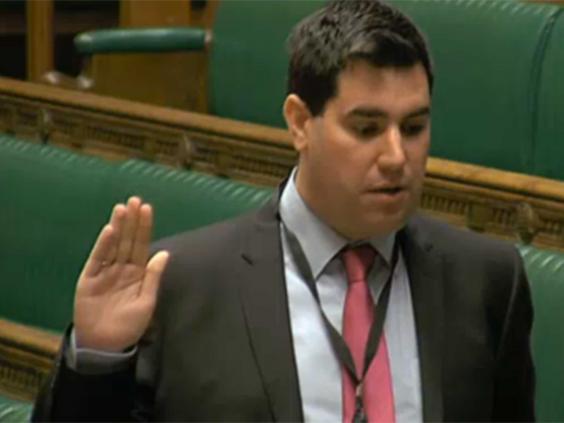 So before swearing in (and reciting my compulsory "allegiance"), I said: "As someone who believes that the head of state should be elected, I make this oath in order to serve my constituents".
I wasn't trying to make a big song and dance, I just wanted to make my commitment to my constituents and to democracy absolutely clear. I was surprised at all the subsequent fuss, because what I did was nothing new. In fact, there is a long tradition in British history of the debate about "whose interests does Parliament exist to serve?" and "does power lie with Parliament or with the Crown?".
There's a reason that in Parliament a painting is prominently displayed of an historic conversation that took place on 4 January 1642 between William Lenthall MP – the "Speaker" (or Chair) of the House of Commons – and King Charles I.
The King had stormed into the House of Commons chamber in order to attempt to arrest five MPs he believed were "disruptive". The monarch stole the Speaker's seat and demanded that William Lenthall MP tell him the whereabouts of the five MPs in question. Lenthall's reply – "I have neither eyes to see nor tongue to speak in this place but as the House is pleased to direct me, whose servant I am here" – was a key moment in the development of our democracy, asserting as it did the power of Parliament and its independence from the Monarchy. Since that day in 1642, no Monarch has entered the House of Commons while it's "in session".
There's also real meaning behind the ritual involving "Black Rod" at the State Opening of Parliament. On TV, many people will have seen Black Rod – who is appointed by the Crown – coming to the chamber of the House of Commons in order to 'summon' Members of Parliament to leave the Commons chamber to hear 'The Queen's Speech'. People will have seen the door of the Commons chamber being ceremonially slammed in Black Rod's face. The slamming of the door in Black Rod's face symbolises the independence of the House of Commons from the Monarchy.
So if anything, I was surprised that my statement caused so much surprise. It was very much in the British democratic tradition. And I think it's entirely reasonable to believe that people in Britain deserve more democratic power – not less.
Reuse content