1. Here is the house where Sir Basil Spence lived, in Islington, north London. The blue plaque is his. He is the chap who gave us the old Home Office building in Petty France, Kensington Town Hall and Hutchesontown C, the Gorbals, Glasgow, and who is therefore a leading nominee for the Dead Prize for design awfulness, about which I wrote yesterday. Thanks to Ken Wing for the information and the photo.
2. The funniest article about architecture that you are likely to read this week is this, Great Mistakes in English Medieval Architecture, by James Alexander Cameron. Thanks to Ian Leslie.
3. Two good articles on British anti-Semitism yesterday, from David Aaronovitch in the Jewish Chronicle ("Jewish lobby? Great idea, when does it start?") and Danny Finkelstein in The Times (pay wall). They both mention the "suitcase" but they both dismiss it. Here is Finkelstein's conclusion:
"This is a great country to live in and in many ways it is getting better. After all, Sainsbury's in Holborn even has a kosher food counter that it can close down. Yet most of us Jews, wherever we are in the world, have a niggling feeling that perhaps it might be a good idea to keep a suitcase packed, and many of us have had, at least once, a conversation about where we would go if we had to.
"I don't have such a suitcase. I won't need it, I know I won't. But If I told you that I didn't understand it, I'd be lying."
4. And two good articles on British jihadis. Shiraz Maher in the Daily Mail on how one person goes to Syria or Iraq and then persuades friends back home to join them.
And Mehdi Hasan in Huffington Post says that jihadis are disturbed young men for whom a perverted and politicised form of Islam acts as an "emotional vehicle". He argues that jihadism should not be seen as an extreme or ultra-devout form of Islam. He quotes Chris Morris, "Terrorism is about ideology, but it's also about berks," and comments:
"Berks, not martyrs. 'Pathetic figures', to quote the former MI6 chief Richard Dearlove, not holy warriors. If we want to tackle jihadism, we need to stop exaggerating the threat these young men pose and giving them the oxygen of publicity they crave, and start highlighting how so many of them lead decidedly un-Islamic lives."
5. Another fine question answered by What If? "If I shot an infinitely strong laser beam into the sky at a random point, how much damage would it do?" Part of the answer was that it might settle an old argument: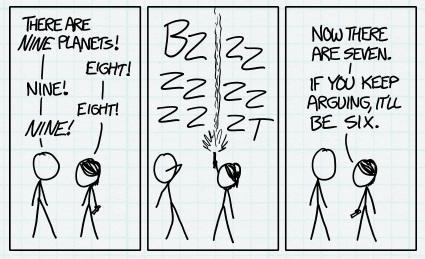 ________
6. This has been knocking around Twitter for six months now, but has only just swum across my timeline. From Ben (@0point5twins):
"Describe yourself in three words."
"Lazy."
Reuse content