1. I compiled a Top 10 Great Buildings for The New Review, The Independent on Sunday magazine, on 3 August. One of them was the Romanian Parliament building, above, which is my kind of neo-classical brutalism.
2. One of the big things that happened while I was away was Sayeeda Warsi's resignation as a Foreign Office minister over the Government's failure to condemn Israel's offensive in Gaza.
One of the best articles on the subject was Matthew d'Ancona's in the Evening Standard on 6 August. He took up Warsi's suggestion that the Israeli response to rockets intended to kill civilians was "disproportionate": "What is a 'proportionate' response to a hydra-like enemy who sees the Final Solution as work in progress?"
3. Another momentous event was the Scottish referendum debate between Alex Salmond and Alistair Darling, moderated by Bernard Ponsonby, STV's political editor (you can't say chaired because there wasn't a chair).
It all went a bit weird, according to Jim Waterson, who produced this still from the debate.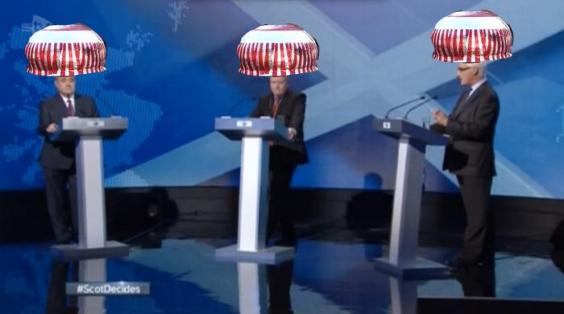 I didn't see it so I am not sure that it actually looked like that.
But the important thing was that Darling was judged by more viewers to have won the debate, which was all the more damaging for the independence cause because Salmond was expected to win in pre-debate polls.
4. One of the best articles on any subject (and its subjects were sitting down and curries) was Howard Jacobson's in The Independent on 9 August.  Every line a joy.
5.  Penultimately, I enjoyed this from John Brennan:
"A formal picnic is known as a picture Nicolas."
6. And finally, Tom Freeman gave us this:
"Electric Light Orchestra were originally an ordinary orchestra, until the fateful day they accidentally booked a lightning conductor."
Previous August Catch-Ups and today's comment for The Independent on world leaders and their desks here.