1. Wonderful map by Ian, who runs a blog called Randomly London, showing the second-most spoken language in each borough (the first is English in every case, obviously).
I was struck by Nepalese in Greenwich and Lithuanian in Havering and Barking & Dagenham, but in those cases the second most commonly spoken language is used by a tiny proportion of the population. In Greenwich, for example, if you go to the original census data from which Ian derived the map, 2.1 per cent speak Nepalese. As Xlibris1 pointed out, this is because of the Ghurkas who settled there.
Neal Hudson made a more detailed map of those parts of London where more than 5 per cent of people speak a language other than English, which is equally fascinating (note Yiddish in Hackney).
2. Minister excuses theft. Oh. It was Norman Baker, on 1 August, speaking to the Financial Times. Self-service tills are "an invitation to steal", and the police shouldn't waste time on drivers who leave petrol stations without paying because the companies don't do enough to stop them.
3. Following the thrilling non-news on 6 August that Boris Johnson might give that MP lark another "crack", let this bet between Toby Young and Hugo Rifkind (son of Sir Malcolm) be recorded.
Toby wondered "how long before Sir Malcolm Rifkind says he's standing down?"
Hugo: "My hunch is 'a while'."
Toby: "My bet is you'll be the Hon Hugo Rifkind before the end of the year."
Hugo: "How much?"
Toby: "Dinner at Clarke's?"
Hugo: "I was hoping for something a bit more expensive. But you're on."
4. In honour of John Venn's birthday on 4 August, Danny Willis declared this to be the greatest Venn diagram ever created: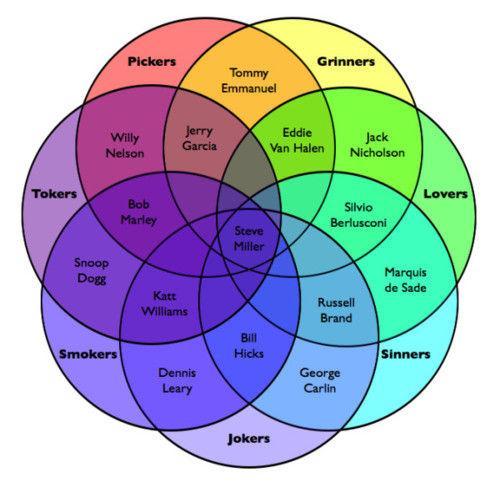 ______
5. Penultimately, a double dose from Chris Heaton-Harris:
"A clown just held a door open for me – what a nice jester."
6. And finally:
"If all the dinosaurs had had a wider vocabulary to help them communicate with each other, maybe they would have survived. Like the Thesaurus."