1. A lot has happened in the fortnight while I have been away – yes, very good, thank you; getting the hang of that windsurfing thing – so there is more than usual to get through. But first, the holiday reading. Not mine, obviously, but Tess von d'Urbervilles was by the pool in Mallorca. "Eine Reine Frau." A pure woman. With a sticker selling it as Ana Steele's favourite book in "Shades of Grey".
Designing book covers is a specialist interest. Ian Leslie drew my attention to an interview in The New Yorker with Peter Mendelsund, who discussed the question of what we see in our heads while we are lost in a book. Not much overlap between the mental images of Tess and Fifty Shades of Grey, I would have thought.
2. On the subject of books, Dan Saffer noted this from Amazon, which does not usually disclose its commercial thinking, on the price elasticity of e-books. It says that at $9.99 per copy, sales are 74 per cent higher than at $14.99, and total revenue is 16 per cent higher. I wonder what the sterling equivalents are.
3. I recently compiled Top 10 Words That Used to Mean the Opposite. My correspondents are still suggesting additions. Matthew Hoffman, formerly of The Independent, pointed out that in the 18th century "specious" meant persuasive, without a suggestion of deceptive or false. ("See David Hume's writings.")
Tom Sutcliffe, another former colleague, noted that "plausible" has edged steadily from meaning "not credible" to "credible". He thinks, "This one may saveable." I rather doubt it.
Garble originally meant sift, which is almost the opposite of its modern meaning. (Thanks to A Word A Day email.) And obnoxious used to mean "vulnerable to harm"  from "ob-", towards. (Thanks to Don Phillips.)
4. Meanwhile, there has also been news occurring over the past fortnight, as I observe in today's Independent. I comment in that article on a headline in the South Wales Evening Post: "Has Brazil's Christ the Redeemer statue relocated to Gowerton?" I know you want to see the photograph so that you can answer that question for yourself.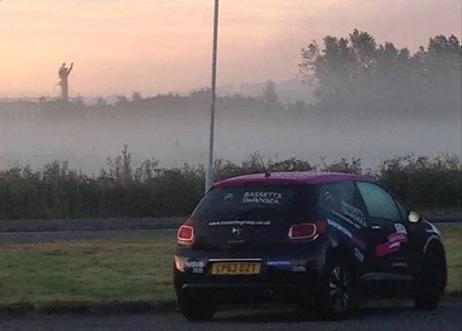 ______
5. Aric Gilinsky and Tom Doran, two of my friends on Twitter, were having a discussion when Aric said: "I respectfully disagree with your opinion on the meaning of irony." (Model Rules of Twitter Debate #94.)
Tom replied: "It means 'a bit like iron'. Everyone knows that."
At which point it was agreed that I should compile a Top 10 False Meanings of Words You Could Convince a Foreigner Are True. I know it is like the Uxbridge English Dictionary from I'm Sorry I Haven't A Clue, but it is a Good Idea. Nominations via Twitter please.
6. Finally, via The Otter Master:
"Ensure your baby doesn't cry during baptism by using a comic sans font."
My regular morning service will be resumed at the end of the month.
Reuse content