Much of my childhood was spent on the Croydon Block of the Broadwater Estate in Tottenham. My stand-out memories from that time are the dingy concrete corridors, the lingering stench of damp and the time spent kicking a football around dark corners.
These memories were at the front of my mind as I listened to the debate about the future of the disused Mount Pleasant site in Islington that Boris Johnson found himself deliberating over last Friday. The site presents a unique opportunity: empty 3.5 hectare areas in central London do not come along often. With the UK housing crisis deepening by the week and the capital in particularly desperate need of new homes, this was a chance to turn an empty building in Islington into hundreds of decent new affordable homes.
The site's owner, newly-privatised Royal Mail, had other ideas, preferring a more profitable mass of high rise luxury apartment blocks - the only type of housing that the country doesn't need more of. The Mayor was called in to adjudicate. Borough councils, local people and a cross-party coalition of politicians lined up to tell him that accepting the plan would be a huge mistake: in doing so, he would be giving his support to a new generation of ugly, expensive and unpopular tower blocks that ordinary people can neither afford nor want to live in. But like a bored teenager being confronted with a particularly tedious piece of homework, Boris took just 20 minutes to rubber-stamp the proposals with a dismissive wave and disinterested shrug.
That three-quarters of homes on the site will be apartments affordable only to foreign investors and the super-rich is a travesty. Even the few "affordable" homes that are included could cost up to £2,800 per month to rent, meaning prospective tenants would need an income of at least £100,000 – more than treble the average London salary and in reality "affordable" only to a very few.
But affordability is not the only fault with the Mount Pleasant plan. In agreeing to another series of high-rise towers, built in a ring and described despairingly by locals as a "fortress", planners have once again sacrificed quality housing for the sake of cramming homes into big concrete blocks.
In doing so they are repeating the mistakes of the 50s and 60s – mistakes that are still visible across the UK's major cities. From Moss Side in Manchester to the Red Road Flats in Glasgow, grey concrete tower blocks dominate the horizon in constituencies like mine all over the country - low quality bastions of deprivation, ill health and despair. Very few politicians or planners have grown up on these estates. As a result, they continue to approve plans for buildings that are not designed with wellbeing or quality of life in mind.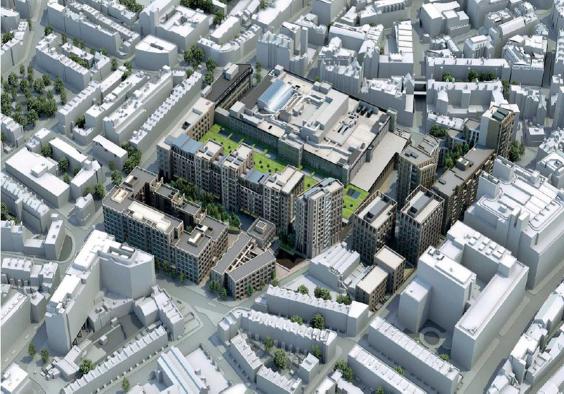 Poor housing is one of the core pillars of inequality in Britain. For the children growing up in the UK's 1.1m overcrowded households, and countless others, life prospects are immediately diminished. Poor design affects lives: it means a prospective doctor or lawyer being forced to do her homework in a cramped, dark, and damp bedroom, or relationships between adolescent siblings torn apart by the stresses of having to share a bed. If we want to tackle that then we have to start building decent housing. Good quality homes are a vital to ensuring a good quality of life.
But not only are we failing to learn from the mistakes of the past, we are also refusing to listen to the voices of the present. Ask British people what kind of homes they want and most will mention a front door and a garden. Few will opt for a 15th-floor flat. In one survey just 1 per cent of people expressed a desire to live in a high rise apartment, yet more than 150 new tower blocks higher than twenty stories are currently being planned in London. The vertical fanaticism of our planners and architects is completely contrary to the aspirations of most people.
Why, then, are we still waving through plans for another generation of high-rise living? The answer lies in the old misconception that building high means building more. In reality, the densest area of London is not the housing estates in Peckham or the tower blocks of Tottenham, but upmarket Pimlico. There, good planning and design mean quality family homes, with front doors and gardens, are arranged to maximise the space available. That is what we should be looking to replicate across the country.
Instead, the cranes that now dominate the London skyline are erecting tower blocks that are not built with Londoners in mind. The current policy of high - rise and high price chimes more with the demands of property speculators than the needs of ordinary people. Instead, we should see the current housing crisis as an opportunity – a chance to build a new generation of good quality homes, revitalise entire areas and transform our cities into hubs of high quality but affordable living. It is time to stop imposing expensive, poor quality housing from the top down and instead start a building revolution to provide the type of homes that people want and deserve.
Reuse content