"Our Cilla" was an affectionate sobriquet that acknowledged, long before the term "national treasure" became  an ironic cliché attached to every clapped-out entertainer, that Cilla Black belonged to the people.
She was the girl-next-door, whose boys-next-door just happened to be The Beatles, and who emerged from  the Cavern Club as a miniskirted, Sassoon-bobbed and always cheerful face of the Swinging Sixties.
If Twiggy had the pose, then Cilla had the gab. This was a young woman who could mix it up with the famously pithy and quick-thinking Fab Four, her native Mersey wit making her stand out in an era when the "dolly bird" – seen but not heard – was the company of choice for most young pop stars. Not that Cilla had any need to be anybody's arm candy, marrying (across the sectarian divide of 1960s Liverpool) the faithful Bobby Willis – her lifelong love and business manager, until Willis's shatteringly early death in 1999.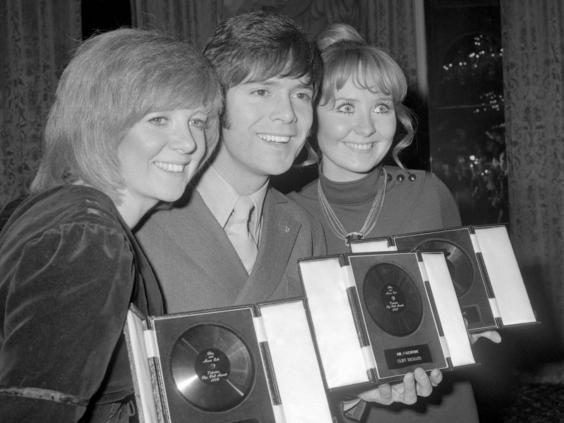 Introduced by John Lennon to The Beatles' manager Brian Epstein, and with a debut single in 1964 penned by Lennon and McCartney that was a relative failure, her second single, the Burt Bacharach-Hal David composition, "Anyone Who Had a Heart" shot to No 1 and became the biggest-selling single by a female artist in the history of British popular music.
There followed a string of hits, including the theme song to the Michael Caine film Alfie, but by August 1967, and only days before his premature death, the shrewd Epstein – having tried and largely failed to get her into movies – had engineered Cilla's move into television, the true second act in her remarkable career.
What Epstein had recognised was that Cilla was in danger of going out of fashion in the fast-moving pop world of the late 1960s, and it was personality, rather than her voice, that the public really responded to. Her BBC1 variety show, Cilla, regularly attracted 22 million viewers, but it wasn't until the mid-1980s that she came into her own, with Saturday night ITV shows Surprise, Surprise and Blind Date.
It was hosting the latter dating show, which ran from 1985 to 2003, that was the defining achievement of her television career – keeping order among the young bucks and proto-ladettes with her quick wits and readiness to laugh. It was a brave blade who attempted to out-smart the host, and most contestants, you felt, saw her as a friend and ally. Her unreconstructed Liverpool accent – in a decade when Scouse was beginning to be looked down upon thanks to its association with mass unemployment – led to Blind Date's catchphrases "chuck" and "lorra, lorra laughs".
Cilla Black: Career in pictures
Cilla Black: Career in pictures
1/11 1963

Black used to perform at Liverpool music venue The Cavern in the early 1960s. The Beatles also performed there (John Pratt/Keystone Features/Getty Image)

John Pratt/Keystone Features/Getty Image

2/11 1965

Performing at Sunday Night at the London Palladium in 1965 (Rex Features)

Rex Features

3/11 1968

Black starred alongside David Warner in 'Love is a Four Letter Word' in 1968 (Rex Features)

Rex Features

4/11 1972

With Burt Bacharach on the Burt Bacharach Show in 1972 (Rex Features)

Rex Features

5/11 1978

Black performing on the 'The Cilla Black Show' (Rex Features)

Rex Features

6/11 1984

Black hosted Surprise Surprise from 1984 to 2001 (Rex Features)

Rex Features

7/11 1989

She hosted dating show Blind Date from 1985 to 2003 (Rex Features)

Rex Features

8/11 2001

She took to the stage with Lily Savage and Barbara Windsor at the Royal Variety Performance in 2001 (Rex Features)

Rex Features

9/11 2003

She released her book, 'What's it all about?' in 2003 (ShowBizIreland.com/Getty Images)

ShowBizIreland.com/Getty Images

10/11 2008

She walked the runway at the Fashion for Relief show at London Fashion Week in 2008 (Gareth Cattermole/Getty Images)

Gareth Cattermole/Getty Images

11/11 2014

She attended the Arqiva British Academy Television Awards at Theatre Royal in May last year (Stuart C. Wilson/Getty Images)

Stuart C. Wilson/Getty Images
Although she claimed to be retired, you felt inactivity didn't come naturally, and Cilla hosted ITV's Loose Women for six months as well as appearing on various chat and panel shows. There was even a pilot for a new dating show in 2008, Sky 1's Loveland, but by then the internet was fast making such shows seem irrelevant.
In later, widowed, years holidaying with friends Cliff Richard, Dale Winton and Paul O'Grady, Cilla certainly seemed like a relic of a bygone show business era – albeit a legend that was never sullied, nor likely to be sullied, by the scandal that has overtaken so many of her male light entertainment colleagues.
She has died relatively young, but not before seeing herself played by Sheridan Smith in Jeff Pope's excellent ITV drama Cilla, a timely reminder to those who may have experienced her only as a toothy, Thatcher-admiring game show host, of Cilla's place at the white-hot epicentre of British pop culture at its most explosive.
Reuse content