You would have to be a class warrior of a rare and precious vintage (Chateau Dave Spart, 1973) to interpret this as more than purest coincidence. Nevertheless, it was only on the day that the playing fields of Eton – on which the Empire was built – were submerged that David Cameron finally started paying the floods and their victims the attention that they deserve.
Needless to say, the last place a Prime Minister hypersensitised to the charge of privileged elitism would visit, even in a crisis so grave that the school weights room was also drenched, is his alma mater. He would rather be caught in a Bayswater dungeon, clad in the Frank Bough Memorial Gimp Suit while re-enacting Bullingdon nights with a food-fight dominatrix, than at Eton. Instead, Monday found Mr Cameron in the South West, far from Slough, where he remained yesterday morning. With Eric Pickles running things at Westminster with such a deliciously sure touch, small wonder he felt secure in extending his tour of duty.
Why it took the PM so long to dredge up more than lip service for the horrors in Somerset, when the Levels have been under water for many weeks, is unclear. Perhaps this is confirmation that he is a habitually slow starter who tends to coast until extreme pressure smacks the complacency out of him. Alternatively, the eruption of long-dormant energy might be sourced to the same metrocentricity that saw the media promote the floods to front pages and lead items on bulletins only when they were on London's doorstep.
Regardless of either the reason, or where Mr Cameron chose for his mercy mission, the fact remains that it was not until the waters were invading the idyllic riverside homes of gin'n'Jag Berkshire and Surrey that his government swapped bickering among itself for at least the affectation of empathy, and the PM took direct control.
This being Britain, even an act of God or climate change must partly be viewed though the ancient, sepia-tinted prism of class. Mucky old farmers drowning in the sticks? Meh, leave the wurzels to cope as best they can. Two of Her Majesty's favourite servants driven out of sodden Windsor cottages into castle accommodation, and the Duchess of Cambridge's parents' west Berks village in peril? Time to liberate the wellies from the No 10 boot room.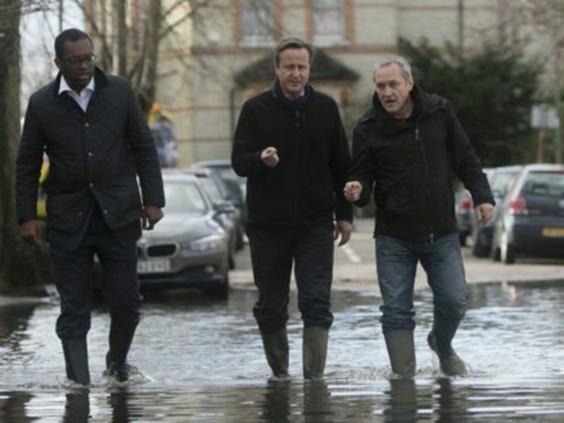 And so, with the PM absent and climate change-naysaying Environment Secretary Owen Paterson (Radley College) continuing his recovery from eye surgery, a lonely nation turned it eyes to the Joe Di Maggio of the front bench. As one of-so-few working-class heroes at the pinnacle of his party, Eric Pickles may have appeared beautifully designed to both pre-empt the familiar accusation of posh boys looking after their own and to reassure.
Appearances can deceive, however, and the Pickles reputation for waspish competence was swept away by a torrent of belief-beggaring idiocy. First, he derided the Environment Agency as woefully out of its depth. Then, he became embroiled in a scrap with Mr Paterson, to whom an eye patch seems no barrier to the defence of his turf. Finally, at the Dispatch Box on Monday, he took the part of the guy in Shaggy's "It Wasn't Me" – the one who, when found in flagrante with a neighbour by his girlfriend ("she even caught me on camera") brazenly denies it. He insisted that he never uttered a word of criticism in the first place.
Flooding in England
Flooding in England
1/20 Flooding in Shepperton

The Three Horseshoes Pub in Shepperton. Properties along the Thames Valley were affected by power cuts as the river burst its banks

Charlie Forgham-Bailey

2/20 Flooding in Shepperton

People wade through floodwaters in Thames Meadow, near Shepperton

3/20 Flooding in Shepperton

Sandbags to stop flooding at the Warren Lodge Hotel in Shepperton

Charlie Forgham-Bailey

4/20 Flooding in Shepperton

A Land Rover drives along a flooded street in Shepperton

Getty Images

5/20 Flooding in Shepperton

Dr James Andrews was stranded in his home without electricity since Sunday, but he was rescued yesterday by soldiers

Charlie Forgham-Bailey

6/20 Flooding in Shepperton

Soldiers from the Royal Engineers pull a boat through floodwaters in Thames Meadow, near Shepperton

7/20 Flooding in Shepperton

Many residents' homes in Shepperton are now only accessible by boat.

8/20 Flooding in Bridgwater

Water surrounds flooded propeties in the village of Moorland on the Somerset Levels near Bridgwater

Getty Images

9/20 Flooding in Chertsey

A resident wades through the floodwater that has swept into Chertsey, which lies just west of London

Getty Images

10/20 Flooding in Wraysbury

Firefighters driving through flooding in Wraysbury, Berkshire

11/20 Flooding in Wraysbury

In the normally tranquil village of Wraysbury, residents have rallied round after houses were swamped by floods

12/20 Flooding in Wraysbury

Services personnel assist in the evacuation of a family from their home in Wraysbury

13/20 Flooding in Wraysbury

Members of Royal Berkshire Fire & Rescue squad evacuate a family

Getty Images

14/20 Flooding in Wraysbury

Floodwater reaches a children's playground in Wraysbury

Getty Images

15/20 Flooding in Wraysbury

Labour party leader Ed Miliband talks with resident Peter Horner

16/20 Flooding in Wraysbury

A member of the 1st Battalion of the Royal Regiment of Fusiliers leads his vehicle through flood water in Wraysbury

Getty Images

17/20 Flooding in Worcester

The Severn View Hotel in Worcester surrounded by flood water

18/20 Flooding in Worcester

Swans swimming through a flooded car park at Worcester Racecourse

19/20 Flooding in Datchet

Residents carry sandbags to protect their property from the floods, in the centre of the village of Datchet

20/20 Flooding in Datchet

A man is pulled in a kayak through a flooded street in the village of Datchet
For so massive a figure, the Communities Secretary can pirouette at staggering speed. When he paid homage to John Prescott by telling the House that his admiration for the work of the EA "exceeds no one", you knew what he was trying to say. But, coming as it did one day after his deriding of the agency as feckless ignorami pretending to be experts, the slip suggested he was unwittingly saying precisely what he believes. My admiration for Mr Pickles as a buffoon of the first water exceeds no one, and from this hybrid from Greek myth – half Coronation Street butcher Fred Elliott, half barrage balloon – a period of silence would be welcome.
This is not Katrina, and the PM's show of feeling for victims and feigning of command probably came in time to forestall direct comparisons with Dubya gazing blankly down on New Orleans from Air Force One. Even so, his response was as shamefully dilatory as Mr Pickles's cack-handed playing of the blame game was insultingly banal. And while it, no doubt, was a mere accident of timing, the PM's metamorphosis from Flashman into superhero Floodsman just as the waters poured into the Eton weights room begs this question: would David Cameron have donned the wellies to wade through rural Somerset had the river which burst its banks on Monday been not the Thames in picturesque, monied, Wind In The Willows Berks, but the Tyne, the Taff or the Clyde?
No, Ed! Not the mantle of Thatcher
More than ever, after Shirley Temple's departure, we are blessed to have Ed Miliband keeping the child-prodigy flame alive. Now 44, Ed has been a key Labour player since the age of two, when from his playpen he lectured Barbara Castle so dazzlingly on Marxist dialectic that she made him her chief strategist.
Mr Miliband is the most experienced Opposition leader in decades, and any regular reader will know me as one of his one-and-a-half (fairly) consistent fans in the press. However, Monday's citing of Mrs Thatcher as a guiding star in the context of public-sector reform stretches the indulgence.
Winsome play-acting on this scale – although a delight on the Good Ship Lollypop during its sweet trip to the candy shop – will not assuage any fears about his bold bid to shift the political centre ground to the left. This brand of laughable posturing did little for Tony Blair, even if he actually meant it, and less than nothing for Gordon Brown, who palpably didn't when he had the old girl over for tea.
Winsome, lose some ... all it will do for Ed is further entrench the generally misguided perception of a callow boy who cannot be imagined in Downing Street.