Now England, Scotland, Wales, Northern Ireland, we are one people in one union and everyone here can be proud of that. And we can all agree, during that campaign a new star – a new Conservative star – was born…
[Gordon Brown.]
I care deeply about those who struggle to get by but I believe the best thing to do is help them stand on their own two feet – and no, that's not saying "you're on your own", but "we are on your side, helping you be all you can."
[I may loathe Ed Miliband but he had a strong line in his speech about us being "you're on your own" and Labour being the party of "together". I'm going to respond by getting out the heavy lifting equipment and stealing as much Labour language as I can.]
I love this country – and my goal is this: To make Britain a country that everyone is proud to call home.
[Everyone apart from illegal immigrants, who are told to "Go Home" by Home Office vans, and British jihadis, to whom I said only a few paragraphs ago, if you have travelled to Syria or Iraq, we will use everything at our disposal to prevent you from coming back.]
I didn't come into politics to make the lines on the graphs go in the right direction.
[I came into politics to make up the evidence of my policy achievements. Government by anecdote, not facts. I came into politics to relabel the y-axis and do away with non-zero-based bar charts.]
Other parties preach to you about a Brave New World; we understand you have to start with the real world and make it better. Only this party has a proper, real, long-term plan.
2014 Right-Wing Power List - Top 25
2014 Right-Wing Power List - Top 25
1/22 1. Nigel Farage

A still from the Paddy Power advertisement

2/22 3. George Osborne

On 30 September, at the Tory conference in Birmingham, the Enterprise Forum hosted an invitation-only reception with the CBI and George Osborne

Getty

3/22 4. Boris Johnson

Boris Johnson argued that he could perform both roles as MP and Mayor

AFP/Getty Images

4/22 5. Lynton Crosby

Lynton Crosby has told ministers to stop announcing minor policies which distract from the party's core messages

Tal Cohen/Rex Features

5/22 6. Theresa May

Home Secretary Theresa May will outline plans to curb extremists' freedom of speech (Getty)

Getty

6/22 7. Philip Hammond

Foreign Secretary Philip Hammond says the killing of James Foley is an "utter betrayal of our country, our values and everything the British people stand for"

Getty

7/22 8. Sajid Javid

Baroness Warsi described Culture Secretary Sajid Javid as 'the only non-white person' in the Cabinet

Getty

8/22 9. Jeremy Hunt

Health Secretary Jeremy Hunt

Getty

9/22 10. Lord Ashcroft

Lord Ashcroft

PA

10/22 11. Samantha Cameron

Samantha Cameron: a high-flyer with a wealthy background

Getty Images

11/22 12. Michael Gove

Durham Free School had earlier been praised in the Commons by Mr Gove

Getty Images

12/22 13. William Hague

William Hague

Getty

13/22 14. Michael Fallon

Rex

14/22 15. Grant Shapps

Grant Shapps was mocked over the 'beer and bingo' ad

15/22 16. Edward Llewellyn

16/22 17. Chris Grayling

Chris Grayling, the Justice Secretary

Rex

17/22 18. Iain Duncan Smith

Iain Duncan Smith

Getty Images

18/22 19. Nicky Morgan

New education Secretary Nicky Morgan

Getty

19/22 20. Eric Pickles

Eric Pickles is often to be seen down at the RSPB's Rainham Marshes nature reserve in Kent

Getty

20/22 21. Oliver Letwin

Getty

21/22 24. Francis Maude

Francis Maude, Minister for the Cabinet Office

EPA

22/22 25. Patrick McLoughlin

Patrick Mcloughlin is considering using taxpayers' money to build homes around the HS2 line

Getty Images
[None of these words means anything: proper, real, long-term and plan. The plan changes every week but as long as I pretend it doesn't and put the emphasis in the right place it sounds proper convincing, like.]
We won't just aim to lower youth unemployment; we aim to abolish it. with Britain getting off welfare and back to work.
[I'm stealing Labour language, Gordon Brown sound bites, by the digger-full, in broad daylight.]
Anyone should be free to take on different jobs so they can get on.
[Boris Johnson, for example: he wants to combine being Mayor of London, columnist for the Daily Telegraph and MP for Uxbridge and South Ruislip. I do hope he comes a cropper.]
When companies employ staff on zero hours contracts and then stop them from getting work elsewhere, that's not a free market – it is a fixed market. In a Britain that everyone is proud to call home, people are employed, they are not used. Those exclusive zero hours contracts that left people unable to build decent lives for themselves – we will scrap them.
[Driving the fork-lift truck, emptying the warehouse of Labour rhetoric one crate at a time.]
I can tell you now that a future Conservative Government will raise the tax-free personal allowance from £10,500 to £12,500. That will take 1 million more of the lowest paid workers out of income tax – and will give a tax cut to 30 million more.
[I am spending savings we haven't made on tax cuts we can't afford with the government still borrowing £80bn a year. I hope everyone has forgotten the deficit.]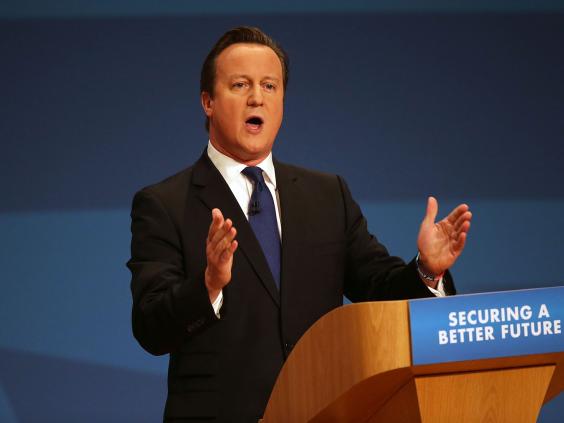 Did you hear Ed Miliband last week? He spoke for over an hour, but didn't mention the deficit once. Not once. He said he "forgot" to mention it. Ed – people forget their car keys, school kids sometimes forget their homework, I admit I forgot my daughter in a pub once – but if you want to be prime minister of this country, you cannot forget the biggest challenge we face.
[I am the only person who is allowed to do that. We promised to eliminate the deficit after five years but gave up half way through the Parliament and no one seems to long have term noticed economic. Ahem. Plan.]
Tristram Hunt and I might both have been educated at some of the best schools in our country. But here's the difference: You, Tristram – like the rest of the Labour Party – want to restrict those advantages. I want to spread them to every child in Britain.
[One of my favourite subjects at Eton was brass neck studies. But Tristram – how I like saying that name – went to University College School, where they teach boring stuff such as social responsibility.]
We in this party are a trade union too. I'll tell you who we represent. This party is the union for hard-working parents.
[Len McCluskey. Unite the Union. NUT. Len McCluskey. Len McCluskey. Len McCluskey.]
The bigger issue today is migration from within the EU … All of this has to change – and it will be at the very heart of my renegotiation strategy for Europe. Britain, I know you want this sorted so I will go to Brussels, I will not take no for an answer and when it comes to free movement – I will get what Britain needs.
[Listen to the sub-Blair Estuary "sorted". Do not listen to the list of problems that I said just before that: access to welfare, paying benefits to families back home, employment agencies that recruit only from abroad. Those minor things need changes to British law, or I have already agreed them with my friend Angela Merkel. Gosh. Look over there.]
If you want those things, vote for me. If you don't, vote for the other guy.
[Which of these would make the best prime minister? David Cameron 35 per cent. Ed Miliband 21 per cent. YouGov, last month.]
If you vote UKIP – that's really a vote for Labour. Here's a thought: on 7 May you could go to bed with Nigel Farage, and wake up with Ed Miliband.
[Allow me to explain to some of the more reckless members of the electorate how the first-past-the-post voting system works.]
We're at a moment where all the hard work is finally paying off, and the light is coming up after some long dark days. Go back now and we'll lose all we've done, falling back into the shadows when we could be striding into the sun. That's the question next May. Do you want to go back to square one – or finish what we've begun?
[Bring me sunshine. Cue "Don't Stop" by Fleetwood Mac, because it was Bill Clinton's 1992 campaign song, not because it is a happy-sounding song about a marriage break-up.]
Reuse content