1. Possibly the strangest Budget picture is this one of Danny Alexander, Chief Secretary to the Treasury, holding up the Liberal Democrat yellow box. (From Matt Chorley.) Alexander will be delivering his own separate Lib Dem statement on the Budget today.
2. My immediate reaction to the Budget is that it was a job half done, and I have also done my What George Osborne Said And What He Meant.
Mike Smithson wisely notes that it takes a few days for impressions of a Budget to form. Flip Chart Rick has a good comment this morning:
"This is no easing of austerity. It's just a back-pedalling on fantasy-land targets govt set before Christmas."
Something else that may take time to sink in is the absurdity of the cash hand-out for first-time buyers to save in a Help to Buy ISA (£50 for each £200 a month), which is as if George Osborne decided simply to subsidise house prices. Surely no one will think that this will help anyone? Even if individual would-be house-buyers feel they are being helped, that can only be – in the absence of the supply of new houses – at the expense of other people who would otherwise have been able to buy.
3. The Budget was a good time for Hamish Thompson of Houston PR to unveil a list of the most loathed clichés:
1. Hard-working families
2. Let me be clear
3. The economic mess
4. Long term economic plan
5. Failed economic plan
6. The Great British people
7. What we've said is
8. I don't intend to give a running commentary
9. Up and down the country
10. I say this
He said these were chosen in a poll, and that just outside the top 10 were "package of measures" and "we're all in this together". Most if not all are on my Banned List, and you can also get a Google Chrome extension, the Banned List Highlighter, by Andrew Regan, which will mark any words and phrases on the Banned List on your computer.
4. You might think that the UK could do with as many Chinese-speaking experts on China's foreign policy as it could get. But Miwa Hirono at the University of Nottingham has been denied leave to remain "because she had breached a rule forbidding applicants from leaving the country for more than 180 days in any year during the previous five".
Philip Cowley, professor of parliamentary government at Nottingham, says: "It is pure madness for the Government to be driving out an expert on what is probably the most important foreign policy challenge of the next decade. Both from a human perspective and from the interests of the UK, this is indefensible."
5. To come back to the Budget, this below is always one of the most important charts. I call it the Treasury chart of everything (page 19), because it summarises the effect of government policy since 2010 on the rich and poor, and includes the benefits in kind from public services such as the NHS and schools. George Osborne is (I think) right to say in his Budget speech:
"The decisions since 2010 mean the rich are making the biggest contribution to deficit reduction."
The richest fifth bear the heaviest burden, but it is complicated because the poorest fifth bear the next-heaviest burden.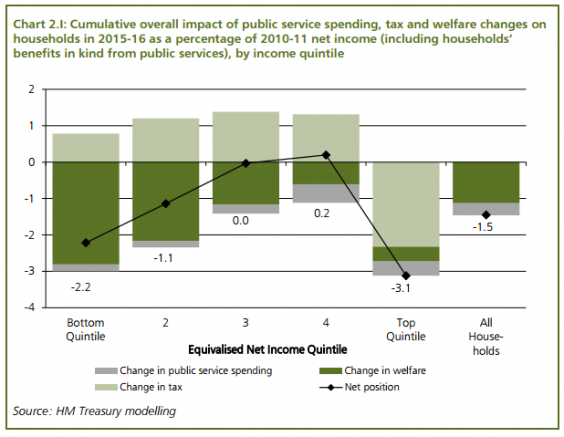 ________
6. And finally, thanks to Shayera Tangri for this:
"Can I come in?"
"I don't know, can you?"
Cursing quietly, the vampire backed away, foiled yet again by the English teacher's pedantry.
Reuse content