1. "And if a double decker bus ... " Thanks to Josh for the above photograph.
2. Morrissey also features in the latest Top 10 for which I am collecting nominations: Tracks Shorter Than Two Minutes. It was going to be Singles, a companion list to Top 10 Singles Longer Than Six Minutes, but some pedant pointed out that my opening bid, "But I'm Different Now" by The Jam, 1min 50secs, was never a single. Well, it should have been.
Anyway, "Please, Please, Please Let Me Get What I Want" by The Smiths, 1min 53secs, has already received several nominations.
Most wonderful discovery so far is "Fell In Love With A Girl" by The White Stripes, 1min 55secs, and a fabulous Lego video that I had not seen before. Thanks to Twlldun.
More nominations in the comments or on Twitter, please.
3. Chuka Umunna, who may be the next leader of the Labour Party, wrote a good speech to the British Chambers of Commerce. Several witnesses, including Ross Smith, Director of Policy at North East Chamber of Commerce, confirm that he delivered it well yesterday too.
"We should recognise the contribution your make, the products you sell, the jobs you create, the profits you make, the taxes you pay.
"I know it is not easy. I know how tough it is to build a business, and make it succeed. I saw it growing up, watching my late father – an entrepreneur – as he built an import-export successful business from scratch. The worry, the stress, the long hours and late nights – I've seen it. 
"I saw it too practising as a solicitor for the best part of a decade. I helped businesses – large and small – navigate their way through employment law which my clients all too often felt was not written with them in mind.
"But, in spite of these hurdles, you persevere, driven by precisely what I saw in my late father – that utter determination to succeed. In short, you are part of the backbone of our communities, our economy and our nation. 
"My party was established to build a fairer Britain. And I've always argued that if we want a fairer society we need a stronger economy – with more higher-skilled, better-paid, secure jobs. It is you – our businesses – that will create these jobs. Any debate on building a fairer society is academic unless there are businesses creating wealth.
"We need you to succeed: to add to our nation's bottom line and pay our way in the world."
A bit different from the war with business from the current Labour leader. As Smith said, "More of the same please."
4. Quotation of the Day: "I'm unfamiliar with Wolverine but I'm assuming he's a cross between a wolf and a nectarine." Michael Spicer.
5. Following yesterday's shock slump in the SNP's lead over Labour (I was joking, but the Scottish Daily Mail actually used the headline, "Poll lifeline for Labour as SNP support slides", although the fieldwork for TNS was carried out at the same time as other polls showing larger leads), Prof John Curtice has provided a ready reckoner for turning the SNP lead over Labour into seats in Scotland. Cut out and keep (or click and bookmark).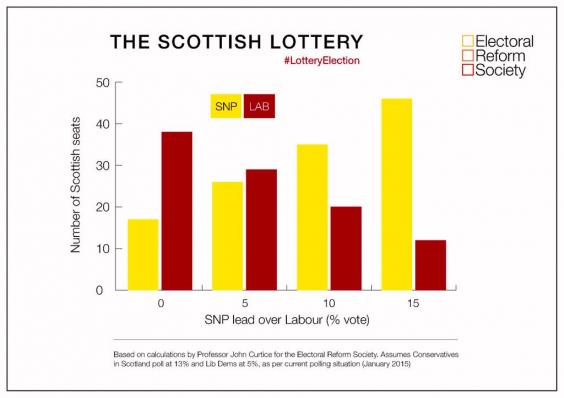 ________
6. And finally, thanks to Stevie (@planet_legz) for this advice:
"How to put trousers on:
"Step 1.
"Step 2."
Reuse content