1. Described as "officially the most beautiful sunrise in the history of the earth", this photograph of dawn in the Lake District by Herdwick Shepherd proved popular with, among others, Daniel Hannan, the Conservative Euro-MP, who asked: "Is there a country on Earth where the seasons are so sweetly blended?"
2. The Scottish National Party has slumped to a 10-point lead in the latest poll in Scotland, by TNS. SNP 41% (+21 points since the 2010 election), Labour 31% (-11), Conservatives 16% (-1), Green 6% (+5), Liberal Democrats 4% (-15) UKIP 2% (+1).
Remarkably, this is reported as "good news" for Labour, because it would lose only half of its 41 seats in Scotland on a uniform swing.
3. Quiz question from Dave Bodimeade: "If David Cameron wins there will be no former prime ministers in either House (Gordon Brown is standing down). When was the last time that happened?"
The answer, from Anthony Wells, is here.
4. A footnote on the power of the press. Mike Smithson at Political Betting commented on my Independent on Sunday article, in which I cast doubt on the wisdom of Ed Miliband's war against the Tory press. Smithson said that maybe Miliband has judged that the Tory press isn't the force that it was, and quoted falling newspaper circulation figures. 
This is all very well, but Mail Online is one of the most popular news sites on the internet. It is true that the pay wall for The Sun inhibits its online reach, but I fear that people who communicate only with like-minded people on Facebook, Twitter, Instagram, Tumblr and Pinterest don't realise how powerful the Mail, Telegraph and Sun still are.
______
5. At last, a petition on Change.org that I can sign. Following on from yesterday's history of the Mile End Road, I bring news of a campaign to save Spiegelhalter's, the shop that refused to be demolished for Wickham's grand shop in the 1920s, forcing the Selfridges of the East End to build round it. "The result is one of the best visual jokes in London, a perennial triumph for the little man, the bloke who won't conform," wrote Ian Nairn, in Nairn's London, 1966.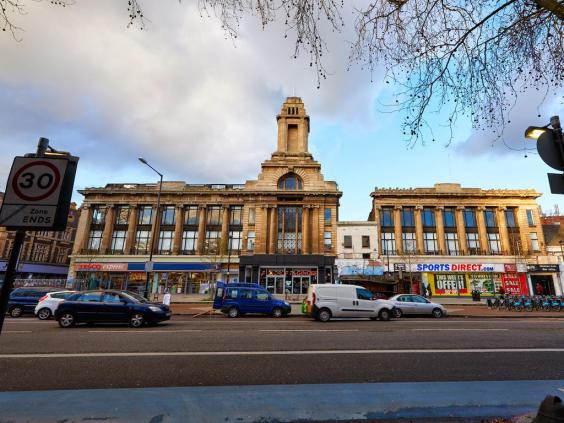 ________
6. And finally, thanks to Papillon (@JamesXenephon) for this:
"Why should the number 288 never be mentioned?"
"It's two gross."
Reuse content