1. Place mat that looks as if it has sunk under the weight of the tableware. From AP Works, Japan. Via Mo Costandi.
2. I have an article in today's Independent saying the television debates should happen but they won't, and that this is the broadcasters' fault as well as David Cameron's. In it I provide a translation of BBC Director-General Tony Hall's comment on the suggestion that he, ITV and Sky should empty-podium the Prime Minister: "Really interesting." This means: "If you think I'm going to intervene in the heated politics of an election, with the Charter review coming up, think again."
I reluctantly conclude that it would be wrong for the public service broadcasters to stage the debates without Cameron (assuming all the other parties could agree on the format, which I doubt). That looks like a passive event, inviting the leaders to take part, but without agreement it would be a hostile intervention in a political question and thus contrary to the requirement of impartiality, with which I agree.
I also have a go (scroll down) at the feeble-mindedness of complaints about secondary ticket websites, and try to rally the readers to the free-market principles on which The Independent was founded.
3. Alistair Coleman heard somebody say "hextuple-u" instead of "www" when reading out a URL. I cannot believe that this happened in real life, and think that he must have been dreaming.
4. Also referred to the Banned List Commisariat, this just in from Paul this morning:
"ALERT: Ed Davey just used 'green' as a verb on Today, as in 'even as we green our economy we will be using oil and gas'."
Further breaches of the English language should be reported to me in the first instance.
5. Thanks to my new colleagues at King's London. I was one of the judges yesterday for the first heat of Policy Idol, a competition for students and others to sell a new policy idea in three minutes. We were given some great ideas, enthusiastically presented. More as the competition progresses.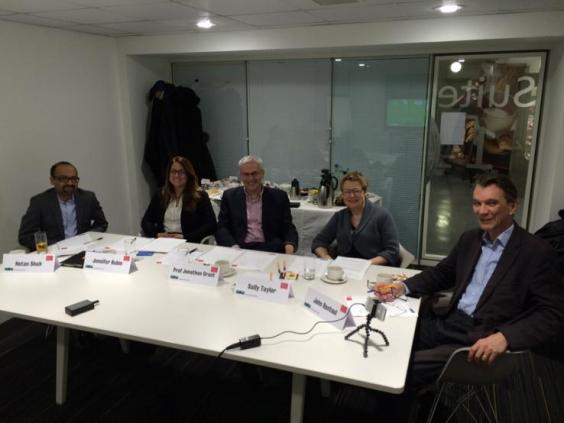 ______
The judges, above: Hetan Shah, Jennifer Rubin, Jonathan Grant, Sally Taylor and me.
6. And finally, thanks again to Chris Heaton-Harris (there are more where this came from) for this:
"For Christmas I got given a book called The A-Z of Tribute Bands – it's so good I've read it from cover to cover."
Reuse content