1. Mesmerising website showing animated wind patterns around the globe. Via Simon Ricketts. Cheaper than an aquarium.
2. What can I possibly ask him that he hasn't been asked before? Anthony Horowitz has that moment of doubt familiar to all interviewers about to talk to someone famous. His interview with Boris Johnson for The Spectator is, however, fresh and interesting. Partly this was because Boris keeps finding new ways of revealing himself through unexpected language:
"Sometimes I can think of so many ways of expressing myself that I feel I'm an old typewriter and too many keys come forward at once — and I get jammed. People notice that and they say he's bumbling and — I simply can't help that."
At one point Boris admits: "I do tend to have quite a lot of tricolon with anaphora."
Even in answer to the most familiar questions about his future, Boris finds new ways of being partially honest: "There is no vacancy for the job of prime minister. The job is being done extremely well by David Cameron." But surely, in four or five years' time…? "Who knows what the political landscape will look like then? The drumming roar of young men and women in a hurry I hear all around me."
As Horowitz observes, Boris "uses verbal dexterity and an extraordinary quickness of mind to embellish very straightforward Conservative thinking". For example: "I'm in politics to change things — if possible for the better."
But he also defends the calling of public service: "I was a journalist for a long time but I had a kind of midlife crisis and I decided I needed to do something, to get on the pitch and stop endlessly kicking over other peoples' sandcastles. I've always sort of thought that politics was a high and noble calling and a good thing to do."
Horowitz ends up, almost despite himself, being struck by "his underlying seriousness, his honesty and good nature".
3. Hard quiz by Conrad Hackett of Pew Research on Christianity around the world. I got five out of 10.
4. Commendably clear by Isabel Hardman on the ridiculous argument over a private company running an NHS hospital.  Nick Clegg, standing in at Prime Minister's Questions yesterday, accused Andy Burnham, Labour's health spokesman, of having "privatised" a hospital when he was Health Secretary. David Aaronovitch in The Times today (pay wall) is as depressed as I am:
"It seems common sense that contracting a service to a private (or voluntary sector) provider is not per se privatisation any more than the contracting out of street cleaning. A council refuse collection is as much a public service whether carried out by council employees or a French-owned company. Unsurprisingly the King's Fund, the independent health think-tank, though highly critical of the government's reforms, described the claim of privatisation as a 'myth'. ...
"The obvious truth is that, for whatever reason, Mr Burnham has changed his mind fundamentally about private involvement in public medicine. It's a full 180-degree turn, and he has done it, I would argue, not out of conviction, but to pacify his activists and scare the voters.
"And quite possibly to divert them. As of now Labour, the party of the NHS, has (in common with the other parties) no credible policy for bridging the NHS's coming estimated £30 billion funding gap. The party has ruled out an increase in national insurance and the gimmicky mansion tax wouldn't cover a fifteenth of it.
"Oh for heaven's sake, all of you. With the election due in five months' time, and with the loonies knocking at the window, we need to do better than this."
5. Another beautiful vista of old London from Sir William Davenant. The Thames near Horseferry Road with Lambeth Palace, a distant view of St Paul's and the City, and the actual horse ferry c.1706: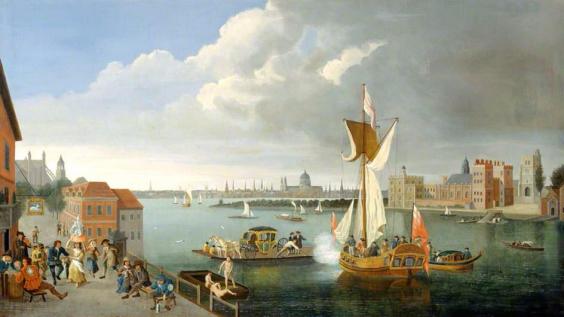 _______
6. And finally,  thanks to Tom Freeman for this:
Sisyphus walks into a bar. "The usual."
Reuse content