1. Chuka Umunna, the shadow Business Secretary, did surprisingly well in an unusual Survation poll for the Mail on Sunday yesterday. He came out top of a short list of five possible leaders of the Labour Party.
Survation showed short video clips of Andy Burnham, Yvette Cooper, Alan Johnson, Ed Miliband and Chuka Umunna to an online panel of 1,020 people.
Umunna came out strongly on the economy, jobs and the deficit (although he was talking about jobs and skills in his video extract). The survey asked how people would vote if different people were Labour leader, and Umunna and Johnson both increased Labour's lead from four to eight points. And when people were asked how they would vote in a head-to-head contest with David Cameron, Umunna did best, with a five-point lead, compared with three points for Johnson and zero for Ed Miliband. 
2. I don't think Umunna or Cooper, the other main contender who actually wants the job (as opposed to Johnson, who doesn't), is likely to take over from Miliband before the election. But, as I said in The Independent on Sunday yesterday, one of them should. Labour is making excuses for not changing leader, just as it did five years ago.
3. The Best Hangover In Fiction? Boris Johnson nominates this description by Kingsley Amis in Lucky Jim:
"Dixon was alive again. Consciousness was upon him before he could get out of the way; not for him the slow, gracious wandering from the halls of sleep, but a summary, forcible ejection. He lay sprawled, too wicked to move, spewed up like a broken spider-crab on the tarry shingle of the morning. The light did him harm, but not as much as looking at things did; he resolved, having done it once, never to move his eyeballs again. A dusty thudding in his head made the scene before him beat like a pulse. His mouth has been used as a latrine by some small creature of the night, and then as its mausoleum. During the night, too, he'd somehow been on a cross-country run and then been expertly beaten up by a secret police. He felt bad."
4. What Americans are afraid of, according to the Chapman University Study via Conrad Hackett:
Public speaking (25 per cent); heights; bugs, snakes and other animals; drowning; blood or needles.
After that come: confined spaces, flying and strangers. Democrat voters are more fearful than Republicans.
5. On Remembrance Sunday, my Top 10 for The New Review was War Memorials. This is Tjentište, one of many strangely wonderful Brutalist monuments in former Yugoslavia.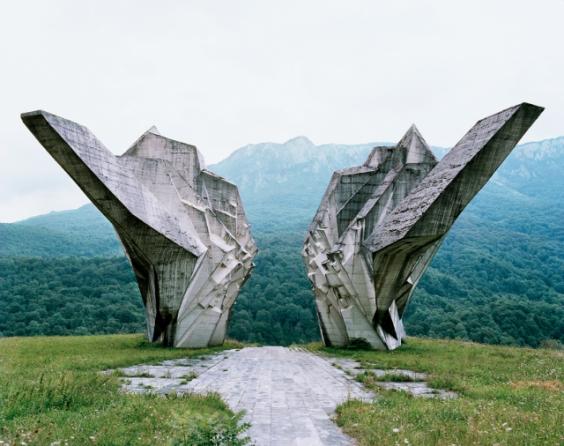 _______
And, thanks to my earlier Top 10 Horrible Buildings, I now know that Brutalism comes from béton brut, raw concrete, not from the word "brutal".
6. And finally, thanks to Brian Bilston for this:
"At first I was afraid then I was petrified."
– Gloria Gaynorius, Pompeii, 79AD.
Reuse content