1. The badgers have moved the goalposts again. Owen Paterson, the former Environment Secretary, gave a speech last night in which he explicitly accepted the science of global warming – despite Labour's idle abuse of him as a "denier". However, he said that the target of decarbonising electricity generation by 2050 was unrealistic and the attempt to meet it would be expensive and damaging.
Perhaps there could now be a sensible debate about energy policy that avoids the language of religious belief (Ed Miliband said that "belief" in climate change should be a requirement of ministerial office) or analogies with Holocaust deniers.
2. I know it got Ed Miliband out of a difficult bunker, but I thought his attack on David Freud, the welfare minister, at Prime Minister's Questions yesterday was old politics. Lord Freud did what we want politicians to do, namely to discuss a complicated problem in public – in this case what might be done to help mentally disabled people find work – and is now being howled down for an unfortunate phrase when, if you read the whole passage, his compassionate intention is plain.
3. Interesting if true. Labour Uncut says that Ed Miliband had planned to shuffle Ed Balls and Yvette Cooper, swapping jobs so that he would be shadow Home Secretary and she would be shadow Chancellor. Labour would benefit and Balls and Cooper would find it hard to refuse, but Miliband was so weakened by the Heywood and Middleton by-election that he was, allegedly, unable to follow through. It's that last bit I find implausible: if Labour MPs were unhappy with him, and they are, then a bold move like that could have been just the thing to force the tempo in his favour.
4. Edward Earl has been in touch, having come across my Top 40 Lost Positives, which is one of the longer lists in my book, Listellany (just £3.49 on Kindle). He has compiled an even longer list, for which thanks, from which many delightful words could be derived. Here are 10 of them: mented, punity, nomer, delible, sufferable, flappable, exorable, bunk, consolate and wieldy.
5. Thanks to Alex Ross-Shaw for this addition, from Whitley Bay, to my Genuine Shop Names, another list now collected in my book: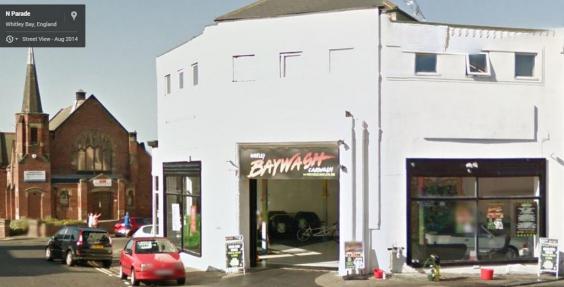 __________
6. And finally, thanks to Moose Allain for this:
"The more I hear about inverse proportion, the less I like it."
Reuse content