1. Cartoon by the brilliant Jake Goretzki. More of his work here.
My friend Oliver Kamm, who describes himself as a reformed stickler, has just published his Non-Pedantic Guide to English Usage, called Accidence Will Happen. It is a superb book, and I challenge any pedant to read it and not emerge with a more liberal view on usage.
Kamm and I have an exchange of views about it in The New Review, the Independent on Sunday magazine, this Sunday. Reserve your copy now.
2. If you haven't seen the video of the coolest president in the world, Barack Obama is here, fooling about with the man from what David Cameron calls The Buzzfeed.
Not only do they get Obama to use a selfie-stick, but they film him saying, "Thanks, Obama," sarcastically to himself when he can't fit a cookie into a glass of milk.
They will miss him when he's gone.
3. Reinventing the wheel – as a square. Matt Ballantine:
"My favourite Gear moment – watching a Googler speaking to their wrist and saying:
"'OK Google. What is the time?'"
4. Quiz questions. Can you name three capital cities whose names cannot be coloured in? Posed by Rob Crilly, answered by Jude Kirton-Darling.
Can you name five single-syllable capital cities? Answers from Greg Callus.
5. Tim Mak:
**Putin arrives at airport, gets in line at customs**
Customs officer: "Occupation?"
Putin: "No, just visiting!"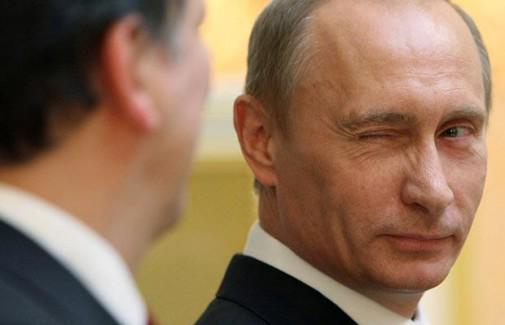 ________
6. And finally, thanks to Chris Heaton-Harris for this:
"Vegetarian": an old English word meaning "bad hunter".
Reuse content