1. David Cameron had to explain to the House of Commons yesterday what he was going to do about the £1.7bn surcharge demanded by the EU.
He didn't rule out paying something at some time, saying: "We are not paying a sum anything like that." But if he plays for time he will mitigate the damage done to the cause of Britain staying in the EU.
He said: "The numbers are a 'provisional estimate' and the EU-wide process to quality-assure the figures will not conclude until well into 2015." Quite easy to delay the whole business until after the election, in other words.
After that, and if Cameron were still Prime Minister, the surcharge would become a bargaining chip in his renegotiation.
Ed Miliband said it should be sorted out by deploying "all diplomatic means", but then scurried down the blind alley of process, process, process. Why didn't Prime Minister see the budget demand coming, he asked? It is an interesting question but it is not the main point.
Miliband looked much too pleased with himself, having found a Treasury document from seven months ago.
The steeliest response came not from Cameron but from his own side. Kate Hoey, the Labour MP, said:
"The public do not really care about who knew what when; what they really care about is the bottom line of £1.7 billion being paid back from our taxes. Will the Prime Minister do what any Government should do: say what they mean, mean what they say and then do it? In other words, do not pay, because that is exactly what this country would like to see happen."
Whether that is what a Miliband government would do was left hanging in the air.
2. Four opinion polls yesterday, from Ashcroft, ComRes, Populus and YouGov, three of them showing Labour and Conservatives tied (Populus had a two-point Labour lead) and two of them putting UKIP at a record high. The average voting intention:
Labour 32%
Conservative 32%
UKIP 17%
Lib Dem 8%
Green 4½%
I had assumed that UKIP would fall back in the general election, which would have been likely to be the Conservatives' advantage. Now that I have learned my anti-politics lesson, I have to assume that UKIP could win 17 per cent of the vote or even more, however irrational that may seem.
What is extraordinary, though, is that UKIP's advance coincides with the Labour vote falling back rather than taking votes from the Tories. I know enough about the difference between correlation and causation to know that UKIP is not necessarily taking many votes directly from Labour, but this surely is the end of the myth that UKIP is David Cameron's problem.
3. Anas Sarwar, the interim leader of the Scottish Labour Party, said he would not be running for the permanent job. His statement was weird, saying in effect: "I'm not running for leader of Scottish Labour because I'm a bit busy at the moment."
I hope Jim Murphy goes for it.
4. There is a fine poem about conspiracy theorists by Kevin Higgins at Harry's Place. I especially like the closing lines:
He himself is actually
dead, assassinated years ago
by US special forces
during an otherwise enjoyable meal
in a Chinese restaurant
no one wants to talk about.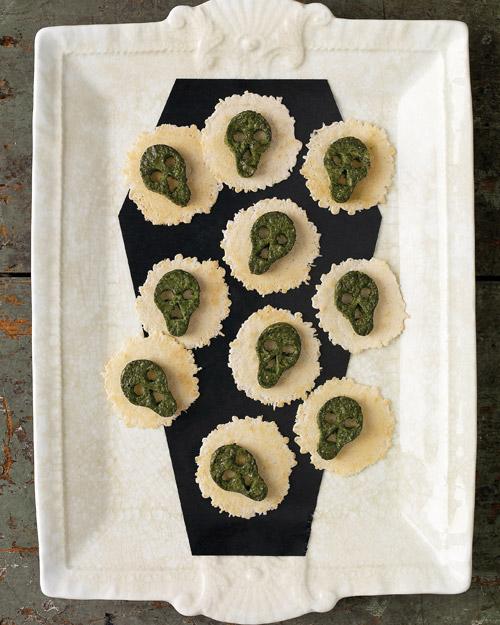 5. Tom Doran says that his mother once predicted that James Last would one day cover "Anarchy in the UK". This, as he says, is pretty close: The Martha Stewart guide to How to Throw a Punk Rock-Inspired Party, including a plate of Spinach Ricotta Skulls ("a classically punk motif", right).
6. And finally, thanks to King Henry VIII for this:
"If I could time travel I'd come to your era and collect:
- missiles
- chocs
- gin
- Lycra trousers
- All books filled w lies about me
- Beyoncé."
Reuse content