1. Norman Baker has resigned as Home Office minister, ending one of the most peculiar appointments of the Crown. Baker is an amiable conspiracy theorist, unfit for office, as he has further shown by resigning for no good reason, whingeing about Theresa May, who indulged him politely.
All credit to top colleague Nigel Morris for the scoop. My Norman Baker primer is here.
2. Not widely noticed yesterday was this part of Alistair Darling's interview with The Financial Times, in which he announced his intention to stand down from the House of Commons at the election:
"Mr Darling, who chaired the Better Together campaign, said he hoped to use his experience by helping a campaign to keep Britain in Europe in a future referendum, saying that such a vote now seemed inevitable at some point whoever wins the next election.
"'It's a boil that has to be lanced,' he said, but warned that the Scottish referendum had shown the danger of ceding too much ground to your opponents. 'If you sit back and wait till the other lot have taken so much ground then you're on the back foot,' he said. 'You pay a heavy price.'"
In accepting the inevitability of an EU referendum, Darling aligns himself with Ed Balls against Ed Miliband, who hopes to fend off demands for a referendum indefinitely.
3. Today's random fact, from Stephen Tall via The Economist: Iran's cabinet contains more doctorates from US universities than Barack Obama's.
4. After yesterday's Quotation of the Day from Sidney Morgenbesser, "New Friend of Ed" mentioned another story attributed to him. He is said to have once refuted a lecturer who said that, while a double negative can mean yes, and in some languages, such as Russian, a double negative is still a negative, there is no language in which a double positive can mean no. Morganbesser grumbled: "Yeah, yeah."
A fuller version from Michael O'Sullivan here. As Jon Dennis commented, "Double negatives are a no-no."
5. Joseph Willits's dream has come true: he has been quoted in Albanian in this report of my Top 10 Horrible Buildings. Willits had nominated the National Library of Kosovo (below). I exist only to serve.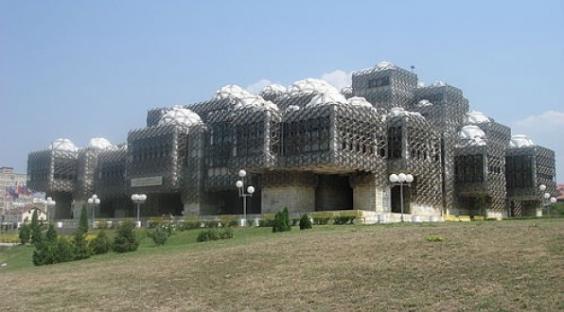 _______
My book, Listellany: A Miscellany of Very British Top 10s, from Politics to Pop, is published by Elliott & Thompson.
6. And finally, thanks again to Chris Heaton-Harris, for this:
"Taxidermists do stuff."
Reuse content