1. "They do not know what they are doing." Gordon Brown's finest hour. His speech in Glasgow yesterday. Today, the Scottish people decide.
2. Seven opinion polls in the past two days put the Yes vote on an average of 47.8 per cent, drifting slightly down from the average of the week up to Tuesday of 48.4 per cent.
Three opinion polls on Tuesday put the Yes vote at 48 per cent (Opinium online, polling up to the 15th), 48 per cent (ICM online, 16th) and 48 per cent (Survation online, 16th). Yesterday, four more put Yes on 49 per cent (Ipsos MORI phone, 16th), 47 per cent (Panelbase online, 17th: 47.4 per cent including a "squeeze" questions asked of don't knows; 47.8 per cent before the "squeeze"), 47 per cent (Survation phone, 17th) and 48 per cent (YouGov online, 17th).
There is one more poll to come today from Ipsos MORI. Meanwhile, Ben Stanley has updated his graph to rule all graphs, which shows the No lead widening slightly and clear of the margin of error of the polls taken together (although this assumes that the polls are not biased).
3. A final message to Scotland from Quebec, by Guy Lawson:
"I covered the referendum in Quebec in 1995 for Harper's, and particularly the aftermath. It's difficult to convey the intensity of the passions that were stirred up in the final days before the vote – and the deflated and bewildered sense of disappointment separatists felt in the days after their narrow loss (50,000 votes out of 5 million cast). The slogan for the Oui/Yes side was and it all becomes possible – which described both the promise and the menace that was lurking just beneath the surface. The ugly slurs about the the No side winning because of 'money and the ethnic vote' that the Oui leader made on the night of the loss perfectly match the ugliness that is emerging in Scotland.
"There is no easy way to break up a country, even one as civilised and seemingly docile as Canada. Quebec dodged a bullet in 1995. I hope Scotland is as lucky."
4. This, by Will Jennings and Gerry Stoker of the University of Southampton, is an impressive attempt to get to grips with the phenomenon of anti-politics. Their conclusion:
"The first party leader or group of activists who really show an ability to understand the world from another's perspective and then show a real capacity to shift the way they do politics might indeed reap a considerable reward in support. Each false dawn risks alienating the public further. There is little sense from the evidence about anti-politics that most citizens see the solution as them becoming more active, taking more decisions, sitting on more committees or taking part in referenda. There is some push for having more of say but the overwhelming sentiment is for a political leadership that is seen engaged, connected and responsive and not driven by spin, self-aggrandisement and connections with big business. People want a representative democracy that works. If a political party could show them how to get that it would be on to a winner."
One of the few commentators to engage seriously with this problem is Hopi Sen (see this recent post), who goes on about how so many politicians' response to a lack of trust is to double the earnestness of their promises.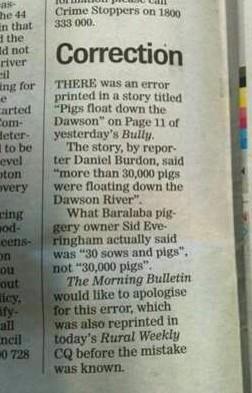 5. Many thanks to Calum, who suggested I compile a Top 10 Newspaper Corrections. I had forgotten this one (right), but was reminded by Laura Burge. More nominations to me on Twitter, please.
6. Finally, thanks to Chris Heaton-Harris for this:
What ever happened to the Michelin man?
Did he retire?
Reuse content