I usually take pictures of old London from Sir William Davenant, a wonderful Twitter account whose owner shares my loathing of the Walkie-Talkie building in the City. But this photograph of 4,000 refugees, Basque children fleeing the Spanish civil war, being welcomed in Southampton May 1937 is a fitting historical record for today.
• "Is Jeb Bush a Republican Obama?" It probably is a QTWTAIN (Question To Which The Answer Is No), but it is an interesting one, asked by David Frum. Jeb could do for the politics of Hispanic identity what Obama did for African-Americans:
"His family story and his relocation to Miami, a gateway to Latin America, have focused Jeb Bush's attention on the topic of immigration. Listen to hours of his comments on public policy, and it quickly becomes overwhelmingly apparent that this is the public policy issue he cares about by far the most. Jeb Bush will often list three-point and four-point plans to get America moving again. But when he does so, it is the immigration point that seems almost always to energize him most."
Frum quotes Bush describing illegal immigration as an act of love:
"The way I look at this – and I'm going to say this, and it will be on tape, and so be it – is someone who comes to our country because they couldn't come legally, because a dad who loved their children was worried that their children didn't have food on the table, and wanted to ensure that their family remained intact … and they crossed the border because they had no other means to work to be able to provide for their family: Yes, they broke the law, but it's not a felony. It's an act of love, it's an act of commitment to your family. I honestly think that is a different kind of crime. There should be a price paid, but it shouldn't rile people up that there are people coming to our family to provide for their families."
(Thanks to Rick Nye.)
• Let us see this survey from 2012 again. Pew Research via The Economist. Every country in Europe thinks it is the most compassionate: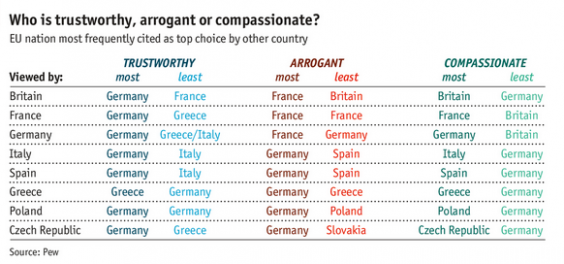 (Thanks to Tom McTague.)
• A while ago I posted a list of the Top 20 Corbynite Denialist Memes. Well, there is still time, for those eligible to vote in the Labour leadership who have not done so, to look again. Here is Stephen Bush, definitively explaining why looking to non-voters to win the next election for Labour is misguided (nos 1 and 6).
• And finally, thanks to Dan Tetsell for this:
"Venus and Serena are the most Tennessee Williams."
Reuse content