1. For all the fuss about how the British labour market increasingly depends on low-paid jobs, the figures tell a different story. Thanks to Matthew Whittaker, here's the trend since 1968 in low pay (below two-thirds of the median) and extreme low pay (below half the median).
There has been no change in the proportion of workers on low pay for the past two decades, while the incidence of extreme low pay fell sharply under the Labour government.
The graph also shows that the only government under which low pay fell was the 1974-79 Labour administration, which is another reason for thinking that the 1970s were a much maligned decade. However, the pay norms and union militancy of the period did not feel sustainable at the time, and it is a difficult question to know how much of the increase in low pay of the Thatcher period was a bounce back to a more normal differential.
2. This is very good by Hamish Thompson, the Nancy Mitford of the websphere: the E and non-E of Twitter etiquette.
"Hashtags are from Croydon. The only exception is jolly ironic usage applied to the everyday. For example, #snow!"
3. Still catching up with the news from a few days ago. This was marvellous, via David Pilling:
Indian newsreader sacked for pronouncing Xi Jinping, president of China, as "Eleven Jinping".
4. Quiz question: What do Fidel Castro, Bill Clinton, Golda Meir, Oswald Mosley and Leon Trotsky have in common? Answer here. Thanks to Allan Draycott.
5. Chess was the Angry Birds of 1859. Clive Thompson, via Conrad Hackett, noted this article in Scientific American of that year, which advised:
"A game of chess does not add a single new fact to the mind; it does not excite a single beautiful thought; nor does it serve a single purpose for polishing and improving the nobler faculties."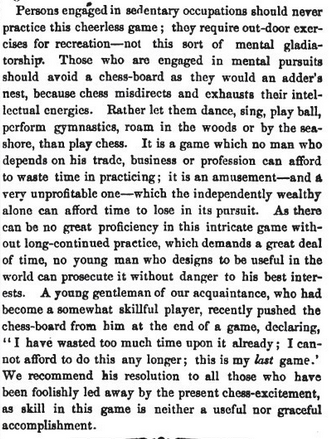 ________
6. Finally, thanks to Chris Heaton-Harris for this:
What do mermaids wear to protect their modesty?
Algebras.
Reuse content